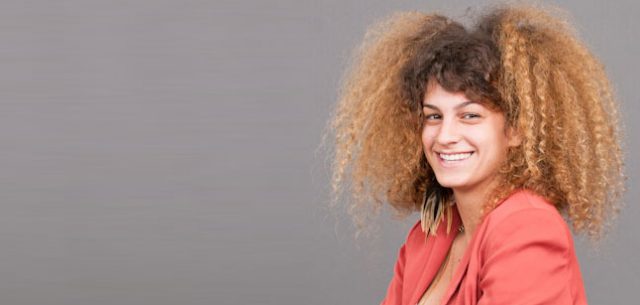 Three standout students were finalists for Mac's 2012 Global Citizenship Student Award.
Macalester has long been known for its internationalism. One of the ways it recognizes that value is to annually bestow a Global Citizenship Student Award on the graduating senior who best demonstrates a commitment to the ideals and practice of high academic performance, internationalism, multiculturalism, and civic engagement.
This year's winner was Shahar Eberzhon '12 of Beer-Sheva, Israel. The other finalists were Diego Melo Ascenscio '12 (Bogota, Colombia), and Erica Martinez '12 (Denver). Each student was nominated by a faculty or staff member; together they demonstrate the breadth and depth of Macalester students' commitment to and interest in internationalism.
Shahar Eberzhon: Building connections at Mac and in the Middle East
Eberzhon, a Davis scholar, came to Macalester after two years at the United World College of the Adriatic in Italy. In an attempt to build better connections between international and domestic students at Mac, this sociology and international studies major helped start a program called Ametrica. In this program, students go through a pre-orientation together and continue to meet weekly to discuss topics such as family, relationships, politics, religion, and more. "We have the capacity to reach beyond borders," says Eberzhon. "Even if it's something small we're doing here, we can make big changes."
Eberzhon also co-created the Shalaam Coalition, engaging divergent viewpoints in exploring the Israel-Palestine conflict. This led to a week of stimulating campus programming last fall that included talks, films, and panel discussions.
Her field research in Hebron, Israel, examined the ways physical borders dehumanize the people they contain and separate, and explored ways to overcome those barriers to achieve peace and understanding. She worked there with an Israeli human rights organization dedicated to preventing human rights violations among Palestinians.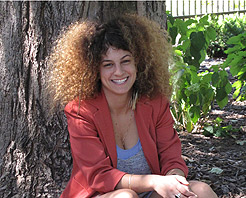 She has interned or worked at Mac's International Student Programs, the Center for Victims of Torture, the U.N. High Commission for Refugees, and Humanity in Action Fellowship. Along with winning the 2011 Mac Idol competition for her singing, Eberzhon also took part in Dance Ensemble, International KidsFest, Community Matters, J-Street U, Vagina Monologues, Yonic, Faceforward, MESA, and worked as a preceptor during her time at Macalester.
She plans to stay in the Twin Cities next year working as a musician with the nonprofit Face Forward Humanity Through Art, which brings the performing arts to underprivileged populations. After that? "I'm keeping it open right now," she says.
Diego Melo Ascenscio: Community work brings classroom alive
Diego Melo Ascenscio '12, a sociology and Latin American studies major, is a four-year veteran of the Bonner Scholars Program. That program connects students to Twin Cities nonprofits and its members meet weekly to reflect on service and the work of nonprofits. "One of the main things I've learned is that classroom information isn't everything," says Melo. ""None of the academic knowledge would have been as insightful for me if I hadn't been working in the community as well."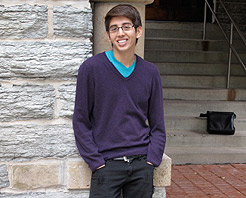 He has worked as a tutor at Linwood Elementary School and volunteered at Neighborhood House and the Jane Addams School for Democracy, working with sexual health issues, facilitating groups, and running Spanish circles. He has also been involved with the Latino student cultural organization Adelante.
Last summer Melo completed a seven-week public policy fellowship at the University of Michigan, which brought together minority students interested in public service and international affairs. This summer he's heading to Amsterdam to complete a human rights fellowship. After that, he says, he's "most excited about teaching."
Erica Martinez: Public health at home and abroad
Erica Martinez '12 is an anthropology major and biology minor with a community and global health concentration. She spent a semester in Bolivia, researching children whose parents had left them behind to work in other countries. She did her research while volunteering at a nonprofit that works with migrant families and in a school where more than 60 percent of kids have parents working abroad.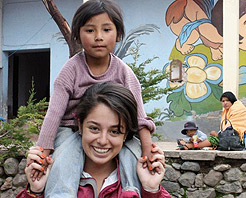 She also completed a public health internship in Denver, looking at health disparities in the Latino community, and worked at the University of Colorado's School of Public Health, researching racism in doctors' offices. In addition, she was a Taylor Fellow, which allowed her to shadow a Twin Cities emergency room doctor and pediatrician. On campus she was very involved with Adelante and Amnesty International's campus organization and was a member of the women's soccer team.
After graduation Martinez hopes to work in public health for a few years before heading to medical school. Ideally, she'd like to become a family doctor who works with immigrant and refugee families. To her, global citizenship means "having the fire and conviction to want to do something in the world."
Both Eberzhon and Melo are among Macalester's Davis United World College Scholars.