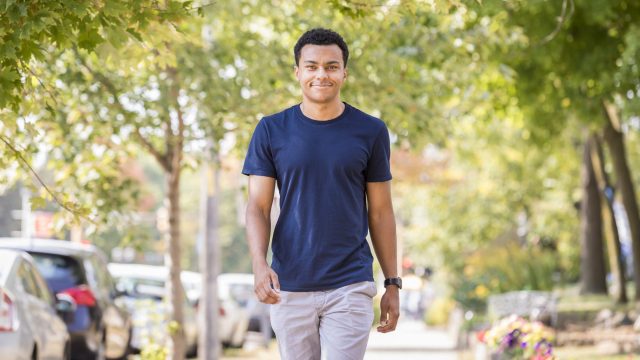 "I found it interesting that a lot of the conversations regarding diversity and economic opportunity that are so important to Mac students are becoming increasingly important to large corporations such as Goldman."
—Theo Nsereko '21
Theo Nsereko '21, who studies economics and statistics, has always been interested in finance.
"In my sophomore year, I took a class taught by Joyce Minor '88 called 'Deals,' which brought in Macalester alumni in the finance world as a way to learn more about career paths and the industry in general," Nsereko says.
"I kept in touch with several of the speakers, which led to an internship two summers ago at Lavien Group, a hedge fund run by Macalester trustee Michael Huber '90. This experience deepened my interest in finance. From there, I was able to network and meet many more alumni, who helped me prepare for interviews and were otherwise really helpful. That eventually led to an interview with Goldman Sachs."
He had planned on spending his summer in New York City but instead worked as a private equity analyst remotely, which had some surprising benefits.
"I was able to get in touch with senior people who I may not have gotten the chance to interact with if the internship had been in person. I also was able to work with colleagues in the London office, which probably wouldn't happen in a normal internship. The remote setting did require me to be more proactive in asking for help…. In a virtual setting, [conversations] had to be a little bit more formal and structured."
Nsereko says that a nontraditional liberal arts background prepared him well for a job at Goldman. "I interacted with peers from many different backgrounds and countries and felt capable of relating to them as a result of going to a college with such a focus on globalism. In addition, I found it interesting that a lot of the conversations regarding diversity and economic opportunity that are so important to Mac students are becoming increasingly important to large corporations such as Goldman."
Now, Nsereko is looking forward to May. "I just want to soak everything up," Nsereko says. "I want to learn a lot and enjoy myself."