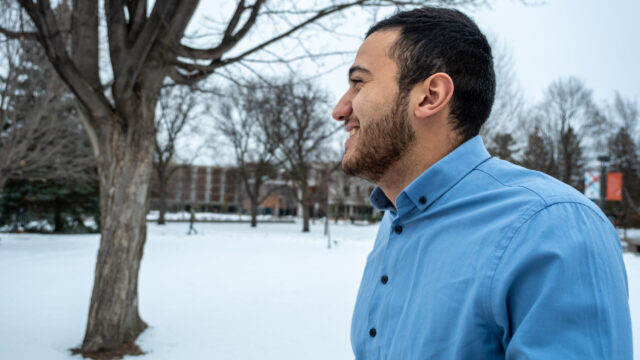 By Ashli Landa / Photo by Ethan Brown
If you stroll into Alliance Française Mpls/St Paul in Minneapolis, Marouane El Bahraoui '25 (Temara, Morocco) might be the first person you see at the receptionist's desk. He'll greet you in French, and show you to your class, walk you through one of the monthly art exhibits, or talk with you about upcoming Francophone events he's coordinating. With support from Macalester's French Department, he's also focused on an internship project with a much wider scope: decolonization of the Francophone movement.
"The [international Alliance Française] was started in the late 19th century to promote the language in French colonies," he says. "My goal with this project is to decolonize Francophone culture, because people who visit for classes or events should know that it's not all beautiful, spreading French culture and language. It started as a colonial movement."
"Francophones are not just French"
As a French (and English and Arabic) speaker himself, El Bahraoui is eager to change public perception of what the "average" French speaker looks like. 
"Francophone identity is not just mainland France," he says. "It could be North African, it could be West African, it could be Asian for the case of Cambodia, it could be from the Caribbean. That is Francophone identity."
Being immersed in the variety of nationalities in the Twin Cities is one of the elements El Bahraoui appreciates the most about his internship. "I really enjoy getting to know the diverse communities here," he says. "There's a lot of people coming from different places, different countries, and still enjoying and participating in Francophone culture. It's been so great talking to them."
"Fight the colonizer with their own language"
Deeply invested in politics and history, El Bahraoui was inspired to start his research by the story of Haiti's uprising, revolution, and independence from French colonizers. 
"The enslaved peoples there revolted against the French, using the same three words the French Revolution used: liberty, equality, and fraternity," he says. "It was the colonized saying, 'We'll gain our independence with your own language. We will be emancipated through the same language that you said is superior to ours.'" 
The complex intertwining of identity, culture, history, and language for French-speaking, non-white peoples is a subject El Bahraoui aims to bring to light through his internship project and other French-language publications: "I'm writing for the Alliance's blog, which I encouraged them to utilize. I'm bringing this new voice of news and stories from other French-speaking regions."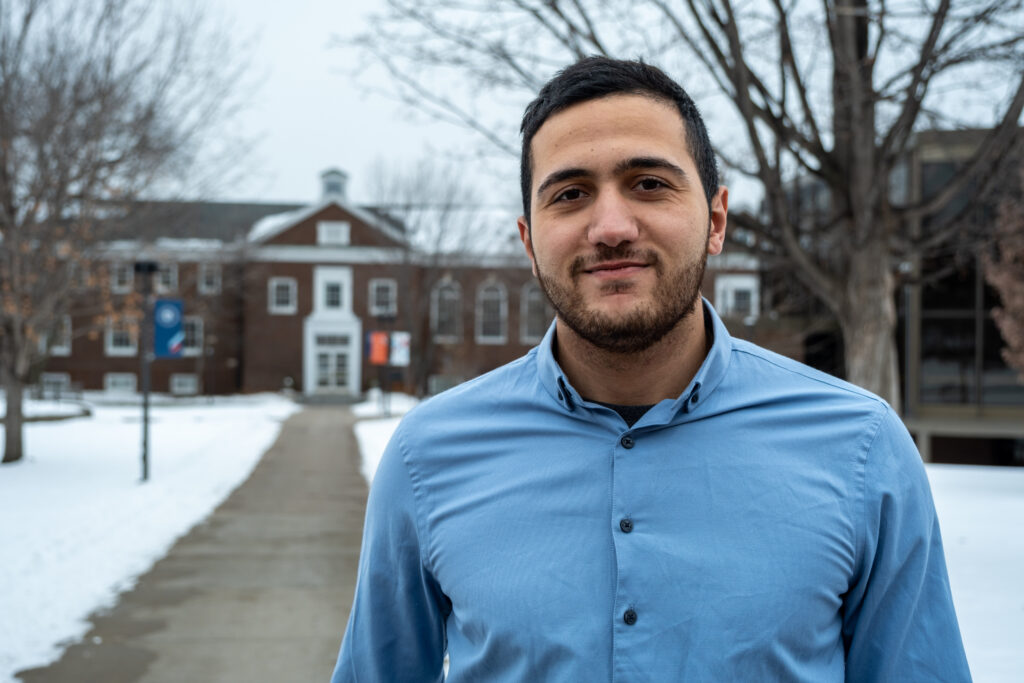 "In different perspectives and from different lenses"
At Mac, El Bahraoui found the foundations for a greater global focus, in and out of the classroom. "At Mac, internationalism is a big thing—one of the school's central pillars. We embrace that in class, conferences, and seminars, but I wanted to go beyond that." 
With a friend, El Bahraoui created a radio show that invites international students to tell their stories and connect with their multicultural experiences through music. "That interaction with different people and embracing internationalism through music really broadened my perspective about a lot of things," he says. "It's about understanding other cultures and societies from different perspectives and different lenses."
"I've seen a lot of personal growth"
With the opportunity to put into practice a cause close to his heart, El Bahraoui is also grateful for where his internship can take him in the future. He's aiming for a career in diplomacy, and knows the value of work experience and a strong global network and mindset. 
"The connections that I'm making with people are the most important thing," he says. "I'll carry them with me wherever I go."