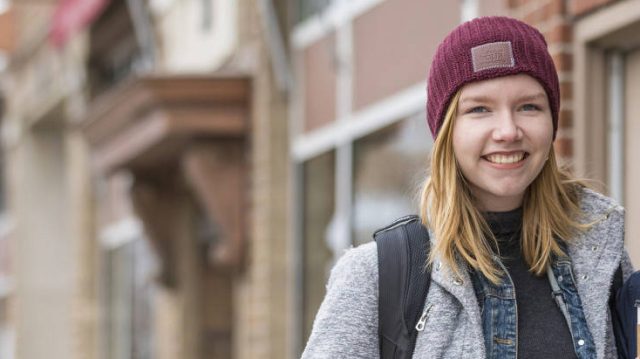 Internships are an integral part of most students' experience at Macalester. There are  over 200 internships sites within 8 miles of campus and a center to help students navigate the internship process. What's most important though is that students learn more about their career aspirations and make valuable connections with people in fields they hope to pursue after graduation. And, sometimes, those connections turn internships into job offers.
In this two-part series, students from the Class of 2022 share how their internship lead to a job offer.
Hayley Hadges
Hometown: Richfield, Minn.
Applied mathematics and statistics major, with a computer science minor
What's next?
Upon graduation, I will join Tessellation as a full-time analyst. Tessellation is an analytics consulting company that helps businesses better understand how their analytics tools work.
Advice for current students on turning an internship into a full-time job?
It is important to work hard and complete your tasks, but it is even more important to take initiative. Whether by volunteering for new opportunities or making your own, taking initiative will help you stand out.
How did you find the internship?
I started with Tessellation through the MacNest program, which pairs students with local startups. 
How did the Macalester community help?
In MacNest, Jody Emmings and Kate Larson offered a lot of support with onboarding, setting boundaries, and asking to continue the internship. My first supervisor at Tessellation was a recent Macalester graduate, Krishn Rapoor '20. If not for the chance he gave me, I wouldn't have had such an amazing opportunity. He gave me the flexibility to work within my interests in data science and data visualization.
What are you looking forward to about the job?
I'm looking forward to learning more from my coworkers and getting more experience with client work.
Vichearith Meas
Hometown: Serey Sophoan, in the Banteay Meanchey province of Cambodia
Computer science and applied mathematics and statistics majors
What's next? 
I was honored to receive a return offer from Illumio—a data center and cloud security company—following my internship last summer. After considering competing job offers, I will join Amazon in the Seattle office as a software engineer upon graduation. 
Advice for making the most of an internship?  
Utilize the internship to learn about your own interests through conversation and observation. Through conversations with engineers, I discovered what jobs I find fun and what roles I may not like.  
Any other tips?
Writing the first resume was one of the most challenging tasks in this job-finding journey—I have more than 100 revisions of my resume. What I find very effective is having a friend interview me about my experience. The process forced me to think in more detail about my responsibilities, the challenges I faced, and other details I would not have thought of on my own. 
How did you utilize career exploration at Macalester? 
During my internship hunt, I utilized career exploration's resume and cover letter guide and networking tips. I also used the MacConnect database to search for alumni working in the software development and technology field. I am grateful to the alumni who replied to my emails and made me feel more confident reaching out for help.
What was your role at the internship?  
At Illumio, I worked on upgrading the company's current web application.