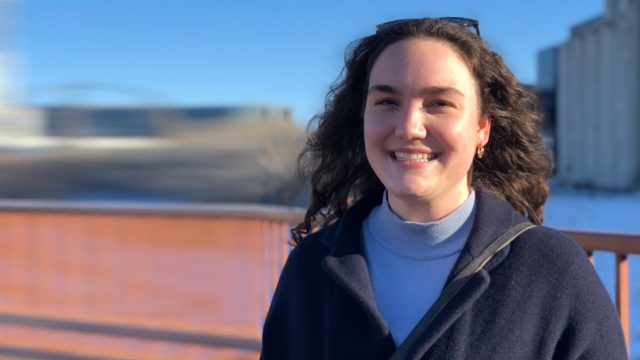 We caught up with a recent graduate to see where life has taken her post-Macalester. 
Major: Economics 
Current position and location: Tobin Center/ Economics Department Pre-doctoral Fellow at Yale University in New Haven, CT. 
Remote or virtual: Combination of in-person and remote work. 
How I got my current position: There is a big recruiting cycle for economics research assistants/ pre-doctoral fellows in the fall prior to the start date. While I was a senior at Mac, I applied to several positions similar to the one I have now. I found most of these opportunities through the National Bureau of Economic Research website. For the Tobin Center specifically, there is a common application for the program. The staff then send pertinent applications to participating faculty sponsors in the Tobin Center. 
What my average day looks like: Right now, I am working on two different ongoing projects for my Principal Investigator (PI). My day-to-day work looks different depending on what stage we are in with each of the projects. We are still in the midst of data collection for one of the projects, so I have been spending time contacting state agencies to obtain data. Once we have the data, I clean the data so that we can analyze it. I create summary statistics, graphs, and preliminary analysis and interpretations to send to my PI. 
In addition to my full-time work as a research assistant, the Tobin Center emphasizes the professional development of the pre-doctoral fellows. To that end, I typically attend three research seminars per week sponsored by the Economics Department, or other professional development activities that expose me to research in the field. 
Furthermore, I am taking additional math classes in preparation for graduate school. 
Lessons from Mac: The only way to learn to do research is by doing it. During my time at Macalester I had several opportunities to conduct research; I worked as a research assistant for Professor Amy Damon and also completed an honors thesis in economics. Those experiences taught me so much about conducting research in an efficient and effective way. Research assistants are typically the people who are closest to the data, we work with it every day. Being able to discern and distill important information to convey to the PI is critical to success. A lot of the work is independent, and the decisions that we make oftentimes impact the findings of the research. From my time at Mac, I learned how to think critically and work independently while also being able to identify important questions/points to communicate to my PI. 
Downtime activities: I am enjoying exploring the East Coast. New Haven's proximity to so many cool places is incredible! I have been exploring lots of state parks in Connecticut and neighboring states. 
Knowing what I know now, this is the advice I would give myself as a college senior: Make sure to take the time to foster relationships with professors. Before coming to Mac, I didn't know that economic research was an option as a career path. Through my relationships with incredible professors in the Economics Department, I learned about the fascinating and diverse work that can be done through economic research that I wouldn't have otherwise learned. The support and encouragement of my professors was critical to me getting the job that I have now.