Welcome to the Theater and Dance Department
Our department offers small academic and studio courses in which students are closely mentored by expert faculty. In our class schedule, you will find a variety of theater and dance courses at all levels.  We encourage students without previous experience to try a beginning course in acting, dance, design, or playwriting. With the exception of dance technique courses, all Theater and Dance classes count towards Macalester's Fine Arts requirements.
The Theater and Dance Department prepares the next generation of performers, directors/choreographers, designers, researchers, technicians and playwrights. Macalester is in a privileged location for students interested in the arts, as the Twin Cities have the second highest number of theater companies per capita in the United States, after New York. Courses in Theater and Dance regularly bring students to on- and off-campus theater and dance productions. Here you will find nationally-recognized LORT theaters such as the Guthrie and exciting companies such as Penumbra Theatre, Mixed Blood, Jungle Theatre, and many more. You will learn the vocabularies of our disciplines, take master classes with guest artists, and become part of a vibrant arts community.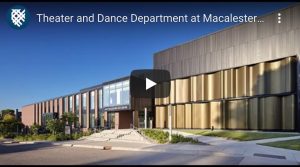 ---
Visiting Artists
Recent visiting artists include Sarah Bellamy, Kate Bornstein, Li Chiao-Ping, Eliot Gray Fisher, Shawn Judge, MJ Kaufman, Jennifer Liestman, Iris McCloughan, Juliana Neves, Eiko Otake, Miranda Rose Hall, Ingrid Sonnichsen, Darrius Strong, Paula Vogel, & Steve Yoakam