Theater and Dance Department News
THDA Faculty and Alumni on BIPOC Theater Today
In recent weeks, Theater and Dance faculty and alumni have contributed some significant statements and articles: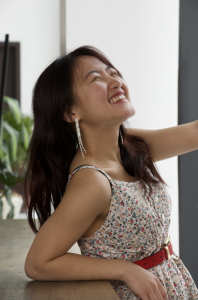 Dance minor Mai Moua Thao '22 spent her summer interning at St. Paul Neighborhood Network (SPNN), assisting filmmakers in creating documentaries focused on a variety of issues affecting the local community.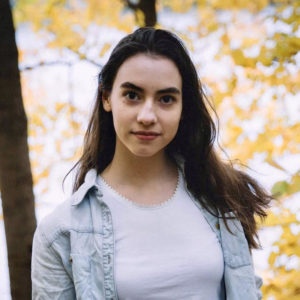 Dance minor Ekaterina Hofrenning '21 spent her summer in New York at the prestigious American Ballet Theatre summer program. Training eight hours a day for five weeks, she describes the intensity of esteemed program and how Macalester prepared her.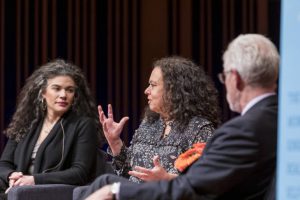 Chair and professor of Theater and Dance Cláudia Tatinge Nascimento joined artistic director for Penumbra Theatre Company and visiting assistant professor Sarah Bellamy and President Brian Rosenberg in February 2019 to discuss the question: How do we create a stage that helps audiences imagine a world guided by social equity? This event was part of Macalester's Big Questions series.
American Society for Theatre Research Annual Conference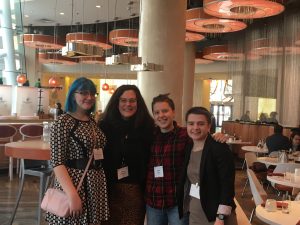 Theater and Dance students met with alumna Kate Bredeson '98, on faculty at Reed College, at the American Society for Theatre Research Annual Conference in Arlington, VA.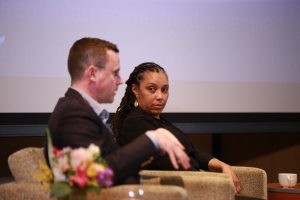 President Brian Rosenberg sat down with NTT Instructor of Dance Patricia Brown and Music Professor Michael McGaghie in January 2020 to answer the question: Can embracing the arts reconnect our common humanity? This event was part of Macalester's Big Questions series.
Artistic Residency: Eiko Otake and Iris McCloughan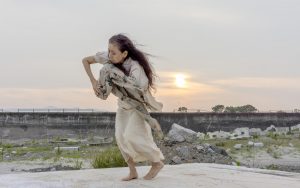 Eiko Otake and Iris McCloughan were on campus in August 2019 for an artistic residency, including movement workshops with students and alumni, and a work-in-progress performance.
Li Chiao-Ping and THDA Dance Intensive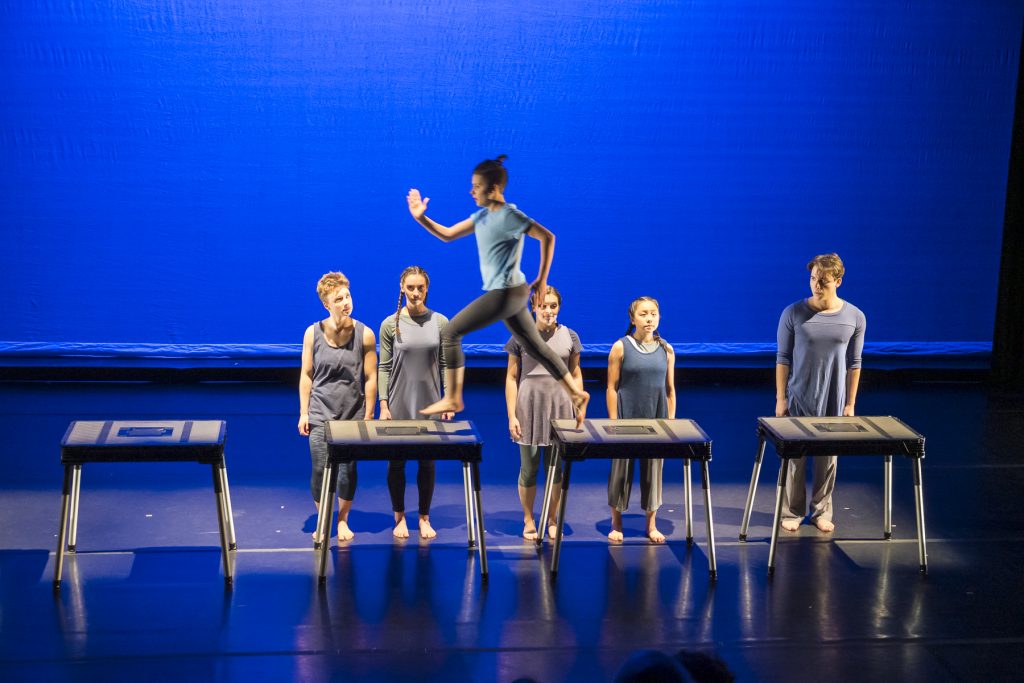 Ten THDA students participated in a dance intensive in August, collaboratively preparing a piece for the fall dance concert with guest choreographer Li Chiao-Ping from Madison. The piece, THEY, explores identity and relationships to space, place, ourselves, and others.
Wynn Fricke | Just Her Time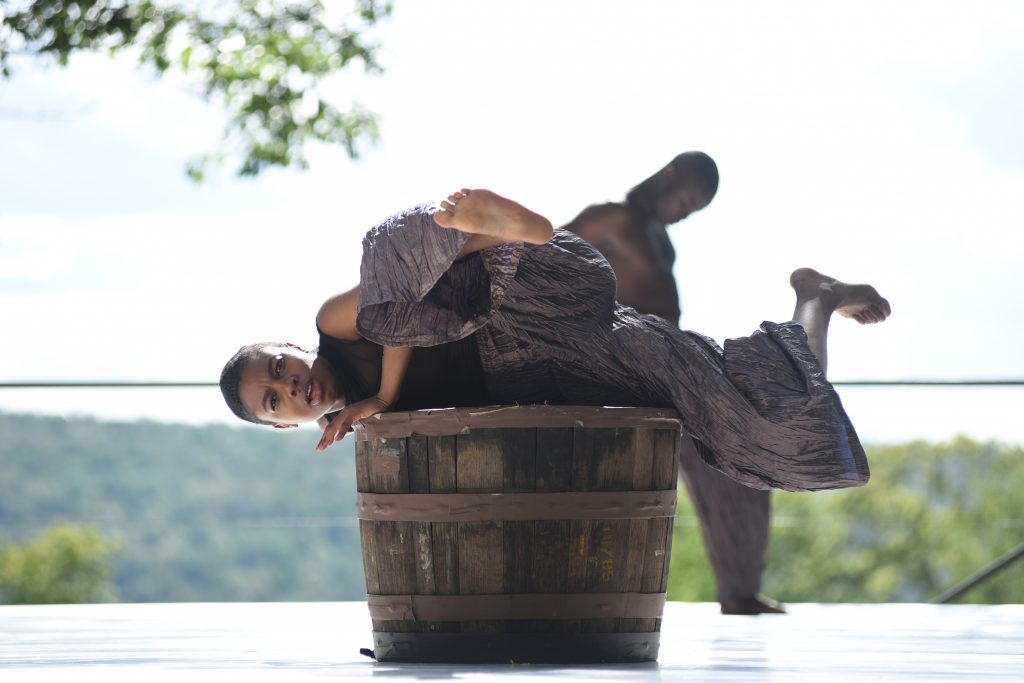 Just Her Time, choreographed by Professor Wynn Fricke was one of 30 pieces selected to be performed at the John F. Kennedy Center for the Performing Arts in Washington D.C. at ACDA's 2018 National College Dance Festival. The piece was one of just five works further selected to be performed that summer at Jacob's Pillow, a dance festival in Becket, Massachusetts.
THDA in the World
THDA professor Harry Waters Jr. is the co-director of this year's BareBones Halloween art installation, taking the place of the annual puppet show. This installation holds space for death, loss, grief, ancestors and remembering centered on the current changes on Lake Street.
Congratulations to THDA Minor Mai Moua Thao '22 on being accepted to the JGS Imagining America Fellowship! Mai was selected to be one of eight students across the US that will be working to develop each other's digital-media art within this program.
Outside Voices, weekly at Powderhorn Park | July 10, 2020  Theater artist and THDA professor Harry Waters Jr. created Outside Voices, a ritual of release during COVID and George Floyd crucibles
Variety | Danai Gurira Inks Overall Deal with ABC Studios | February 20, 2020  Under the two-year deal, actress and playwright Danai Gurira '01 will develop, write, and produce for the studio across all platforms
After the Long Silence: Cláudia Tatinge Nascimento's new book | February 2020  After the Long Silence: The Theater of Brazil's Post-Dictatorship Generation is Cláudia Tatinge Nascimento's new book, published by Routledge for their Advances in Theatre & Performance Studies.
A Day in the Life of Ruby | October 2019
Ruby Rich '23 takes us through a typical day in her life, including Rocky Horror rehearsal.
Sarah Bellamy on TPT's Minnesota Original | July 2019
THDA Visiting Assistant Professor and Penumbra Theatre Artistic Director Sarah Bellamy shares her journey into leadership and her hopes that future generations will no longer have to "argue for theaters of color."
Danai Gurira on Avengers & Walking Dead Spoilers | Jimmy Kimmel Live | April 10, 2019
Macalester alum Danai Gurira '01 appears on Jimmy Kimmel show to talk about her upcoming cinematic projects, Avengers and Walking Dead.
Signe Harriday Directs HIDDEN HEROES: The Black Women of NASA | Broadway World | April 8, 2019
The World Premiere of HIDDEN HEROES has two Macalester connections. It's based on the book "Hidden Human Computers: The Black Women of NASA," co-written by American Studies prof. Duchess Harris. The play is written by Shá Cage, who graduated from Macalester in 1995.
 Gay African-American Acting Legend Harry Waters Jr.'s Courageous Staging of MN Jewish Theatre's "Actually" Exposes Formalized Privacy Intrusion | Lavender Magazine | February 22, 2019
Minnesota Jewish Theatre Company certainly picked the right man to direct with (Theater and Dance Prof.) 

Harry

 

Waters

 

Jr

.
Macalester's new theater and dance building completes 3-part arts update | Pioneer Press | February 11, 2019