Upcoming for Fall and Spring Productions
Theater and Dance Audition Information
Auditions for theater productions and dance concerts are open to all Macalester students. First-year students are regularly cast in theater productions and dance concert pieces.
An acting workshop with alumna Mandi Masden for first-year students only will take place on Saturday, September 2.
Auditions for the Fall Theater Production will be on Saturday and Sunday, September 8 & 9, with callbacks on Monday, September 10. Auditions for the Fall Dance Concert will be held on Saturday and Sunday, September 8 & 9.
1) The Titanic Orchestra by Hrysto Boytche, available here (click on the US flag icon next to the play's title) Directed by Barbra Berlovitz – Fall 2023 Theater Production
This ensemble piece employs tragedy and comedy; clown; burlesque; and magic (one of the characters is the Great Houdini!)
It's the end of the world. In the middle of nowhere. The train is moving but it isn't stopping for everyone. A community struggling together. Four people in an abandoned train station. Meto, Doko, Luko and Luba. Their suitcases are packed and they want to leave.  But the train never stops at this station until one day Harry Houdini arrives with his magic. They are philosophers, dreamers, looking for a connection to the world and each other. The play speaks to the absurdity of life, the joy in play, the love of each other and how cruel they can be to each other. It's a group of friends.
Cast of 5 actors:
One sings. One performs magic tricks. The three others find their way.
2) Eurydice by Sarah Ruhl – Directed by Randy Reyes – Spring 2024 Theater Production
From playwright Sarah Ruhl:
Eurydice reimagines the classic myth of Orpheus and Eurydice not through Orpheus's infamous pilgrimage to retrieve his bride, but through the eyes of its heroine. Dying too young on her wedding day, Eurydice must journey to the underworld, where she reunites with her father and struggles to remember her lost love. With contemporary characters, plot twists, and a script written to be a playground for designers, the play is a fresh look at a timeless love story.
Characters
EURYDICE: The Protagonist. A beautiful spirit who loves books and always tells the truth.
Her FATHER: Resides in the underworld. Looks after Eurydice from afar and takes care of her in death.
ORPHEUS: A talented musician and composer who is deeply in love with Eurydice.
A NASTY INTERESTING MAN: Catalyst of Eurydice's death.
THE LORD OF THE UNDERWORLD: Starts as a child and grows to over 10 feet tall.
BIG STONE, LITTLE STONE, and LOUD STONE: A Chorus of stones. They reside in the underworld.
This production will also include a Chorus of Dancers (3-5) and Musicians to perform live on
stage (1-3).
Keep your eye on the Theater and Dance Department website to sign up, and for information on times and additional details!
2022/23 Performances
Fêtes De La Nuit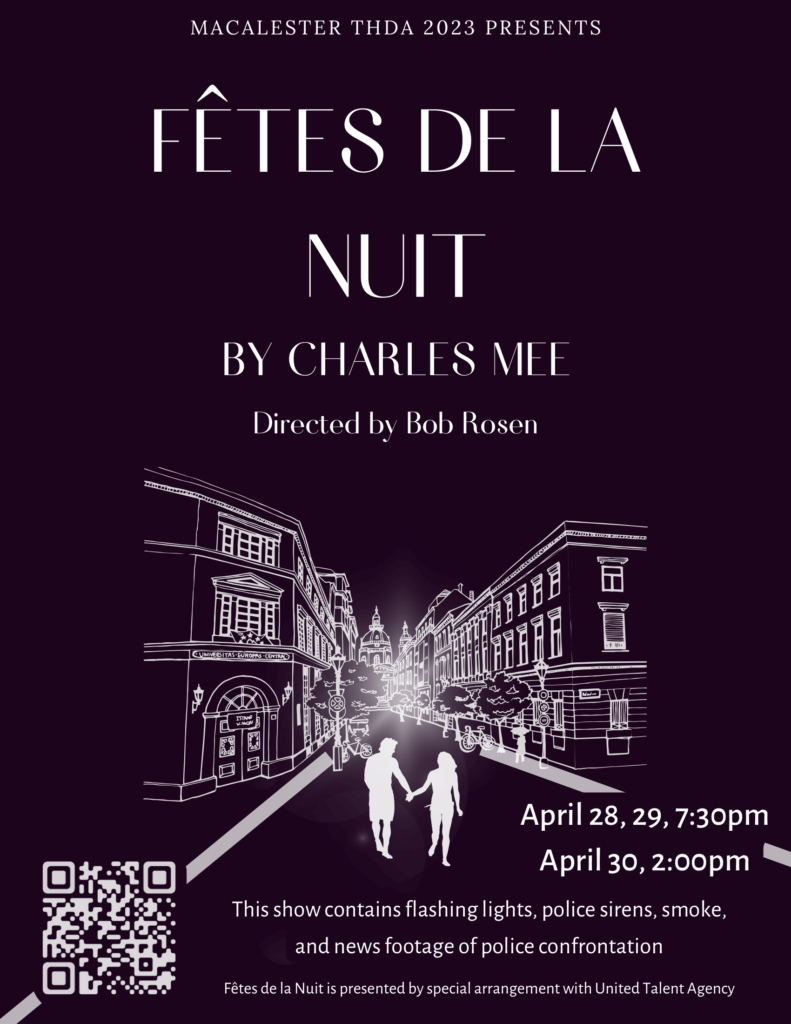 The Friday and Saturday showings are sold out.  Click this link to reserve your tickets for Sunday's performance or scan the QR code in the flyer.
Click this link to access the Program.
Masks are optional and no proof of vaccination is necessary.
Solo – A Collaboration between Dance Composition, Lighting Design, and Costume Design

Solo Performances is an evening of seven solo dances and the culmination of a half-semester long collaboration between THDA 255 Lighting Design, THDA 285 Costume Design, and THDA 341 Dance Composition students. Student designers and choreographers collaborated in teams of three from the conception of each solo and throughout its creative process and performance.
Solo will take place at the Huber-Seikaly Theater (T003) Janet Wallace Fine Arts Center on April 29th at 2:00 pm and April 30th at 7:30 pm.
Masks are optional and no proof of vaccination is necessary.
(Up)rooted – Spring Dance Concert

The Macalester Department of Theater and Dance presents (Up)rooted, the Spring 2023 Dance Concert. (Up)rooted gathers student, faculty, and guest artist choreographers to create and share their work. This semester the department welcomes Venezuelan artist Abdo Sayegh Rodriguez who, inspired by the music of Simon Diaz, gives tribute to the Venezuelan people affected by the political and socio-economic situation – to those who have been part of a massive diaspora and to those who remain in the country. With the intention of highlighting Rodriguez's work, the concept of "uprooted" arose, encompassing the idea of displacement and being far away from home. In addition, six other dances complete the evening, offering a range of styles and a rich celebration of diversity, dance, and culture.
Choreographers:  Patricia Brown, Abdo Sayegh-Rodriguez, Anna Greenstein '23, Carissa Bolante '25, Cassie Wright '25, Emilia Garrido Vásquez '23, Nibia Becerra Santillan '25,
Click this link to reserve your tickets or scan the QR code in the flyer.
Click this link to access the Program.
(Up)rooted will take place at the Main Stage Theater Janet Wallace Fine Arts Center on March 31st at 7:30 pm and April 1st at 2:00 pm and 7:30 pm. The entrance is through the west door of Jwall.
Masks are optional and no proof of vaccination is necessary.
Frénésies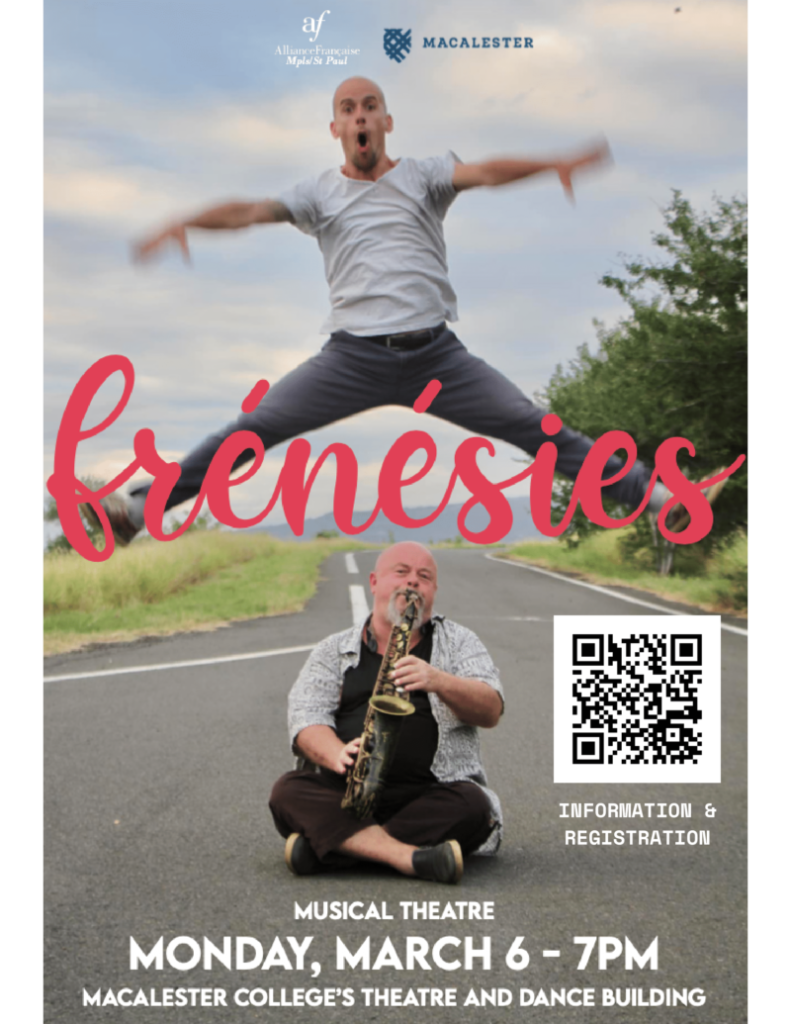 Janet Wallace Main Theater
Monday, March 6, 7:00-8:30PM
Reserve tickets HERE
Notes/trigger warnings:
During the play there will be some smoke on the stage. The play includes mention of drugs, magic mushrooms, and allusions to sex.
Spring Playwrights' Festival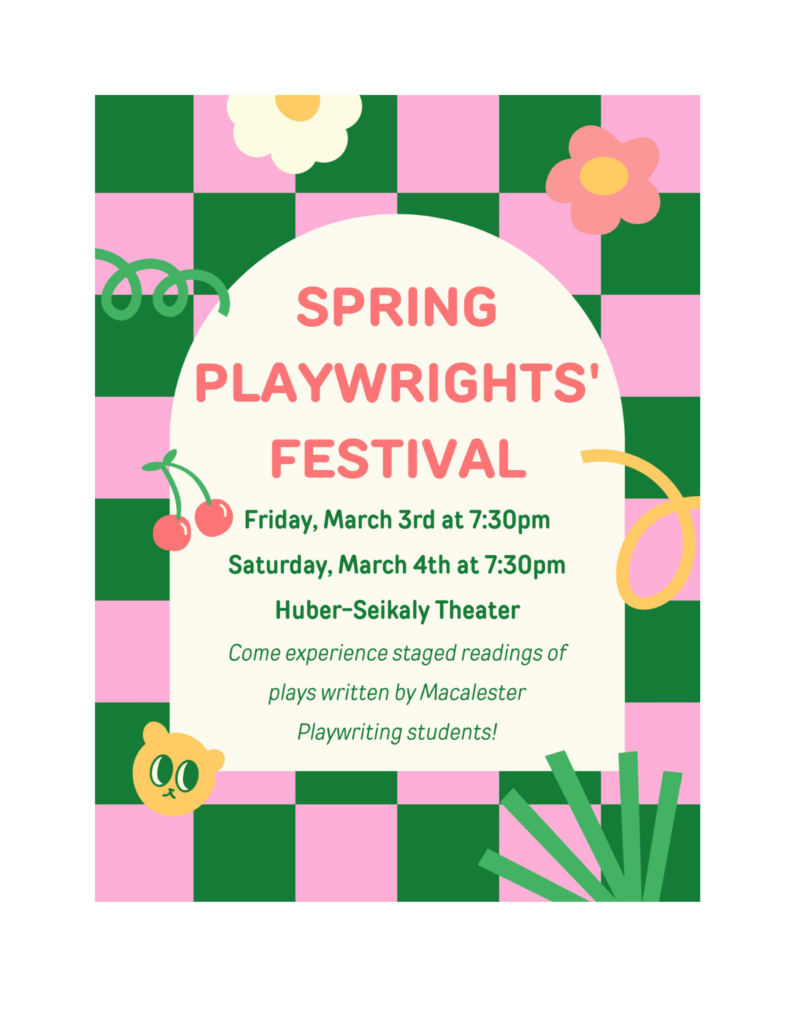 Janet Wallace Huber-Seikaly Theater
Friday, March 3, 7:30PM
Saturday, March 4, 7:30PM
Click this link for the Program.
Past Season Information
For more information about Macalester Theater and Dance performances, you can peruse recent production information on our Past Seasons page, or dive deeper into the Theater and Dance Collection database.