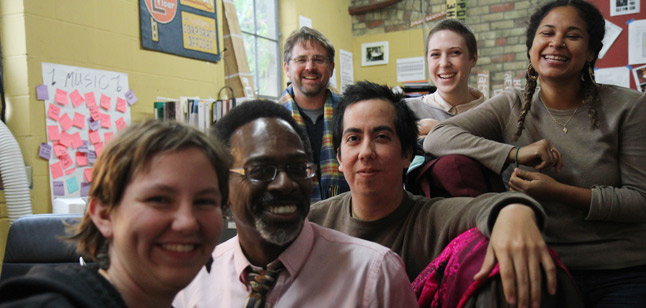 Theater and Dance faculty and staff are enormously proud of alumni, whose training in performance histories and practices in theater and dance have led them into rewarding careers in the arts, teaching and related areas. Alumni have contributed in significant and sustained ways to the quality of the performing arts and arts education in the Twin Cities of St. Paul and Minneapolis. These alumni are guests in our department courses, or work on productions as guest professionals in design or choreography. Our current students see the work of alumni on local stages and alumni have been generous with their time and their own networking capabilities with new and recent graduates.
Recent graduates are also living and working as artists and educators in other "arts hub" cities:  Chicago;  New York;  Los Angeles; London; Honolulu;  San Francisco; Boston; Nikosia, Cypress; Tokyo, Japan. Faculty and staff hear regularly from alumni who are working in non-urban settings, having an impact on their communities as arts advocates, teachers and practitioners.
Visit Alumni Links And Press Information For Specific Information On Graduates
Our Graduates
2000
Ryan Brownlow '14 (Fort Worth, Texas) is pursuing a PhD in communications at the University of North Carolina–Chapel Hill.
Jon Dahl '14 (Roseau, Minn.) received a Fulbright to Hamburg, Germany, to teach English.
Alana Horton '14 (Northampton, Mass.) is employed with Bedlam Theatre, St. Paul, Minn.
Salima Seale '14 (Washington, D.C.) is an assistant stage manager with Penumbra Theatre in their summer institute 2014.
Will French '13 (Phoenix, Ariz.) is working in Minneapolis for College Possible.
Brigid Warnke '13 (Long Beach, Calif.) is working in the Bronx, N.Y., as a teacher of music and theatre to special-needs students in public schools.
Tamara Clark '12 (Seattle, Wash.) is an arts access intern at Mixed Precipitation, Minneapolis, Minn.
Thalia Kostman '12 (Los Olivos, Calif.) is working as an actress at New Bridge Theatre Company, Hastings, Minn.
Peytie McCandless '12 (St. Paul, Minn.) is performing with Transatlantic Love Affair, 20% Theatre Company, and Theatre Unbound (Minneapolis, Minn.).
Julia Brown '11 (Madison, Wis.) is a development associate at the Minneapolis Playwrights' Center and continues to write her own plays.
Chris Garza '10 (San Antonio, Texas) is an assistant at Frank Theatre in Minneapolis and has directed several new plays in local festivals. He writes performance reviews for HowlRound.
Natalie Khuen '10 (DeKalb, Ill.) completed her second year in scenic design at the University of California–San Diego MFA program, and was the winner of the 2013 Rose Brand Scholarship.
Gwyn Shanks '10 (Bend, Ore.) completed the master's program in performance studies from NYU in 2011, and is pursuing a PhD in world arts and cultures at the University of California–Los Angeles.
Eric Casanova '08 is entering his final semester of MFA work at the Yale School of Drama's program in technical design and production management.
Kate Ming T'ien Duffly '00, UC–Berkeley Performance Studies Ph.D., will direct her first production as an assistant professor of theatre at Reed College in April 2013—Eurydice by Sarah Ruhl. academic.reed.edu/theatre/productions/schedule.html and academic.reed.edu/theatre/faculty/duffly.html
The acclaimed play of Danai Gurira '01, The Convert, opened recently at Woolly Mammoth in Washington, D.C. woollymammoth.net/performances/show_convert.php. Fans of the TV Series The Walking Dead will recognize Danai in the ongoing role of Michonne: http://www.imdb.com/name/nm1775091/
Taous Claire Khazem '03 and Eliza Rasheed '06 recently starred together in the two-character play The Skyless City, written and directed by Kiomars Moradi at Dreamland Arts in St. Paul.
Macelle Mahala '01, assistant professor of theatre at the University of the Pacific, is publishing the first book-length study of Penumbra Theatre through the University of Minnesota Press. When the book is published in Fall 2013, the Theatre & Dance Department will be sponsoring various readings and events. 3.uop.edu/Academics/Schools-and-Colleges/College-of-the-Pacific/Academics/Departments-and-Programs/Theatre-Arts/Faculty/Directory/Macele-Mahala.html
Christopher Morris '05, MFA Scenic Design, Tisch School of the Arts/NYU, has some design work posted on tumblr
Janine Myers '01 is a theatre multi-tasker in Honolulu. She is adjunct professor and theatre manager at Hawai'i Pacific University, cofounder of stage and event lighting company Myers Lights, and an electrician at Hawai'i Stage and Lighting Rentals. linkedin.com/pub/janine-myers/a/175/383
Isabel Nelson '05 is expanding her Fringe Festival Award–winning Red Resurrected for a full production at Illusions Theatre Company in February 2013. The cast features Willie Gambucci '12 and Heather Bunch '05. illusiontheater.org/events/lights-red-resurrected
Stephanie Weeks '01 was interviewed recently as a featured artist with New York's Target Margin Theatre Company, with whom she works regularly.
Emily Zimmer '00, Minneapolis actress and teaching artist in the public schools and with the Children's Theatre Company's Neighborhood Bridges Program, is extending her educational reach to book reviews for young adults through the GoodReads project.
1990
Christine Cover-Ferro '98 designed the costumes for the 2013 film Low Grounds: The Portal. Her other recent professional costume work includes assisting on the films No Strings Attached (2011) and Shanghai (2010).
Aditi Kapil '94, playwright/actor/director, is a featured playwright at La Jolla Playhouse's 2013 DNA New Work Series, and carried the lead role in the Mixed Blood Theatre Production of Next to Normal in Fall 2012. Aditi was recently interviewed by the McKnight Foundation State of the Artist video series.
Leontyne Mbele-Mbong '97 performed in the Gala revue celebration of the venerable Lamplighters Music Theatre in San Francisco in late 2012. Previously she'd played Ruth in the African American Shakespeare Company's acclaimed production of A Raisin in the Sun mercurynews.com/entertainment/ci_20628066/review-raisin-sun-gets-brilliant-revival-san-francisco. She also has held major roles in productions at Altarena Playhouse, Berkeley's Central Works Theatre, and California Shakespeare Festival in the last three years.
Julian McFaul '91 has directed his first production as a theatre teacher at the Brooklyn Center Arts Magnet and IB World High School. He also hosted the annual Powderhorn Art Sled Rally (http://ppna.org/upcoming-events/january-art-sled-rally/) , and will continue in 2013 his kids' summer camp, making cardboard castles and broadswords. Julian's website describes his ongoing work as an artist and educator: http://julianmcfaul.com/
Adrienne Nelson '95, an actor and theatre educator in Washington, D.C., recently attended Obama inaugural events as a member of the D.C. artistic community.
Andre Samples '99, Minneapolis-based actor and theatre educator, is a classroom teacher and education associate with Stages Theatre Company and an instructor with Youth Performance Company's Summer Program.
1970
The Winter 2013 production of Nellie at the St. Paul History Theatre was written by THDA Alum Kim Hines '77 and starred Sha Cage '95. historytheatre.com/2011-2012/raw-stages/nellie-by-kim-hines
James Williams III '77 was on Broadway recently in August Wilson's The Piano Lesson, which received enormous critical praise and was extended four times: broadway.com/buzz/166365/august-wilsons-the-piano-lesson-extends-for-final-time-off-broadway/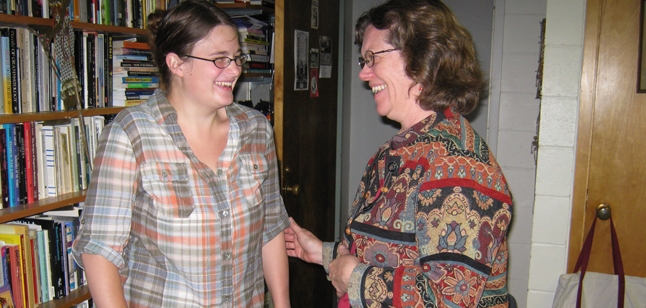 Photo caption: Julia Brown '11, THDA and English double major, talks with Cheryl Moore Brinkley about her playwrighting projects and Fringe Festival aspirations.