The Engel-Morgan-Jardetzky Distinguished Lecture on Science, Culture and Ethics
Established to commemorate the spirit of the fund raising initiative by Austin George (Jim) and Mary Roessel Engel, Robert A. Morgan and their fellow Macalester students that in 1949 created Macalester's Displaced Person Scholarship and brought Oleg Jardetzky to Macalester and the United States.
2017 Jardetzky Lecture
A Peaceful Revolution: Global Justice for Young People Requires a New Approach
April 18, 2017
4:30 p.m.
John B. Davis Lecture Hall, Campus Center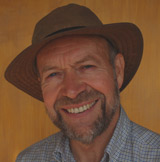 Dr. James Hansen, formerly Director of the NASA Goddard Institute for Space Studies, is an Adjunct Professor at Columbia University's Earth Institute, where he directs a program in Climate Science, Awareness and Solutions. Dr. Hansen is best known for his testimony on climate change in the 1980s that helped raise awareness of global warming. He is a member of the U.S. National Academy of Sciences and has received numerous awards including the Sophie and Blue Planet Prizes. Dr. Hansen is recognized for speaking truth to power and for outlining actions needed to protect the future of young people and all species on the planet.