Why study History at Mac?
The History Department serves an array of educational goals for both majors and non-majors. Department members encourage a broad interdisciplinary approach and develop students' analysis, writing, and speaking skills. Students who wish to explore discrete eras in time, the history of different parts of the world, or specific historical issues will find departmental offerings appropriate for their undergraduate education. Learn more about the History department by clicking here
The study of history in all its variations provides valuable background for a wide range of careers. In addition, graduate schools are particularly interested in students from a broad-based history department like Macalester's. Skills and perspectives developed through a history major, augmented by internship opportunities, prepare students for positions in professions such as teaching, law, business, international relations, and library and archival work; they may also contribute broadly to building successful careers in government, business, and the nonprofit sector. Work in history also prepares Macalester students to be better informed, active citizens in their community, nation, and world. Learn more about what our majors are doing with their degrees by clicking here
Macalester's central Twin Cities location provides access to great internships, museums, archives, and other resources. Learn more about internship and job opportunities for history majors by clicking here
History majors:
Become acquainted with the many, often competing, ways in which historians construct accounts of the past;
Become conversant with different approaches to textual analysis, with diverse forms of historical representation, with a wide range of conceptual frameworks, and with varied ways of assessing and interpreting evidence from the past;
Become more proficient in a) using a variety of research and informational tools, b) analyzing and evaluating historical arguments, and c) writing and speaking clearly and concisely;
Come to appreciate the diversity in human experience through comparisons across time (different historical eras) and space (different geographic regions).
Links for History Students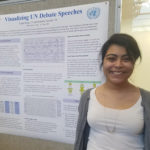 Data Visualization of UN Debate Speeches
History major Jennifer Arnold presenting work on topic modeling of UN speeches from 1970. This work from her data visualization class with Bret Jackson gives her the framework she needs to pursue her research questions about the impact of historical events on Fidel Castro's speech rhetoric.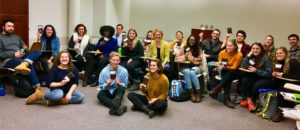 Narcan Training
Students in Professor Amy Sullivan's "Uses and Abuses: History of Drugs, Addiction and Recovery in the U.S." received training in use of Narcan for opioid overdoses by Stephanie Devich of Valhalla Place/Meridian Behavioral Health. Twenty-seven kits were handed out to everyone.
"History is All Over" Newsletter
The Fall 2017 edition of the History newsletter is available now, here.
"History is All Over" – New Newsletter
The Spring 2017 issue of "History Is All Over: The Macalester History Department Newsletter," is available now, here.