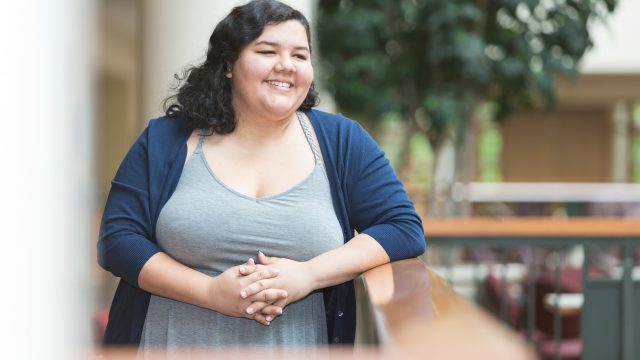 "There's academic value in their show and in their lives. A lot of people feel like they shouldn't have lasted this long, and they have. Now we need to study why."                     —Selena Pruitt '16
Not many people "hit the books" by tuning into E! Network, but Selena Pruitt '16 (Durham, N.C.) did just that. As research for her American studies capstone, Pruitt watched the popular reality television show Keeping Up with the Kardashians. "There's more to them than just money, fame, selfies, and beauty," Pruitt said. Her capstone investigates how the Kardashian family empire influences and reflects American culture.
"I'm really interested in the Kardashians because they're so controversial," she said. She argues that the Kardashians represent the best and worst of our culture.
America is centered on the family, and the Kardashian brand is "built upon them being a family," Pruitt said. "Individually, they're decently famous, but the six women together are unstoppable."
The Kardashians represent success and the achievement of the American dream. "I don't think people want to admit it, but money is seen as the ultimate form of success, whether it's the ability to buy products, own homes, or send your kids to good schools," Pruitt said. "Money's at the root of it and the Kardashians have taken advantage. Right now, the net worth of their empire is $300 million, and they've got 11 brands. Americans are so focused on this consumerist culture and material goods that they buy into the Kardashians. They buy into their empire."
Material wealth evokes the "worst" of our culture—materialism, vanity, narcissism, and greed—qualities the Kardashians symbolize. At the same time, the family calls attention to systemic issues in our society, including racism, sexism, and transphobia. "Even though I think Caitlyn is problematic in a lot of ways, you can't argue that she, the show, and the family have given trans rights a visibility that might not have been achieved otherwise," Pruitt said.
The family also draws attention to feminism. "Every time Kim posts a selfie, everyone has an opinion about whether or not she should take it down, or that since she's a mother, she shouldn't be posting naked selfies. I think that raises a lot of important questions about feminism and women's bodies," Pruitt said.
While writing her capstone, Pruitt was surprised by the dearth of academic research on the Kardashians. "It's so interesting that people aren't studying them when they're such a huge cultural phenomenon," Pruitt said. "Their reality show came on the air in 2007. They've been around for almost 10 years and they influence everything—from fashion to music to ideals in society. I think people don't study them because they write them off as shallow and worthless."
Pruitt finds this dismissal a mistake. "While I do think a lot of the aspects of their lives are problematic, I also think they have a lot to offer us," she said. "There's academic value in their show and in their lives. A lot of people feel like they shouldn't have lasted this long, and they have. Now we need to study why. If people really feel like it's an enormous problem, we should be able to explain how they came to be, and then maybe we can dismantle it."
Coursework in the American Studies Department equipped Pruitt with the theoretical frameworks and methodologies to tackle her capstone. "I studied such a wide variety of things: critical race theory, feminist theory, materialist critique, and media and cultural studies," she said, noting that this allowed her to examine the Kardashians through many different lenses.
Her professors encouraged Pruitt to "go beyond the expected" in choosing a capstone. "I never thought I'd get to study the Kardashians—AKA my one true passion—and be supported by my professor and peers," she said.
Pruitt hopes to work in the entertainment industry next year. Watching Keeping Up with the Kardashians definitely created an enjoyable research experience, but the process also equipped her with a "more critical eye for how things are produced and what sort of cultural impact they have"—a useful perspective to bring to Hollywood, and one that extends far beyond the Kardashian clan.