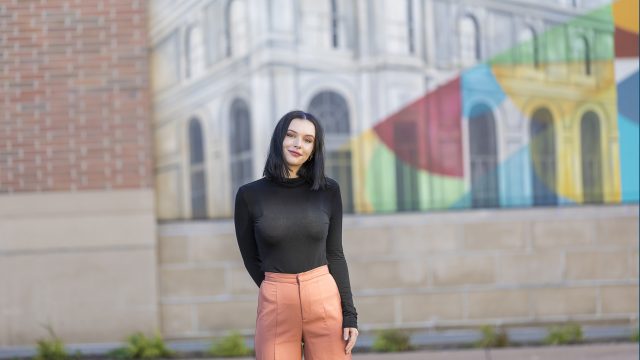 By Rebecca Edwards '21
In the Twin Cities and around the world, Mac students pursue summer internships with support from the Macalester Summer Internship Grant program to build on what they learn in the classroom and explore career paths. We asked three students to tell us about their work this summer.
Maya Sobchuk '21 (Kyiv, Ukraine) spent the summer working remotely for
The Kyiv Post
, Ukraine's oldest English-language newspaper. 
What has been the most challenging and most rewarding part of working with the media this summer?
It was quite a shame not being in Kyiv and interacting with the newsroom. I was really hoping to get to know Ukraine and her people better through the journalistic practice. The journalists at The Kyiv Post do incredible work, and being in the newsroom would have allowed me to observe and learn from them. It was basically impossible to do that through the internet.
 I reported directly to the editor-in-chief, who as you can imagine is probably one of the busiest people on the planet, so I'm really grateful that he took the time to mentor me and answer all my questions, patiently.
What made you want to pursue work with The Kyiv Post?
I'm from Kyiv but have lived in the U.S for most of my life. I study international relations and media at Mac, and a lot of the topics I focus on have to do with Ukraine and Eastern Europe. I wanted an experience that tied family and school together. A lot of this has to do with the fact that I was supposed to be in Kyiv all summer, which would have given me the opportunity to spend time with family, with Ukraine, and with some really smart journalists. Obviously that didn't happen, but I was still able to take advantage of this amazing experience with a paper I've been reading for most of my life.
In what ways has this internship supplemented your Macalester experience?
I find that the biggest argument against a liberal arts education is the lack of "real-world" application to the skills that you learn, and an internship like this one solves that gap. Macalester, at least from my experience, is a writing-heavy college. I think that the type of writing we do builds the critical thinking that not only a good reporter needs, but a good employee in any field.
Albert Lee '20 (Honolulu, Hawaii) served as a diversity and inclusion intern for Cow Tipping Press in Minneapolis. The organization aims to teach and publish writing by those with developmental disabilities.
"I talked to a lot of Mac alums who had been diversity and inclusion interns and had conversations about what to expect."
What introduced you to Cow Tipping Press, and why did you want this position?
Previously, I taught three creative writing classes with CTP after having been recommended by some of my friends in the English department who had also taught with them. (Thanks, Maddie!) Immediately, I was stunned into silence by my students' honesty. I remember, on the first day of class, I casually asked a student how he was doing and he said, "I'm feeling a little sad because I don't know who's going to take care of me after my mother dies." Moments like this caused me to fall in love with the organization. After three semesters, I naturally wanted to work with them in a larger capacity and do work that felt even more personal to me. CTP is one-of-a-kind. I have spent hours Googling and there is no other organization that gives adults with developmental disabilities this radical chance to speak for themselves in a medium usually used to speak about them like how CTP does. As a person of color with a disability, I felt it was the perfect place to work toward becoming the person I needed when I was younger.
What was it like working in diversity and inclusion this summer, compared to your teaching job?
"Diversity and inclusion" is a pretty strange term, right? In some ways, it's like the academic version of "thoughts and prayers." It's brought up as a solution to injustice, but the people tasked with the job are usually given neither budgets, nor resources, and inevitably, not much gets accomplished. And that's honestly what I was expecting—so I was pleasantly surprised when I was able to actually do things, make changes, and have my voice be valued. During my internship, I spent a lot of time thinking about how organizations can work towards antiracism, which wasn't on my mind as much as a teacher. When I was teaching, I was trying to find ways to help these amazing students tell their stories. When I was interning, I was trying to get more students of color into the classroom so that an intersectional narrative about developmental disability could be more accurately portrayed.
What advice would you give another student trying to pursue work in D&I?
Assuming this is a student of color, I'd tell them it's okay to not love your job. That's not to say you should hate your job, but it's okay to just like it, to place boundaries on your job so that you don't end up burning yourself out. As a so-called 'wise man' once said, "If you do what you love, you'll never work a day in your life." Wrong. When you do what you love, your life becomes your work and you can never clock out. It is not a coincidence that Diversity, Inclusion, and Equity spells out the word D.I.E! Before I started at CTP, I talked to a lot of Mac alums who had also worked in this field. We had conversations about what to expect, from the code switching to the intense burnout. And so I would absolutely recommend reaching out to people who want to help and know what it's like. You can call it networking, but it's really about making connections with people who can support you, who understand how hard this job is. We need to be connecting with each other if we're going to make meaningful, sustainable change.
Diana Paz Garcia '21 (Mexico City, Mexico) interned for the subnational threats and transnational networks division of The Brookings Institute, a nonprofit research group in Washington, D.C. 
What did a typical day researching subnational threats look like for you?
Most days, I provided research support to senior fellow Vanda Felbab-Brown, a prominent expert on transnational organized crime, internal conflict, and terrorism. I assisted on an array of topics; from the environmental impact of the U.S.-Mexico border to the actions of armed and criminal groups vis-a-vis COVID-19. I also drafted briefings, memos, and reports on non-traditional transnational security issues, including drug trafficking, wildlife trafficking, and illicit economies. 
What drew you to this position?
I had always been attracted to The Brookings Institute because of the actionable component of their research. I like that they engage with politics from an academic standpoint and help in shaping global policy. I was particularly interested in working with Dr. Felbab-Brown due to her extensive work in the field and her approach to research. She writes on subjects such as failed nations, armed and criminal groups, and terrorism critically but with humanity towards her subjects—a characteristic that is unusual in the field. I was particularly touched by her work and writing approach to the violent situation in Mexico (my home country). 
What will you bring from this internship back to your coursework at Mac?
This internship has only confirmed that the study of non-traditional threats and asymmetrical conflicts as well as the elaboration of policy recommendations is my passion, and the path I want to follow. The different experiences I've had at Mac routed me in this direction and this experience has reaffirmed my conviction.