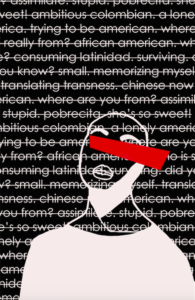 currently untitled. is a theatre performance written, produced, and performed by students of color, international students, and transgender students. In response to consistent stereotyping and microaggressions, 9 performers have written their own stories and taken control of their own narrative through comedy, vulnerability, and mutual support.
February 28 through March 2, Huber-Seikaly Theater at Macalester College
130 S Macalester St, St Paul, MN 55105
Running time: one hour without intermission.
Cast:
| | |
| --- | --- |
| Clare Driehaus '22 | Director |
| Alice Endo '22 | Technical Designer |
| Em Friedman '21 | Director/Stage Manager |
| Juan David Garrido '20 | Actor/Director |
| Adar Kamholtz-Roberts '21 | Actor/Director |
| Karanja Karabiu '22 | Actor/Director |
| Melissa Paola Kingue Silatcha '20 | Actor/Director |
| Yucai Li '19 | Actor/Director |
| Roon Mahboub '22 | Actor/Director |
| Gretta Marston-Lari '21 | Actor/Director |
| Felicia Peterson '22 | Actor/Director |
| Gianella Rojas '21 | Actor/Director |
| Zahara Spilka '21 | Tech Crew |
| Trevor Zapiecki '19 | ASM/Technical Designer |