Portals
Directed by Beth Cleary
March 5, 2021
Portals is a sequence of nine solo performances developed in response to the question: "how do we develop resilience for getting through the pandemic and remaking our world?"
The original works have been developed from newspaper articles, oral histories, poem cycles and the performers' own lives. Viewers will witness human dilemmas and courage from many historical periods and places: a 16th century Dutch mystic; nurse in a COVID unit; small town U.S. schoolteacher during the Red Scare; memories of a border crossing; declarations of Black women's lives mattering.
Download the Portals program here or peruse it online in Flipbook.
Portals Team
Performers
Miles Latham is a current first-year at Macalester and prospective English or Theater and Dance major. This is Miles's first production at Macalester, and it's been a fun and meaningful experience! Many thanks to the cast and production team for their hard work in making Portals come to life.
This piece is an oral history from a young man who grew up in a place and time where military service was expected of him and his peers. Over the course of the monologue, he tells of his own experience with the social pressures of his neighborhood and upbringing and the story of what happens when his best friend tries to resist the draft.
Maria Isabel Arreola is a Sociology & Political Science major and a recently declared THDA minor who really loves playwriting. She hails from Blue Island (not Chicago), Illinois. This whole experience has been a whirlwind of emotions and it couldn't have happened without the support of some really crucial people. Above all, thanks to Amparo who is such a wonderful, inspiring person and an amazing storyteller and musician. And thank you to the production team and the other performers for all their hard work.
This piece is an ode of sorts to oral history. Through a process of interviews, transcription, and memorization this piece came to be. Not all of it is verbatim from the interviews conducted, my memory doesn't work that way (neither does my Spanish).
Elinor is a senior THDA and Music double major. Upon graduating, she plans to continue working in the arts scene in the Twin Cities. They would like to wholeheartedly thank Beth for everything, as well as the rest of the creative team.
Their two-part piece depicts two medical professionals – a doctor who lived through the 1918 Flu Pandemic and a nurse in the present day COVID-19 Pandemic. Fleta recalls her time in medical school in the early 1920s and her stories from the Flu. Kori reflects on our present moment. The horror movie that isn't ending, its credits aren't rolling.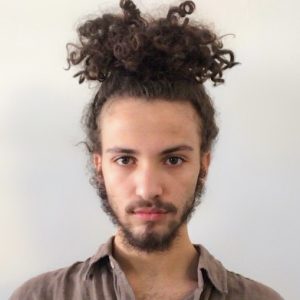 Ezra Nayagam Muthiah is a first year from Pasadena, CA currently planning to double in Theater and Dance/English (Creative Writing). They would like to thank Beth and the entire Portals team for helping make this process and production so inspiring, transformative, and fun.
Their piece depicts 1549 account from the Martyr's Mirror (or The Bloody Theater) of Elisabeth Dirks, an early Anabaptist, as Catholic lords tortured and interrogated her before condemning her to death by drowning.
I'm a junior here at Macalester, majoring in Neuroscience, Theater and Dance, and minoring in English. This is my second production at Macalester. The Portals project is different from anything I've ever done before and I'm more than grateful for the opportunity to share my story with those watching the program.
My piece is my own story about loss – an abridged version of my mother's death and how it has impacted me.
Aela Morris is majoring in English and Theater and Dance with a Spanish minor. She is grateful for the opportunity to research and write her own piece for this production, and wants to thank the cast and creative team for making this a great experience, despite all of the challenges of creating a virtual show.
I have always loved the poetry of Emily Dickinson and have found a lot of solace in her work throughout my life. I started off my research for this production by reading Emily Dickinson's letters, which are wonderful creative works in their own right, and this piece is my response to her.
I'm a Russian studies major with theater minor. Graduating in spring 21 I'm excited to take part in my first play ever (not counting kindergarten). I love storytelling and I'm excited to share the marriage of my two fields of expertise.
My piece is a court trial depiction of a red scare accusation.
Zahara is a senior Computer Science major with a Psychology and Studio Art minor. Resilience is Zahara's first show at Mac, and she is incredibly grateful to take part in such a powerful production. Thank you to everyone for their flexibility and understanding as we navigate this digital world.
Her piece is a compliation of Poems/Spoken words entitled "Dear Black Girl"
Creative
Adam Clark '21, Stage Manager

Angus Fraser '22, Publicity Design
Beth Cleary, Director

Cheryl Moore Brinkley, Voice & Speech Coach
Cláudia Tatinge Nascimento, Department Chair
David Zierott, Videographer

Dameun Strange '95, Composer
Johanna Lorbach, Publicity and Technical Support
Lynn Farrington, Costumer Designer
Thomas C. Barrett, Scenic & Lighting Designer
Director's Notes
When the writer-activist Arundhati Roy posted her essay, "The Pandemic is a Portal," in early April of 2020, people the world over were shuttering inside their homes, watching grim television news from China's locked-down province, Italy's major cities, New York's hospitals. The coronavirus was already everywhere. It had started to ravage India, where Roy lives, and the official shutdown triggered a dangerous walking migration among millions of urban work-seekers, back to their hometowns hundreds of miles away In the essay, Roy calls the migration "biblical" — though she says the Bible couldn't have imagined numbers this big. She also declares that the virus, and lockdowns, "suddenly illuminated hidden things."
Roy's is a truth-telling voice, and millions of people on social media worldwide started to distribute the essay, and ponder the image of the pandemic as a "portal." From where have we come? Into what will we emerge? When? Roy wrote:
"Historically, pandemics have forced humans to break with the past, and imagine their world anew."
In the process of creating our show, Portals, we have made a little world together. It is modest — under one hour, simple circumstances of solo performance on video — but it didn't exist at all in January. It is a new, if temporary, thing. Making Portals has allowed us to draw together stories, memories of family, instances of courage from different places and times in our shared human history. In rehearsal, even on zoom, we have rediscovered the emotional currents in spoken stories, we've cultivated empathy by embodying the hardships of forebears. Art makes its way, even in these times of diminution.
Art is a torch for illuminating the hidden things, for passing through and beyond this portal together.
–Beth Cleary, February 2021