Thunderbodies
"I wrote this play in the Spring of 2013, out of a need to process America's propensity for waging foreign wars and our collective culpability within an ever-growing climate crisis. Nearly ten years later, we're once again struggling to process the horrors of war, and our climate crisis has grown unbearably urgent.
Despite those obvious similarities, our culture has also changed many times over, and at warp speed. I was writing during Obama's second term, when the dominant political mood for liberals was one of optimism and belief in progress. I wanted to
point to some harder truths about the violence, cultural dominance, and resource consumption underpinning our global leadership. I had grown up as a U.S. military kid in Germany, so I was particularly attuned to how long we'd continuously been at war abroad—and I knew that how other countries see us is not always so flattering.
This is serious stuff, but Thunderbodies is a zen paradox of a play: A wild, joyful carnival that embraces and celebrates messy, imperfect, out-of-control clown energy—even as it ultimately critiques the real-world consequences of a country having too much power. I wrote it with a both/and mindset, and I wrote it with love: Love for everything that's wrong with us. Love for our subconscious, lower body energies that so often get the best of us. Love for our vulnerable, uncontrollable embodiment… I was taking my first clown class when I wrote this play, while also recovering from major surgery on a broken foot. The characters in this play are stuck because they're at war with the world and with themselves.
Please embrace your own thunderbody, and enjoy the show."
Kate Tarker, Playwright
Friday, April 8 at 7:30pm
Saturday, April 9 at 7:30pm
Sunday, April 10 at 2:00pm
Thursday, April 14 at 7:30pm
Saturday, April 16 at 2:00pm and 7:30pm
---
Cast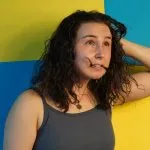 Grotilde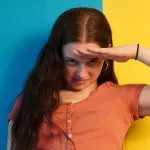 Michail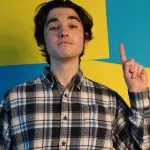 Boy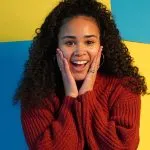 Girl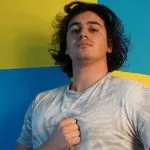 President #1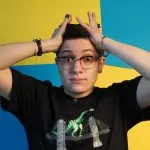 President #2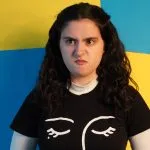 President #3
Artistic and Production Staff
| | |
| --- | --- |
| Vladimir Rovinsky | Director |
| Patrick Coy Bjork '23 | Assistant Director |
| Thomas Barrett | Technical Director |
| Mina Kinukawa | Set Designer |
| Luka Fraase '22 | Assistant Set Designer |
| Jenny Li '23 | Assistant Set Desginer |
| Wu Chen Khoo | Lighting Designer |
| MaryBeth Gagner | Costume Designer |
| Meg Allen '24 | Assistant Costume Designer |
| Dan Dukich | Sound Designer |
| Lucas Martin '24 | Assistant Sound Designer |
| Jessica Chen '25 | Prop Designer |
| Miles Latham '24 | Assistant Prop Designer |
| Constance Brevell | Stage Manager |
| Birdie Keller '25 | Assistant Stage Manager |
| Laura Sullivan '25 | Assistant Stage Manager |
| Barbra Berlovitz | Voice Coach |
| Jessica Chen '25 | Poster Designer |
| Ariadne Smith '25 | Light Board Operator |
| Arthur Motoyama '24 | Sound Board Operator |
| Kyra Layman '25 | Backstage Crew |
| Thant Arkar Kyaw '24 | Backstage Crew |
| Emilia Garrido Vasquez '23 | Wardrobe |