Professor Olga Gonzalez wins 2018 Rossmann Teaching Award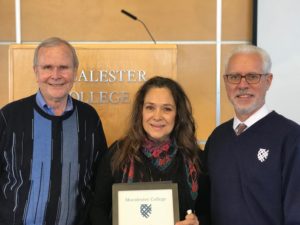 Professor Olga Gonzalez (center) received Macalester's 2018 Jack and Marty Rossmann Excellence in Teaching Award, presented by President Brian Rosenberg (right) and Professor Emeritus Jack Rossmann (left). This award it given each year to a faculty member who has been identified by colleagues and students as exemplifying the teaching goals of the college. The award comes with a $1,000 cash prize and is announced at the annual Faculty and Staff Spring Luncheon.
Lucia Alexandrin '17 Receives 2017 Mikiso Hane Prize for Best Undergraduate Paper for her Senior Capstone Paper
Lucia Alexandrin '17 of Gorham, Maine, has won the 2017 Mikiso Hane Prize for Best Undergraduate Paper for her senior capstone paper, "Self, Soul Loss and Motorbikes in Modern Bali." The prize was awarded by the Midwest Conference on Asian Affairs (MCAA). This is the third time an Anthropology major has won one of the two undergrad prizes awarded by the MCAA in the last six years. Alexandrin also won the Jack Weatherford prize for best capstone.
Recent Grad Wins Award for Best Undergraduate Paper in Feminist Anthropology
Caroline Vellenga-Buban '17, from Monmouth, Ill., has been awarded the 2017 Sylvia Forman Prize for the best undergraduate paper in feminist anthropology. The Association for Feminist Anthropology, a section of the American Anthropological Association, awards the prize each year.  Vellenga-Buban's paper, titled "Queer and Mainstream? LGBT Parents and American Family Values," was  praised by the prize committee for the ethnographic and theoretical quality of the paper.  Since 2003, Vellenga-Buban is the fourth student from Macalester's Anthropology department to receive the Sylvia Forman prize.
Macalester Students Present at Largest National Conference for Physical Anthropology
Professor Scott Legge, Risa Luther '16, Cecilia Mayer '16, and Katherine Meier '16 presented posters at the 85th Annual Meeting for the American Association of Physical Anthropologists in Atlanta, Georgia. Risa, Cecilia, and Katherine also presented at the 6th annual Committee on Diversity Undergraduate Research Symposium. Scott, Risa, and Cecilia presented their research on healed skeletal trauma in Old World and New World monkeys, and Katherine presented on her research in Madagascar on habituation of blue-eyed black lemurs. They presented with over 2,000 physical anthropologists from all over the world.
Anthropology Research on Nepal Presented by '16 Student and '14 Grad at Himalayan Studies Conference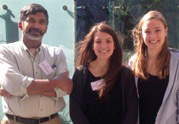 Professor Arjun Guneratne of the Anthropology Department, Andrea Grimaldi '16, and Sarah Rasmussen '14 attended the recently concluded Himalayan Studies Conference IV at the University of Texas-Austin, where they presented papers on their research in Nepal. Sarah is a former Fulbright fellow in Nepal and Andrea is completing an honor's thesis on the impact of labor migration from Nepal on the communities that are left behind.
They Found Evidence
A group of students spent four and a half weeks working in the 280-acre Katharine Ordway Natural History Study Area this summer. "Professor Legge taught us how to do survey work quickly but soundly," says Holt. The pottery will be sent to the Science Museum of Minnesota in St. Paul for permanent curation. more