Lucia Alexandrin '17 Receives 2017 Mikiso Hane Prize for Best Undergraduate Paper for her Senior Capstone Paper
Lucia Alexandrin '17 of Gorham, Maine, has won the 2017 Mikiso Hane Prize for Best Undergraduate Paper for her senior capstone paper, "Self, Soul Loss and Motorbikes in Modern Bali." The prize was awarded by the Midwest Conference on Asian Affairs (MCAA). This is the third time an Anthropology major has won one of the two undergrad prizes awarded by the MCAA in the last six years. Alexandrin also won the Jack Weatherford prize for best capstone.
Recent Grad Wins Award for Best Undergraduate Paper in Feminist Anthropology
Caroline Vellenga-Buban '17, from Monmouth, Ill., has been awarded the 2017 Sylvia Forman Prize for the best undergraduate paper in feminist anthropology. The Association for Feminist Anthropology, a section of the American Anthropological Association, awards the prize each year.
Vellenga-Buban's paper, titled "Queer and Mainstream? LGBT Parents and American Family Values," was  praised by the prize committee for the ethnographic and theoretical quality of the paper.
Since 2003, Vellenga-Buban is the fourth student from Macalester's Anthropology department to receive the Sylvia Forman prize.
Macalester Students Present at Largest National Conference for Physical Anthropology
Professor Scott Legge, Risa Luther '16, Cecilia Mayer '16, and Katherine Meier '16 presented posters at the 85th Annual Meeting for the American Association of Physical Anthropologists in Atlanta, Georgia. Risa, Cecilia, and Katherine also presented at the 6th annual Committee on Diversity Undergraduate Research Symposium. Scott, Risa, and Cecilia presented their research on healed skeletal trauma in Old World and New World monkeys, and Katherine presented on her research in Madagascar on habituation of blue-eyed black lemurs. They presented with over 2,000 physical anthropologists from all over the world.
Anthropology Research on Nepal Presented by '16 Student and '14 Grad at Himalayan Studies Conference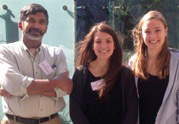 Professor Arjun Guneratne of the Anthropology Department, Andrea Grimaldi '16, and Sarah Rasmussen '14 attended the recently concluded Himalayan Studies Conference IV at the University of Texas-Austin, where they presented papers on their research in Nepal. Sarah is a former Fulbright fellow in Nepal and Andrea is completing an honor's thesis on the impact of labor migration from Nepal on the communities that are left behind.
Dianna Shandy named 2015-16 Executive Leadership Fellow at the U of M's Center for Integrative Leadership
While on sabbatical during the 2015-16 academic year, Anthropology professor Dianna Shandy has been named an Executive Leadership Fellow in the Center for Integrative Leadership (CIL) at the University of Minnesota. More
Archaeology Students' Presented Posters
Two Macalester students and one 2013 graduate recently presented posters at the Third Annual Student Poster Presentations Session, Minnesota Society of the Archaeological Institute of America at the University of St. Thomas. Carol Meja '15 and Kate Sinnott '14 presented posters detailing an archaeological survey in which they took part during the summer of 2013.  more
They Found Evidence
A group of students spent four and a half weeks working in the 280-acre Katharine Ordway Natural History Study Area this summer. "Professor Legge taught us how to do survey work quickly but soundly," says Holt. The pottery will be sent to the Science Museum of Minnesota in St. Paul for permanent curation. more
The Appeal of Halloween
Halloween is almost here. We asked Anthropology Professor Diana Dean, who teaches "Magic, Witchcraft and Religions" here at Macalester, to tell us more about this holiday from an anthropological perspective. more
Professor Scott Legge awarded grant for faculty/student archaeological survey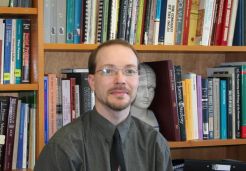 Scott Legge, assistant professor of anthropology, has been awarded a Minnesota Historical and Cultural Heritage Grant for a Phase I archaeological survey of the Katharine Ordway Natural History Study Area (KONHSA). The goal of the project is two-fold: to complete a site report detailing any cultural resources found at KONHSA and to provide practical experience in cultural resource management for classroom-trained students. This will allow students to participate in an archaeological Phase I survey from start to finish during summer 2013.
In the 14th century, the North African scholar Ibn Khaldun wrote the first historical work to focus on tribalism as the key to understanding human civilization. In his analysis, civilization faces an eternal dilemma and needs tribal values to survive. In his scholarship, Professor Weatherford tries to follow the tradition of Ibn Khaldun by studying the relationship of tribal people to the larger societies around them and to world history. In thespirit of ideas worth spreading, TEDx is a program of local, self-organized events that bring people together to share a TED-like experience. At a TEDx event, TEDTalks video and live speakers combine to spark deep discussion and connection in a small group. These local, self-organized events are branded TEDx, where x = independently organized TED event. The TED Conference provides general guidance for the TEDx program, but individual TEDx events are self-organized.* (*Subject to certain rules and regulations)
Macalester Alumnus wins 2012 Hugo Award for comic "Digger"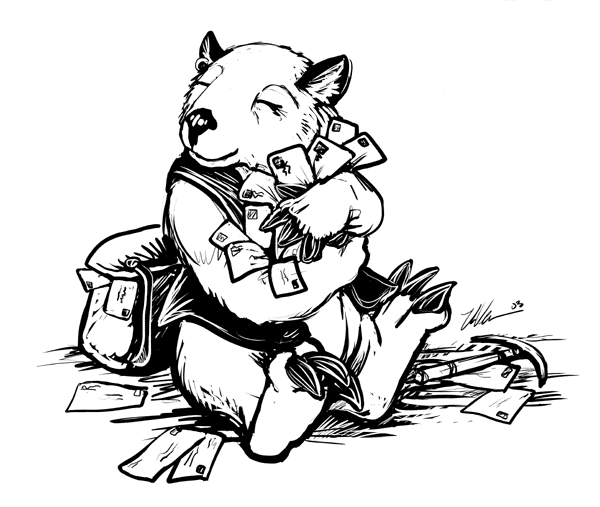 Ursula Vernon, author of the popular children's book series "Dragonbreath" and a 1998 Macalester Anthropology graduate, has won a 2012 Hugo Award for Best Graphic Story for her comic "Digger." more