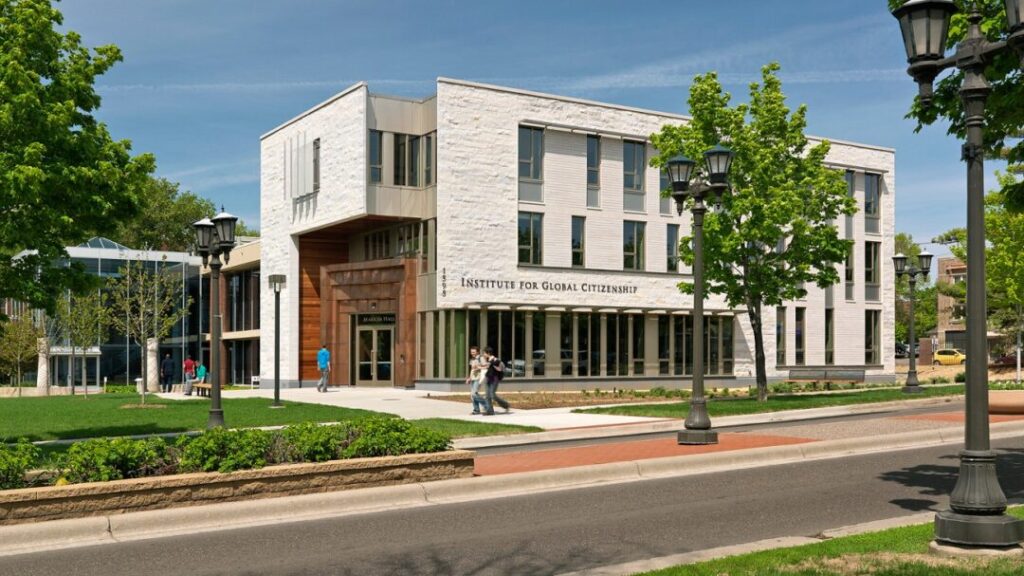 Evolution of Community Engagement at Macalester
A commitment to service has permeated statements of purpose for Macalester College from its founding in 1874.
1950s – Earliest period for which we have records of administrative support for service, which was provided by the Chaplain with programs rooted in the "Christian character development" with students working as youth group leaders or in hospitals
1960s & 1970s – Students viewed their commitments more in terms of social change and advocacy in light of social upheaval of the times. However, tutoring & social service work continued
1968 – The Volunteer Service Program moved from Chaplaincy to Career Planning & Placement Office. The program included volunteer and internships with the latter receiving more emphasis.
1971 – The Volunteer Service Program was renamed the Community Involvement Program (CIP) and was active in linking service learning with academic learning. Bush grants were available to provide workshops for faculty interested in integrating community involvement with classroom learning. Vans & student drivers were available. 2 staff members worked with students for coordination.
1981 – CIP formally merged with Career Planning and Placement to create the Career Development Center. One CIP positions was retained to coordinate internships. The other position was eliminated and the Chaplain was asked to commit 4 hours per week to supervise 2 work-study students who ran the volunteer program. This was eventually picked up be a career counselor but staffing limitations kept the program to a minimum during the early-mid 1980s.
1986 – Campus Opportunity Outreach League (COOL) founder, Wayne Miesel visited Macalester and challenged the college to renew its commitment to what was now becoming a national interest in student community service.
1987 – Maction, the student organization for community service, was created as a result of student energy and commitment.
1988 – The Community Service Office (CSO) created to provide more administrative support beyond Maction. A recent grad was hired for one year and this coordinator reported to the Chaplain in the President's reporting line. First "Into the Streets" day during orientation.
1989 – Staff position hired to replace recent alumni under 2 year grant from President's Office and the Chaplain's Office.
1990 – Number of active volunteers grew 91%. First two student employees hired through Presbyterian Bergstrom Fund to coordinate Friendship Tutoring Program at Ramsey Jr High (now Hidden River Middle School) which started with 24 trained volunteers.
1991 – 5 professors included a service-learning component in their classes. Received a $20,000 grant from ACTION (federal domestic violence agency). Several new programs began including International Speakers and the Habitat Fall Break trip.
1992 – Reporting line moved to Dean of Students. Office moved from Chapel basement to Student Union.
1993 – Awarded Bush Grant to focus on service in the curriculum. Demographics of service participants analyzed and proactive strategies of recruiting underrepresented groups developed. Professional staff position promoted to Director level. Program mentioned in US News and World Report's Best Colleges Guide.
1994 – Advisory committee produced Faculty Handbook for Service-Learning under auspices of Bush grant. First Program Coordinator hired.
1995 – Leaders in Service program formally inaugurated. "Into the Streets" day for athletes initiated. Received Bush Grant for excellence in teaching through action research.
1996 – CSO took over administration of the Off Campus Student Employment Program. CSO webpage was created. Program Coordinator role promoted to Assistant Director.
1997 – Received grant to hire full-time VISTA worker (VISTA staffing from 1997 – 2001)
1998 – America Reads Program formally inaugurated. Received a 3-year HUD grant with Metro State and University of Minnesota.
1999 – Half-time department coordinator hired to support growing office. CSO moved to Lampert Building while new office space is built.
2001 – Moved to new office space in renovated Kagin Commons.
2002 – Student Leadership & Literacy Coordinator staff position created to replace VISTA model. Received $100,000 Pericles Grant to deepen civic engagement efforts by the college, particularly in curricular endeavors.
2003 – Proposal to Create a Center for Civic Engagement (link to Civic Engagement Inventory Report)
2005 – IGC White Paper
2006-2007 – IGC created and Community Service Office transitions to Civic Engagement Center
2009 – Markim Hall Built
2022 – Shift to co-directorship model, Civic Engagement Center renamed Community Engagement Center