Explore and engage
Russia, Eastern Europe, and Eurasia comprise a massive, diverse, and geopolitically active part of the globe. By studying the area's history, politics, and culture, you can better understand and respond to Russia's playmaking on the world stage. Take an active role in learning about the region and you will empower yourself to engage with this part of the world. Step onto this larger stage and you will see there are many fulfilling roles that will allow you to make positive changes, often collaboratively.
Russian is a global language. Learning Russian is the first step toward connecting with the 200+ million who speak Russian across Central Asia, Eastern Europe, the eleven time zones of Russia, and Russian-speaking emigres worldwide. We will support you every step of the way from figuring out the alphabet (алфавит) to achieving fluency.
Why study Russian at Macalester?
Language and culture are inseparable. For this reason, we teach Russian through songs, film, literature, and mass media. We provide personalized language instruction up through the advanced levels with the support of an on-site native speaker, one-on-one tutoring, and professors who are happy to guide you through the intricacies of Russian.
Let your intellectual curiosity run wild. In addition to our language courses, our culture courses (taught in English) help you develop a critical perspective on the post-Soviet sphere and let you steep yourself in Russia's rich cultural heritage.
Learn lessons from the October revolution—the world's most ambitious experiment in creating social equality on a mass scale. Explore how culture resists and even flourishes in the midst of tyranny. Question the categories of east and west by studying a country that straddles this divide.
Travel to Moscow, St. Petersburg, Central Asia, and other places where Russian is spoken to study, volunteer, and immerse yourself in a new environment.
Life after Macalester
Macalester students have taken advantage of the numerous funding and professional development opportunities for learners of Russian, including the Critical Language Scholarship and the Alfa, Boren, Fulbright, and Pickering Fellowships.
Knowing Russian opens up career opportunities in areas from the U.S. government to Silicon Valley and beyond. We have a broad network of alums who are eager to support current students. Our graduates have gone on to rewarding careers in fields such as education, foreign service, business, translation, public health, library science, journalism, and law.
Russian in the cities
Gain real-world leadership and organizational skills through volunteer work with local schools, nonprofit organizations such as the Advocates for Human Rights, and the Twin Cities' large Russian-speaking population.


Our students have worked as translators for local Russian-speaking immigrants and delegations from such places as the Republic of Georgia.



Experience Russian culture first-hand at the Guthrie Theater, the Cedar Cultural Center, and the Museum of Russian Art, which offers exhibits, performances, and internship opportunities.


Join our community
At Macalester, you can count on the support of dedicated faculty, a close-knit community of language learners, and cultural events to enrich your knowledge and understanding.
Russian House. Our on-campus house offers language and cultural immersion to its residents and events open to the community, including craft-making workshops and holiday celebrations. Local families join us for our annual Maslenitsa festival where we cook pancakes and dance in a circle to welcome the arrival of spring.
Russian Studies Conference. We help our students develop papers to present at conferences and publish in journals. Our annual conference features renowned speakers and a paper competition where you can learn from intellectual fellow travelers at Mac and beyond.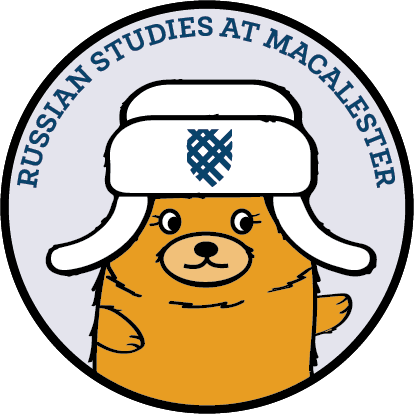 Russian Studies major Mallie Kermiet '20
Mallie Kermiet '20 talks about organizing a human-rights workshop at Macalester's International Roundtable.
Department happenings
Daniel Szetela '19 was awarded a Fulbright Fellowship to teach English in Petrozavodsk, Russia.

Anna Steele '18 received a Critical Language Scholarship to study Russian and Georgian in Tbilisi, Georgia. CLS is an initiative by the U.S. Department of State that seeks to increase the number of Americans studying critical languages through intensive overseas language and cultural immersion.
Anna Ivanov '18 was accepted into the PhD program in Slavic Languages and Literatures at Harvard University.