Alice Endo '22 – Freelance Lighting Design and Tech Work: Theater Mu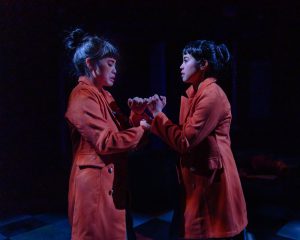 Where is your internship and what is your role there?
I interned with Theater Mu, on their virtual production of Today is My Birthday. I was one of two Macalester scenic and lighting design interns on the project.
How did you come across this job?
Mina Kinukawa, our design professor, was involved in the process and invited me to join as an intern!
What does a typical day look like at this job?
As an intern on an in-person production, I would be constantly taking care of small tasks to help out the design team. When we are all in our Zoom boxes, it's a little harder to have hands-on projects… Most of my role ended up being observing production meetings and rehearsals. I also helped the designers with the research process.
How has your role been impacted by the pandemic?
It's been obviously very hard to find the kind of work and learning opportunities that I'd like during the shutdown. However, this project used streaming technology in innovative ways to allow live theater to happen again, in front of green screens in a media space. And it was just exciting to work alongside creative, talented people again, even if it was through a screen!
Do you have any advice for other students looking for internships or jobs?
Reach out to more experienced people who work in fields that interest you, be honest about your level of experience, and show that you're excited about the work! I've found that theater professionals in Minnesota have been very kind, and want to help younger artists when they can.
Return to the Internships and Professional Development page to read other student profiles.