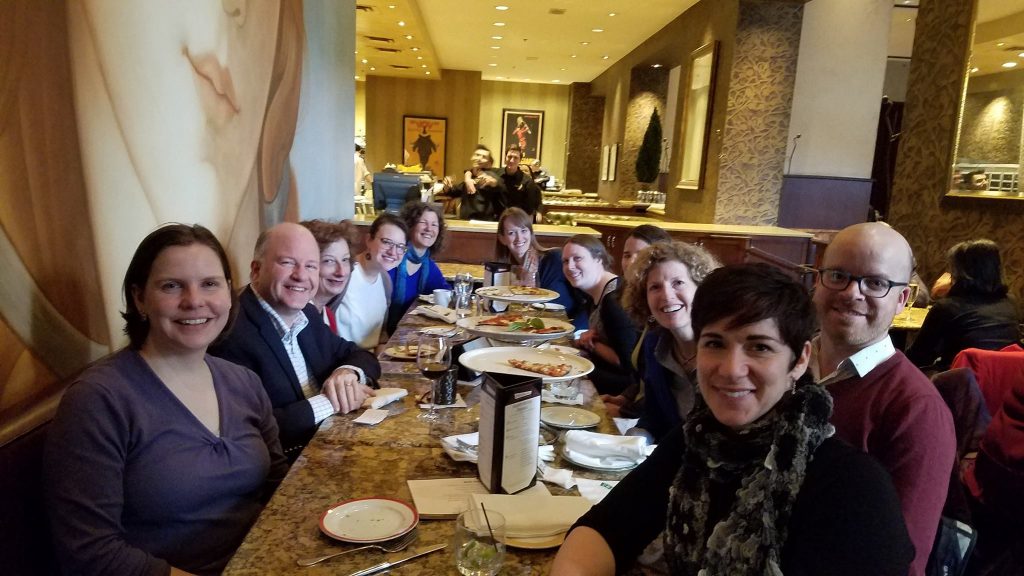 Macalester alumni are part of a special group of motivated, innovative, creative and socially-conscious individuals who span the globe and occupy special niches in every conceivable career.We learned to merge the creative with the intellectual. We have started businesses, excelled at corporations, invented with abandon, written our truths and walked pathways that few, if any, have ventured. We are connected because we have shared that special bond of the Macalester experience. Why not continue our shared connection through Macalester Career Clubs?
What are Macalester Career Clubs?
Macalester Career Clubs are organic "get togethers" or "clubs" which meet to promote, advance or assist in career exploration and connections, for all alumni of all ages and graduation dates. The intent is to engage alumni with common career interests, so that we help each other find the next level of career advancement, change or redirection. We wish to keep our bonds strong. At Macalester, the need to help is a primary driver…let's help each other as well. The Career Clubs also serve as a reserve for Macalester; they do not work directly with current students, but they may also provide "the well" from which vital resources arise (internships, employment, technical advice and applications of a major). The Career Clubs may be created using a variety of formats and platforms, as will be explained herein. The goal is to gather around specific majors, fields of work, company or career emphasis or other common career connections, to promote and amplify our presence and assist in others in reaching personal goals.
Who Creates Macalester Career Clubs?
YOU DO! All alumni are invited to start a club. Macalester staff will help you in your quest for alumni names, emails, connections, common careers, etc. There is no set format for your Career Club, but ideas are provided in this Toolkit.
Why Create a Career Club?
For You

You may wish to reconnect with Macalester to assist your own career goals or explore those of your colleagues. How did others weave their major, interests and passions into a successful career? Is someone from the Macalester community looking for someone like you to advance their company or is there someone who needs your talents? Is your Career Club a good place to vet some questions about your newest venture or are there potential clients in the mix? Career clubs help everyone.
For the Broader Alumni Community
Have you wanted to be a community leader or volunteer with Mac, and didn't know where to begin? Start with your Mac family and bring together "like-minded souls" for a better good. We, together, can help each other navigate shifting careers, while exploring new options. Be the agent of change and help others help themselves through connections. 
For Macalester
Career Clubs may serve as resources for current Macalester students, faculty and staff. Macalester alumni can reconnect with each other or re-energize/expand their career opportunities in a safe, like-minded environment. Likewise, Macalester commits to helping you with resources in order to conduct successful Clubs.
How to Use this Toolkit
This Toolkit offers options from which you can choose, from potential cohorts to platforms. Simply take a look at the wide variety of suggestions and match them with your interests, your goals for the Club, your career focus, your major at Mac or your preference in Club format. A successful Career Club should fit your personal style, in the format most comfortable for you. Typically, clubs will require from 5 – 10 hours per month for research, set-up, execution and follow-up.