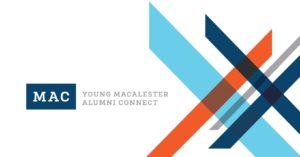 yMac: young Macalester alumni connect, currently organizes events and activities for young Macalester alumni, defined as those who graduated in the past ten years. Annual events typically include networking, service projects, social events, and speakers.
yMac Steering Committee
Erin Daly '14
James Meyerson '16
Kira Pollack '18
Joanne Johnson '16
Mike Coleman '11
Nicholas Brooks '13
Join the yMac Steering Committee
Serving on the yMac committee is a great way to build and strengthen skills in outreach, community building and organizing, event planning and management, social media and communications, and general leadership skills. Committee members form meaningful connections with alumni across all class years with whom they may not otherwise meet, and gain high-level access to staff at the college. Link to yMac volunteer position description.
The committee will begin accepting applications for new members in February 2021. If you are interested in joining the committee, please reach out to any steering committee members for more information.
Connect on Facebook
Join the yMac group on Facebook!
With over 3,900 young alumni members, the yMac Facebook group is one of the most active alumni social media spaces. Young alumni post daily to share job openings, coordinate housing, seek advice, and lift up the accomplishments of their alumni friends.
Join
Staff Contact
Neely Heubach
Associate Director of Alumni Engagement
nheubach@macalester.edu 
651-696-6209
---