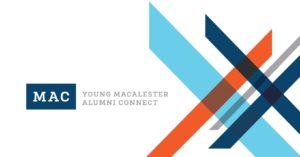 yMac: young Macalester alumni connect, organizes events and activities for young Macalester alumni, defined as those who graduated in the past ten years. These include outreach and engagement on the yMac Facebook page, as well as virtual and in-person events for young alumni.
The yMac committee is currently planning events for 2021-2022 – stay tuned!
2020-2021 yMac Events
June 4, 2021 – 0-4 Reunion – a gathering of young alumni from the classes of 2021 through 2017 during virtual Reunion 2021.
March 11, 2021 – yMac Cooking Demo – hosted by Kira Pollack '18, featuring cooking demos (complete with recipes and shopping lists) by members of the young alumni community: mushroom risotto with Sean Lawrence '17, scallion pancakes (and tips for dough versatility) with Dylan Kulik '20, and charcuterie/choosing meats with Mara Steinitz '18. Video coming soon!
February 11, 2021 – yMac Zoom Bingo – hosted by Joanne Johnson '16, with prizes and opportunities for conversation.
September 10, 2020 – yMac Gathering – hosted by the yMac committee on Remo, and featuring special guest President Suzanne Rivera. An evening of networking and conversation based on topics of interest submitted by young alumni, including Organizing for the Election, Reading for Fun, Mental Health and Self Care, and Friendships During Quarantine.
yMac Steering Committee
Nicholas Brooks '13
Erin Daly '14
Jana Hong '17
Joanne Johnson '16
James Meyerson '16
Kira Pollack '18
Claire Runquist '14
Chan Wang '19
Connect on Facebook
Join the yMac group on Facebook!
With over 3,900 young alumni members, the yMac Facebook group is one of the most active alumni social media spaces. Young alumni post daily to share job openings, coordinate housing, seek advice, and lift up the accomplishments of their alumni friends.
Join
Staff Contact
Neely Heubach
Associate Director of Alumni Engagement
nheubach@macalester.edu 
651-696-6209
---