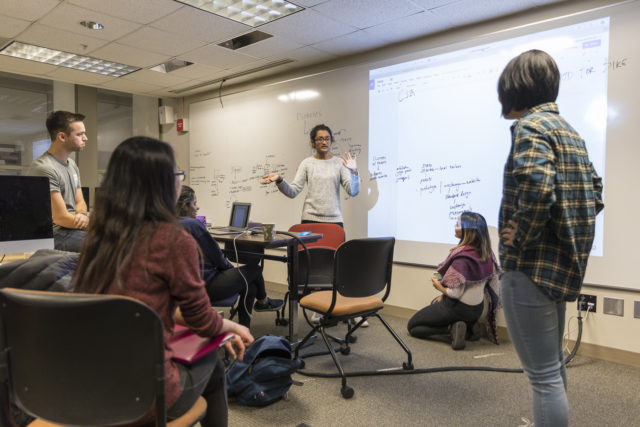 Macathon is an idea-building challenge that moves liberal arts into action, fosters innovation, and connects alums and students.
Macathon, held non-stop from 4:30 p.m. Friday, November 8, 2019 to 8:00 p.m. Saturday, November 9, 2019, is an overnight innovation and creativity contest. In teams of 3-6 participants, students put their liberal arts education into action and invent a unique and original service or product (website, application, physical product) that solves a real-world problem. No preparation work is allowed; everything for the competition must be produced within the 24-hour period.
Macathon is a mash-up of a start-up competition and a hackathon.
A start-up competition is an event where entrepreneurs, inventors, and design-thinkers compete to come up with new and disruptive ventures.
A traditional hackathon is a contest where brilliant computer programmers and other technologists compete to improve, break, build, and create new systems.
But our Macathon goes beyond them. To succeed, Macathon teams need a mix of technical, business, design, communication, and creativity.
At the beginning of the competition, each team is paired with a group of 4-5 alumni judges. Judges are brought in from across the country specifically to mentor and evaluate Macathon teams. Each team will prepare and deliver to the judging panel a 9-minute verbal/visual presentation of their product or service. Students will be judged on their identification and understanding of a real-world problem, their solution, and their presentation. The three highest-scoring teams in the final will be awarded with cash prizes! More information for students
Please join us for Macathon final presentations in John B. Davis Lecture Hall, Ruth Stricker Dayton Campus Center.
Cash Prizes!
Winning teams will win over $2000 in cash prizes.
| | |
| --- | --- |
| 1st Place: | $1,000 |
| 2nd Place: | $750 |
| 3rd Place: | $500 |
---
PAST MACATHONS