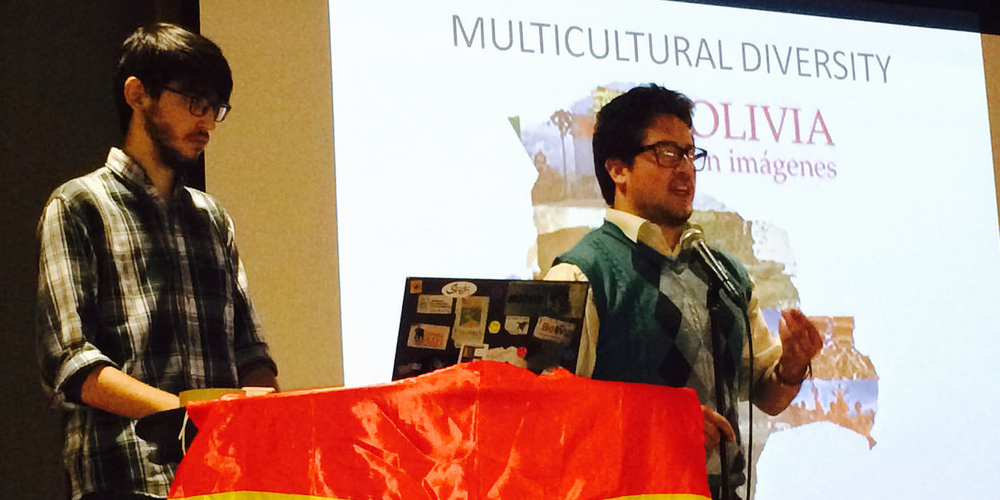 Country Spotlight is an opportunity for international students to share their home country traditions with the Macalester Community. On a variety of topics, international students prepare rich presentations about their culture, customs, food, politics, religion and sports. Many of the presentations are companioned with delicious food from the country host.
Dates for the 2022-23 academic year: TBD
If you want to enrich the campus' knowledge of your home country or culture, please email [email protected].
---
Countries Presented
*Please note that we are looking for people to present on countries NOT previously showcased.
| | | |
| --- | --- | --- |
| Albania | Honduras | Paraguay |
| Angola | India | Peru |
| Argentina | Indonesia | Philippines |
| Belarus | Israel | Poland |
| Bolivia | Italy | Romania |
| Bosnia | Jamaica | Russia |
| Brazil | Japan | Senegal |
| Cambodia | Jordan | Serbia |
| Canada | Kenya | Sierra Leone |
| China | Kosovo | Singapore |
| Chile | Latvia | South Korea |
| Costa Rica | Lebanon | South Sudan |
| Colombia | Lesotho | Spain |
| Congo | Libya | Sri Lanka |
| Croatia | Madagascar | St. Maarten |
| Cuba | Malaysia | Swaziland |
| Czech Republic | Maldives | Sweden |
| Denmark | Mexico | Syria |
| Ecuador | Mongolia | Taiwan |
| Egypt | Morocco | Tajikistan |
| Ethiopia | Myanmar | Tanzania |
| Finland | Netherlands | Thailand |
| France | Niger | Türkiye |
| Germany | Nigeria | Venezuela |
| Ghana | Norway | Vietnam |
| Greece | Pakistan | Zambia |
| Guatemala | Palestine | Zimbabwe |