ANNOUNCEMENTS
ARRIVAL FORM 2023
ALL INCOMING STUDENTS participating in the Pre-Orientation for International Students (PO4IS) are required to fill out the Arrival Form by August 1st, 2023.
NOTE: NO housing nor airport pickup is available before August 28th (Mon). You are responsible for finding a place to stay (refer to Places to Stay). Depending on availability, ISP may offer hotel pickups on August 28th.
COVID-19
We will continue to follow government and public health guidance as we make decisions about programs for the fall semester, including orientation activities. You can find out more about Macalester's COVID-19 response on Macalester's 
dedicated COVID-19 site
.
---
See our Pre-Departure Checklist for everything you need to do before you leave home, as well as other important information/resources (visa applications, phones, winter clothes, etc).
Int'l Student Handbook (ISH)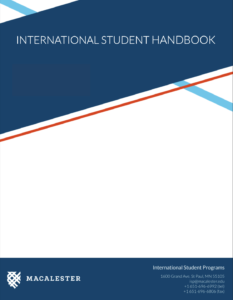 Updated: June 6, 2023
ADDITIONAL RESOURCES
OTHER USEFUL LINKS
---
---
---
---
Fill out if you have attended school in the US prior to coming to Macalester.
---
---
---