The Program
The Mentor Program sponsored by Macalester International Student Programs selects returning U.S. and international students to serve as mentors to incoming international students and domestic Ametrica participants. Students will meet their mentors during pre-orientation and will consult with them regularly throughout the semester. Mentors provide a student's perspective on both academic and personal life at Macalester. Their job is to help international students feel comfortable at Macalester and answer their questions about policies and procedures related to life in the residence halls, campus facilities, registration and academic procedures, as well as questions about U.S. culture and off-campus opportunities in the Twin Cities Metro community.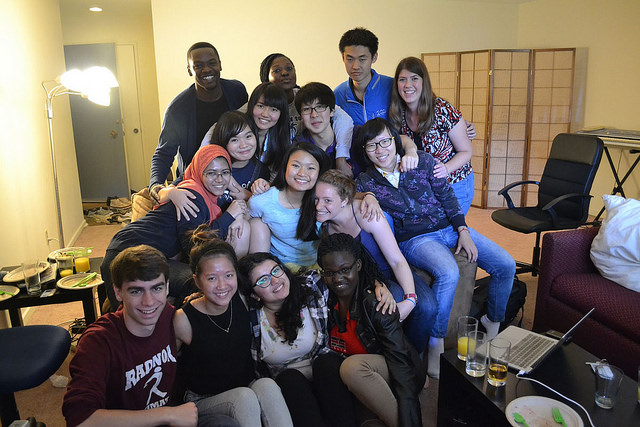 Where have the ISP mentors been all summer? Check out the 2019 Where in the World Video to find out!
Fall 2020 Mentors and Pals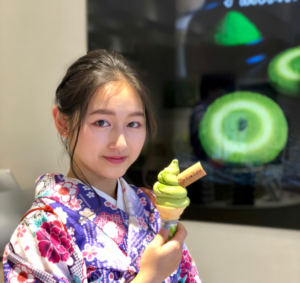 Jessica(Wenyang) Ding (Class of 2022) is a junior from Shenzhen, China. She is a Psychology major and planning to minor in Dance. She is fond of traveling while shooting vlogs. She loves k-pop music and is willing to learn new languages. All of her friends regard her as an athletic person. 
Likhwa Ndlovu (Class of 2021) was born in Harare and raised in Bulawayo, Zimbabwe. He has lived in South Africa, Kenya and Swaziland, where he spent his last two years at UWC Southern Africa. He enjoys good food, singing, composing music on the guitar or piano and playing rugby. He is a double major in Geology and Geography with a concentration in Urban studies. He works at ISP as a part of the student staff. Currently his interests lie in urban hydrology, GIS work, Afrojazz and house music fusions, self discovery/exploration and finding out different ways to eat ginger! He looks forward to meeting  you all!
Emma Page (class of 2021) is from University Place, Washington. Even though she loves the west coast, Minnesota is finally starting to feel like home. At Mac, she works for ISP and the History Department and is co-captain of the club tennis team. She plans to major in International Studies, with an emphasis in history and a minor in Japanese. The things she loves most are learning new languages, meeting new people, and laughing a lot. She's very excited about being a mentor and can't wait to meet her mentees!
Shea Husband (Class of 2022) is a rising junior and returning mentor from a suburb of Los Angeles, California. He studies Linguistics and has an immense passion for learning languages and the amazing cultures they belong to. In his free time, besides learning languages, Shea enjoys cooking, singing, reading, and training in traditional Japanese jujutsu. At Mac, Shea serves on the board of the Macalester Korean Culture Organization (MacKCO) and works in the Macalester Linguistics department in addition to ISP. He can't wait to meet you all in the fall!
Alexander Hopkins (Class of 2022) was born in Boston, Massachusetts but has lived in Johannesburg, South Africa since 2010. He is an Economics major. He enjoys watching and talking about sports, playing board games, spending time with friends. He is also the captain of the Men's Rugby team at Macalester. He is really looking forward to being a mentor and excited to meet you all in the fall.
Rita Liu (Class fo 2022) is a junior and is born and raised in China. She is double majoring in Applied Math and Statistics and Economic. During her free time, she enjoys watching comedies or romantic TV series, reading novels, and trying different restaurants. She also started to
learn cooking this summer. She is very excited to be an ISP mentor and meet new
people around the world!

Healeam Jung (Class of 2022) is a junior majoring in Chemistry with an emphasis in Biochemistry and a potential minor in Biology. She is from Incheon, South Korea, but when she was in 5th grade she went to an international school in India. She enjoys taking a walk to the Stone Arch Bridge, having bubble tea, playing the piano, bowling, and cooking with her friends. At Macalester, she serves in the board of Koreans at Macalester (MacKCO). She can't wait to meet you guys all!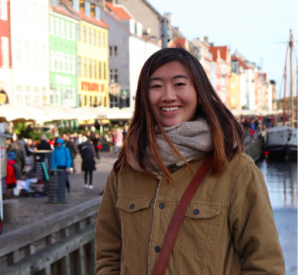 Chihiro Aita (Class of 2021) is a senior from Kamakura, Japan who lived in San Diego, California during her elementary school years. She is a Political Science and International Studies double major with an English minor. She is the Co-President of the Japanese Culture Club at Mac and enjoys organizing events centered around Japanese food culture. In her free time, she enjoys exploring new cafes and playing Animal Crossing. She also adores Shibainus.
Nita Senesathith (Class of 2021) is a senior majoring in psychology with the Community and Global Health concentration. She is from Vientiane, Laos. As you can see from my photo, she is a big football (soccer) fan! She took this photo when she was studying abroad in the UK in the Fall of her junior year. Apart from being a football fan and a student, she is a blogger. I can't wait to meet everyone!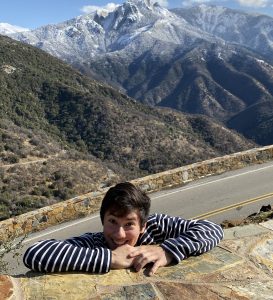 Erik Borgehammar (Class of 2023) is a sophomore from Naperville, Illinois. He has spent significant time with family in both the Philippines and Sweden, and can speak Swedish in addition to English. He is planning on majoring in Computer Science and Chemistry. He is part of the Filipinos at Mac club and is active in the Intramural and pick-up soccer communities. In his free time, Erik enjoys climbing, walking, running, playing tennis, and spontaneously making new friends. He looks forward to welcoming students from all over the world to the Macalester community!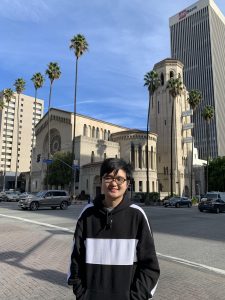 Nam Nguyen (class of 2023) is a rising sophomore, born in Can Tho and raised in Ho Chi Minh city (Sai Gon), Viet Nam. Right now he intends to double major in Computer Science and Creative Writing, as well as minor in Japanese. In his free time, he usually do origami, play Pokemon (anything but Pokemon Go), sing (especially in the bathroom), and watch random YouTube videos and mind-blowing TV series like Westworld. He also enjoys telling his international friends about Vietnamese culture, especially the food. He is super excited for the next semester, as he is sharing a room with his friends, having more time to join the clubs at Macalester (climbing club, for example), and meeting incoming students, some of whom will be his mentees.
Nishta Amin (Class of 2021) is a senior from Mumbai, India, majoring in Psychology with a minor in Neuroscience. In her free time she enjoys cooking, painting, going for runs and organizing music into playlists. She's always down to cook you a three-course meal,  catch a movie, concert, convention, you name it! Always just a text away and she cannot wait to hang out with her new mentee friends!
Jiayi Sun (Class of 2022) is a Junior from Lanzhou, China, majoring in psychology and minoring in Japanese Studies. In her spare time, she enjoys reading, watching movies, dancing, cooking, and traveling. She also loves to explore great restaurants in the twin cities with friends. She is excited to be a mentor and really looking forward to meeting you all in the fall!
Apply
*Note:  Information about the mentor dean application will be sent to returning mentors directly.
Applications for the 2020-2021 academic year is opening.
UNDERSTANDING YOUR ROLE AS A MENTOR
As a mentor, you will each be directly responsible for approximately five students as well as aiding fellow mentors with their mentees in the Fall 2020. As students themselves, mentors can answer questions and give suggestions about life, culture and academics on-and off-campus. Mentors work closely with ISP staff to organize informational, cultural and educational discussions of interest for new students. Other expectations include acting as an information giver, tour guide, encourager, educator and learner.
The hours a mentor works per week vary depending on if whether you are involved with Ametrica facilitation. You can expect to work at least 5-9 hours a week between meeting every mentee in person, journaling, meeting Aaron, Luyen, or Kara, and attending planning meetings. Some weeks may require more hours due to ISP or Ametrica events.
As a mentor you will be required to arrive by August 17, 2020, to begin mentor training on August 20. Plan on being at Mac and available to work until school begins. Mentors will work until late October/early November. Because of this, you may need to find another on-campus job that does not interfere with mentoring. Remember that international students may not exceed 20 hours per week of employment, combining all of your jobs.
UNDERSTANDING THE MENTOR APPLICATION STEPS
Below are the various mentor application steps. Each year, ISP receives many more applications than mentor positions available. We are very strict about deadlines so please note them. This is because we believe that applicants demonstrate responsibility by meeting deadlines, and because we receive far more applications each year than positions available. Decisions on choosing mentors will be made by the ISP Mentor Selection Committee, composed of former mentors who graduate in 2019 Aaron, Luyen, or Kara will change decisions if there are outstanding conduct, academic or other concerns. If you are not certain about an issue and if it could affect your eligibility, please check with Aaron, Luyen, or Kara. Note, mentor deans (those who have mentored in the past) go through a different process than new mentors, one that we will describe in more detail once you fill out the Mentor Dean Interest Form (soon).
To apply to be a new mentor, you must complete the following steps to be considered by the Selection Committee. 
Notice: There will have two Mentor Application information Session at 4:45 pm on Nov.13, 2019 and 12:00 pm on Nov.14, 2019. You need to attend one of the sessions before applying to be a mentor. If you cannot show up to any of the two, please contact us directly.
STEP I – INTEREST FORM For New Mentors
You must complete the STEP I Interest Form to be eligible to receive STEP II, the full written application.  This form can be found under our "Forms and Letters" section. The purpose of STEP I is to:
Provide detailed information about the criteria used to select mentors as well as ISP's requirements and expectations for mentors.
Give you ample time to consider if being a mentor is right for you since the expectations and application steps – (especially STEP IV – Simulation) are very rigorous.
Give ISP time to plan for STEP IV – Simulation.
The deadline to complete STEP I is by 11:59 pm on Friday, December 6, 2019, St. Paul time (CDT) aka GMT-6 hours.  ISP will not accept applications after this time. Each year, numerous students ask that we extend the deadline. We don't. STEP I can be completed in a couple minutes.
Tip: We take note which applicants complete this step early.
STEP II – APPLICATION
A lengthy online application will be sent to all eligible who completed the STEP I – Interest Form shortly after the deadline. The STEP II – Application will be due by 11:59 pm on Friday, January 10, 2020, St. Paul time.  No late applications will be accepted after the deadline.
Tip: We take note which applicants complete this step early.
STEP III – SUBMIT A RESUME
Email your resume to kwarren1@macalester.edu by 11:59 pm on Friday, January 10, 2020, St. Paul time.  No late resumes will be accepted after the deadline.
Tip: We take note which applicants complete this step early.
STEP IV – SPRING MENTOR SIMULATION
This is a simulation of being a mentor that gives you the experience of what to expect and gives ISP a real view on your ability to be responsible and follow through.
STEP IV is time-consuming, but a rewarding experience.
Feedback from the simulation is very influential to the Mentor Selection Committee.
You will be assigned two "mentees" who will either be seniors or a combination of a senior and a non-senior.
There will be a training session to prepare you for meeting your mentees.
The simulation is a trial run of the experience of being a mentor during the fall semester. You will have all the same duties as a mentor, but you mentees will have different needs.
Applicants meet weekly with mentees and then journal about meetings.
Applicants meet with your "mentor dean" who supervises you, along with a few other mentors in your mentor group, once a week to go over how your mentees are doing. Mentor deans are returning mentors.
Expect a time commitment of 3 hours/week for 3 weeks  (Feb 3-Feb 23).
Mentor deans and ISP staff will provide feedback to the Selection Committee.
STEP V – ADDITIONAL APPLICATION CRITERIA
The Selection Committee will review applications according to what degree applicants meet all application criteria. Aside from Steps I-IV, additional criteria include:
Obtaining a U.S. driver's license and Macalester van certification (most important)
Completing Allies Project training
Participating in International KidsFest (February 22, 2020)
Completing Green Dot Bystander Intervention Training
Completing a CPR training course
Additional criteria – due by 11:59 pm on Sunday, February 23, 2020
We will not consider late/incomplete applications. Other things that will be considered:
Active participation in Ametrica, Mentor, and ISP programs;
Manageable Fall 2020 semester co-curricular schedules;
Diversity in years, personalities, home countries, regions, gender identities, languages…
Van certified mentors would be hired at Macalester's Tier III pay rate. If we hire students without licenses, they will be paid at Tier II (see Student Employment website).