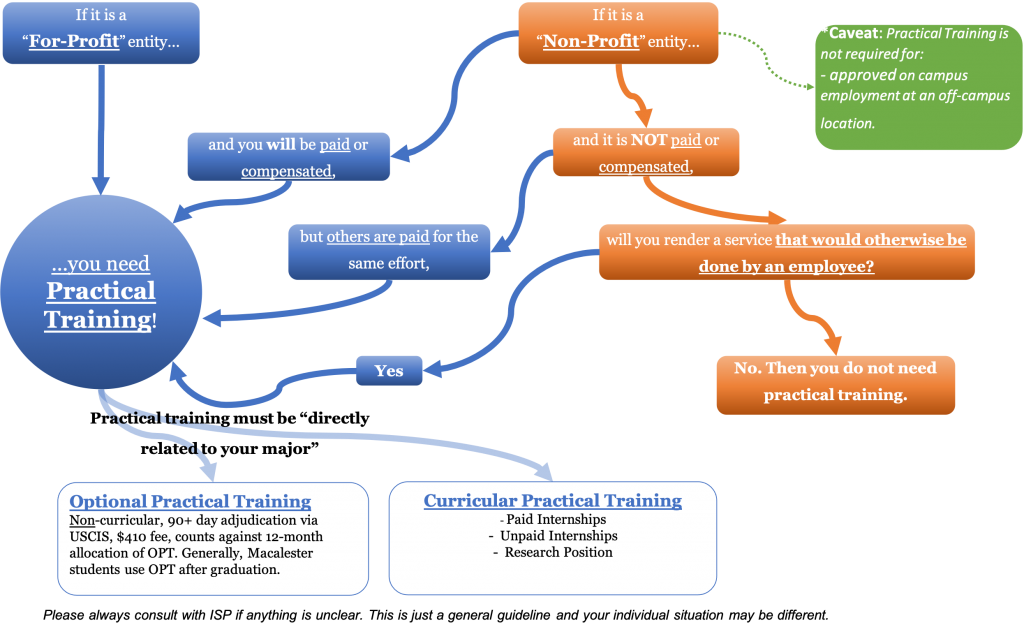 Source: Grinnell College International Student Affairs (https://www.grinnell.edu/about/leadership/offices-services/student-affairs/oisa)
Work on Campus
International students in the U.S. in F-1 status may not accept off-campus employment unless they receive authorization from USCIS. If your feet are on U.S. soil, you need employment authorization including for remote work. Working without authorization is one of the most serious violations of visa status and can result in you having to return home to obtain a new visa. It can also result in immediate deportation. Please talk to Aaron, Luyen, or Molly if you have any questions about employment authorization.
If you accept an on-campus job, then consult the W-4 Form instructions under the Taxes section of the ISP website for more information on filling out this document. You will need your W-4 to give to your employer for tax purposes. Be sure to update your information in Glacier.
You will also need to complete and sign a Form I-9, Employment Eligibility Verification. Further information about completing this form and establishing identity and employment eligibility as an international student can be found on the Form I-9 section of the USCIS website.
More details about Student Employment can be found on the Employment Services website. The Frequently Asked Questions page is particularly useful.
Student Employment as Financial Aid
On-campus employment is considered a form of financial aid. Students authorized to work on campus by the Financial Aid Office may do so without any special work authorization, but are governed by the following immigration rules:
Employment is performed on the school's premises, or considered student employment by the Financial Aid Office.
Employment must not exceed 20 hours per week when school is in session.
Employment may be full-time when school is not in session if the student is both eligible and intends to register for the next term.
Students may not be employed on campus after completion of their studies (unless doing this under the terms of Optional Practical Training) or graduation.
Finding a Job
For incoming students who receive student employment/work study as part of financial aid, access to the online Jobx portal is given in mid-May so students can start applying through the New Student Portal. For current students, this can be accessed from 1600 Grand -> Money Matters -> Student Employment -> Find a Job On Campus. If there are specific departments on campus that you are interested to work in we encourage that you reach out directly as well. More information is also available on the Student Employment site.
Pay Rates
The pay rate for the 2022-23 academic year is $13.50/hour, and students are paid bi-weekly. First year students generally work 10-12 hours each week to reach their maximum student employment award.
Non-Aid Student Employment
While students with a student employment award are often given priority for positions, non-aid students should not feel discouraged to apply for available positions.
Social Security Number (SSN)
In order to be employed at Macalester or anywhere in the U.S., students must have a valid U.S. government-issued social security number. (More information can be found on our Social Security Number page). A Social Security card is necessary in order to be employed in the U.S., but it is only valid for employment if you (as an F-1 student) have employment authorization granted by USCIS or ISP. When filling out your W-4 form to present to your employer, you will have to write down your Social Security number. Students who have been granted permission to work are not required to pay Social Security or Medicare taxes during the first 5 years they are in the U.S.
Summer Employment
The summer employment program is administered by the Student Employment Office for the months of June, July, and August. Employment may be full-time or part-time.
Curricular Practical Training (CPT)/Internships
CPT is temporary employment authorization used for a paid or unpaid internship (research position, etc) related to your major (no minors or concentrations) and must be registered for academic/internship credit. Registration for required academic credit, completion of Learning Contract with Internship Office, and CPT authorization by ISP must be done BEFORE any employment begins. Students who have enrolled on a full-time basis for at least a full academic year are eligible for CPT. Any work done while you are in the U.S., regardless whether in person or virtual, requires CPT authorization in order to maintain student status.
NOTE: If you take a leave of absence, e.g., for military service or other reasons, thereby interrupting your study a semester or more, you need to attend classes full-time for one academic year after your return to Macalester in order to regain CPT eligibility.
Limits
You are limited to 12 months of full-time CPT; however, you may accumulate the 12 months throughout your Macalester experience. There is no limit to the amount of times you may work part-time.
Training relates directly to the student's major area of study (no minors or concentrations).
Employment, e.g., internship, research, fellowship, must be registered for academic credit before the appropriate Drop/Add Date.
Student must secure the training opportunity; complete required Learning Contract, internship registration and ISP CPT supplemental form BEFORE CPT can be authorized.
Designated school official (DSO), an ISP staff member, authorize CPT in SEVIS, and the authorization prints on the student's new I-20.

No employment, training/orientation, or related work activity may be conducted BEFORE I-20 issuance; doing so may mean lost of student status.

Occurs before the student's program end date on the I-20.
Authorization is for a specific employer and for a specific period of time, e.g., start and end dates of fall or spring semester, during J-term, or summer break.

If you had CPT authorization for summer employer, and want to continue with employer in the fall (or another period), you need repeat the application process for Learning Contract, internship registration and CPT approval.

When school is in session, students cannot work more than 20 hrs/week (including any on-campus employment); during winter or summer breaks student may work more than 20 hrs/week.
Student can have more than one CPT authorization (or employer) at the same time.
One year of full-time CPT eliminates a student's eligibility for OPT (which generally will not happen to Macalester international students).
Application Process
Find an internship. (Contact the Internship Office so they know you are searching and assist you as needed – even if you have not secured a position.)
Complete your Learning Contract on Handshake (and get it approved).

Use your legal (passport) name in the Learning Contract.
Include correct start/end dates, the physical or street address of your employer (even for remote work), job description.
Any missing elements will delay processing by Internship office.

Bring a signed add/drop slip or summer registration slip from the Internship Program to the Registrar's Office to register your internship for credit.
Complete the ISP CPT Information Form to confirm the required connection of your internship with your major. Please complete the CPT Information Form AFTER your Learning Contract has been approved.
ISP must issue you a new I-20 authorizing CPT employment BEFORE you begin any work.
Time to complete authorization process: approximately 1-2 business days (plus internship search, course registration, completion of Learning Contract)
For more information on CPT, visit the U.S. Department of Homeland Security's (DHS) Study in the States CPT site.
Useful links
Employment Info for Student and Employer
See the below resource for information on how to talk to your potential employer about hiring international students.
What Employers Should Know about Hiring International Students
Severe Economic Harship (SEH)
You may apply for SEH if something unforeseen has happened to your financial situation (e.g., significant devaluation of your currency, loss of a sponsor, or an unexpected change in your family's income).
Limits
Authorization is for one year and it is renewable. Authorization allows you to work 20 hours or fewer while school is in session and full-time during the breaks (i.e., between semesters, during summers, and over Spring Break).
Application Process
Write a cover letter to USCIS explaining the unforeseen financial hardships beyond your control which necessitate applying for Severe Economic Hardship.
Complete the Form I-765.
Get two passport Photos (at CVS or Walgreens).
Decide the dates you wish to be employed.
Visit Aaron, Luyen, or Molly at ISP to have information entered into SEVIS.
Bring check for $410 made payable to "Department of Homeland Security."
Mail Form I-765, photos, and check to:
USCIS
P.O. Box 21281
Phoenix, AZ 85036
Time to complete authorization process: approximately 80-120 days
Check SEH Petition Status
You can check the status of your Severe Economic Hardship (SEH) petition by typing the receipt number from your receipt (I-797c) into the USCIS Case Status website.