Driver's License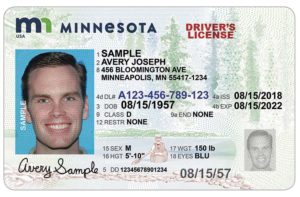 Every Minnesota resident who operates any motor vehicle (car, truck, motorcycle, ATV) must have a driver's license. The operation of an automobile without a valid operator's license is illegal and punishable by fine (and sometimes by jail sentence). It is also illegal to permit another person who has no valid license to drive an automobile. Every driver must become familiar with the Minnesota Driver's License Manual. This covers traffic and safety rules, laws, rules of the road, allowable speed limits, and road signs and symbols.
IMPORTANT: Starting from Aug.1, 2019, Minnesota law requires hands free usage of mobile devices. Please be aware of this if you are driving in MN. (For further information, please check at Dept of Public Safety.)
USEFUL LINKS FOR WRITTEN TEST AND DRIVING TESTS:
Application Process
Pass written test to obtain instruction permit
Pass road test to obtain your license
Fees
  Class D, regular or under 21 – $26.25
  Class D, instruction permit – $14.25 (cash or check only)
Locations
You can find a list of locations where you can pass the written and road tests at the following link: Driver and Vehicle Services Locations. Make sure to check the box for the test you are applying for– Knowledge (Written) Test or Road Test, Class D–because different locations offer different types of tests.
Knowledge/Written Test
Once you pass the written test, you are given an instruction permit. An instruction permit is valid for two years from the date of application and they are renewable. You must carry your permit whenever you practice driving.
An applicant, who is age 18 or younger and not previously licensed, must hold an instruction permit for six months before taking a skills (road) test. Applicants who are 19 or older must hold an instruction permit for three months before taking a skills (road) test.
A person who fails the driving test four times must complete a minimum of six hours of behind-the-wheel instruction with a licensed instructor before taking the skills test again (a valid instruction permit is required).
Please bring the following with you to your written test:
Click here for a more detailed list of proper identification documents for the state of Minnesota.
Road Test
Before you take the road test, make sure you practice driving with someone who has a valid driver's license or go to a driving school. Take the road test only when you and your instructor feel comfortable with your driving abilities.
For the road test you must bring:
The vehicle in which you're going to test
Proof of registration and insurance for your vehicle
Your learner's permit or other equivalent authorization
To schedule a appointment for the driving test, click Schedule a Skills Test on the DVS Services website.
For Students 18 and Under

If you are 18 years of age or under, you must apply for and hold a Minnesota instruction permit for at least six months before taking a road test.

When practicing with a permit, you must be accompanied by a licensed adult driver. If you are under 18, the supervising driver must be 21 years of age or older. If you are 18 or older, the supervising driver must also be 18 years of age or older.
Renewing your License

If you have not yet turned 21, your license will expire on your 21st birthday; otherwise, your driver's license expires every 4 years on your birthday.

It is illegal to drive with an expired driver's license. If you let your driver's license expire, you may have to pay penalty fees and be required to retake the written or road tests. The fees for renewing your license are the same as for obtaining your license (see above).

What to Bring

Previous driver's license
Social Security Number

Process

Go to the DVS office and provide your license.
Complete the renewal application.
Take the vision screening test.
Get your picture taken and provide your Social Security Number.
Students from Canada

If you are a driver moving to Minnesota from Canada, it may be possible for you to get a license by passing the appropriate written test(s) and eye check only. To be able to do this, you must have a valid driver's license (or one which has been expired for less than one year) from your former home province.
What happens if I fail the tests?

If you fail the written or road test, do not worry. You will not be charged for your second attempt. However, on the third try, you will be charged the following:

Written test: $10
Driving test: $20
What if I have a license from my home country?

Students who are over 19 years old and have foreign licenses are required to pass both the written and road tests. Once they have passed the written test, students may take the road test at their earliest convenience. (They don't have to wait 3 months.) There is no fee for the permit because no card is issued. You do need to translate your foreign license, if necessary, through an approved translation vendor, who must fill out this form. This can get pretty pricey; oftentimes it might be more convenient to just buy the permit, unless you have a time limit.

You can temporarily use your foreign driver's license to drive in Minnesota, but note that you are required to change to a Minnesota Driver's License within 60 days of establishing (temporary) residency in the state.
Driving Schools
State ID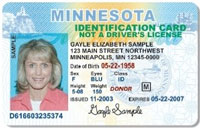 As an International Student, you have at least two forms of picture identification: your passport and your Macalester student ID. We recommend that you also get a Minnesota ID or a Minnesota driver's license. These two, which look identical except for the title, are the standard forms of identification here and are usually required when making financial transactions–especially when writing checks–and at some other times, such as when an age check is necessary (e.g., when purchasing cigarettes and alcohol or seeing restricted movies at the cinema).
To get a Minnesota ID, bring the following:
You can obtain an ID at the locations found on the Driver and Vehicle Services Locations website.
Notice: Your State ID will expire 1 month before you turn 21 years old. It would be beneficial to renew your State ID as soon as possible once it expires.