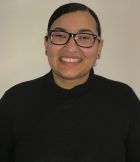 Joslenne's research focuses on understanding how we teach and engage underrepresented groups in computer science education through a variety of design opportunities in the classroom. Recently, her work has focused on validating assessments and the psychometrics of an instrument to measure one's grounding toward more computational activities. Joslenne is keen on understanding how to solve design or computing problems, regardless of domain, through the lens of the user. Previously, she was a human factors research associate in the Human-centered Systems group at Honeywell Aerospace conducting studies to improve aviation-related tools for pilots.
Joslenne received a Bachelor of Arts in Multimedia Web Design and Development from the University of Hartford, a Master's in Information Science and Technology and a Ph.D. in Informatics from Penn State. She has been a passionate volunteer and mentor for students from underrepresented groups through her work in STEM teaching and mentoring programs such as iD Tech Camps, iTech Academy, and Code for Her.
Joslenne is a member of the Penn State Graduate School Alumni Society Board of Directors and serves on the Professional Development Committee. In this role, she supports career and professional development programs that help connect graduate students to Penn State alumni to explore a wide range of topics related to careers, industry insights, and networking.
Joslenne grew up in New York City and is therefore a huge Yankees fan, and given her time in Happy Valley, a Nittany Lions fan.