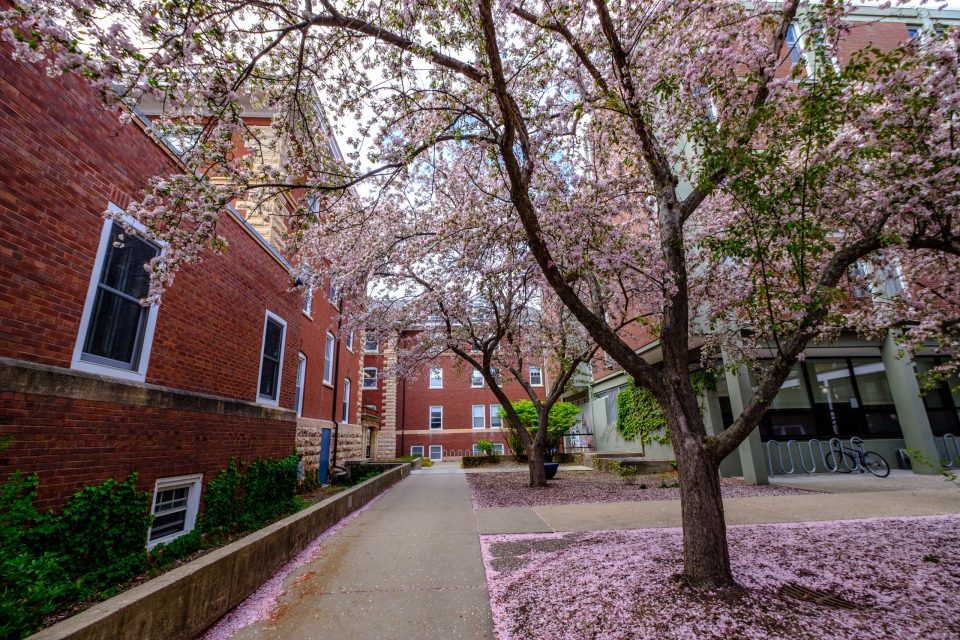 You are heading to Mac! This next phase is often filled with joy, anxiety, and anticipation. Through the process, Macalester has support and resources in place that are here to guide you.
WHAT TO EXPECT & NEXT STEPS
The list below is an overview and gives students and their families a sense of the markers and milestones designed to prepare you for your start at Macalester. Links are available for reference but many next steps become available only after May 18 with your new Macalester account. Your New Student Portal and macalester.edu email will be the best sources for deadlines, links, and forms, so check them at least once a week.
---
SPECIAL NOTE FOR PARENTS, GUARDIANS, AND STUDENT SUPPORTERS
Now is a good time to open a conversation about what's important regarding communication between college and home.
For reasons of privacy and security, student information is only disclosed to the student.
---
MAY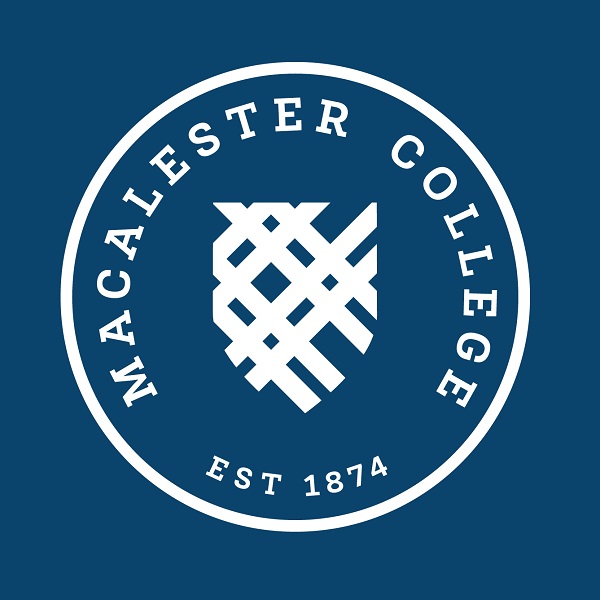 SET UP YOUR MACALESTER ACCOUNT ON MAY 18
It all kicks off with your Macalester account. Information Technology Services (ITS) will send an email to your personal email address with your official Macalester username on May 18 with the subject line starting, "Initialize your Macalester Account." Follow the steps to set your password and to access your Macalester account.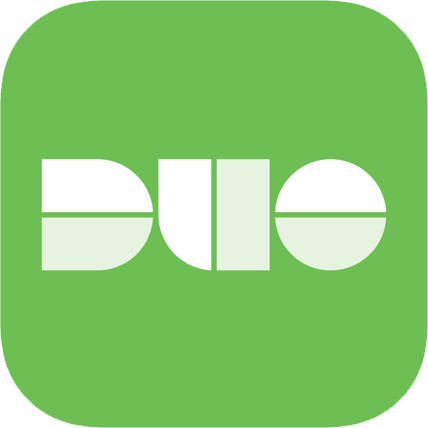 SET UP DUO MOBILE AND GOOGLE 2-STEP AUTHENTICATION
You'll need two kinds of 2-factor authentication: Google 2-Step for Google and Duo Mobile for the rest of Macalester's online services. Right after you set the password for your Macalester account, our Success! page will appear with instructions for setting up 2-factor authentication with DUO and Google. This information is also found in the Student Technology Checklist (listed next). Taking a few minutes to complete these steps right away will save you time later on.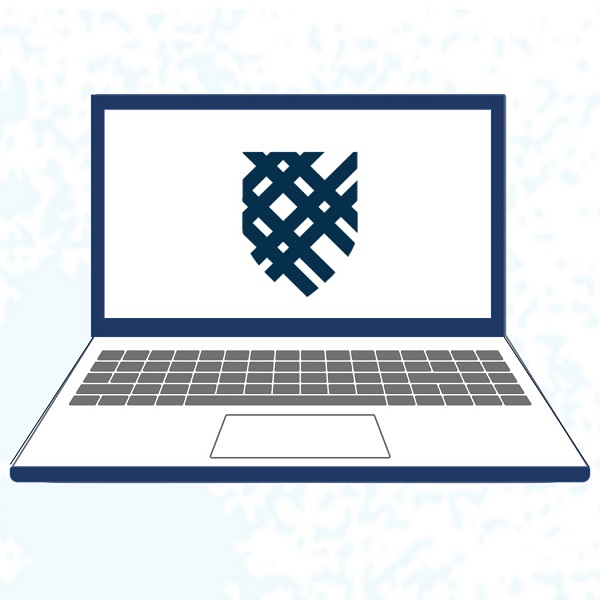 STUDENT TECHNOLOGY CHECKLIST
Information Technology Services (ITS) provides information and help for the technology resources available to you. Follow the Student Technology Checklist and you'll be ready to connect your devices to eduroam (campus wifi), print, view tech items to bring to campus, see where to stream movies and music legally and for free, and where to get tech help.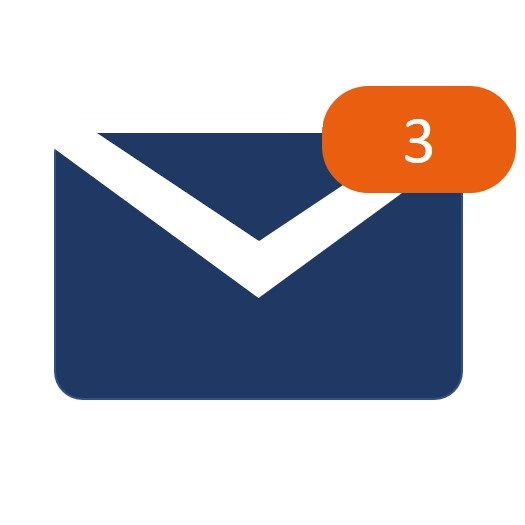 CHECK YOUR EMAIL ACCOUNT
As soon as you have set up your macalester.edu account, you'll begin to receive messages from various departments at Macalester helping with your transition to college. Look for messages in your Macalester email account about class selection, campus housing deadlines, Orientation, and updates from departments across campus.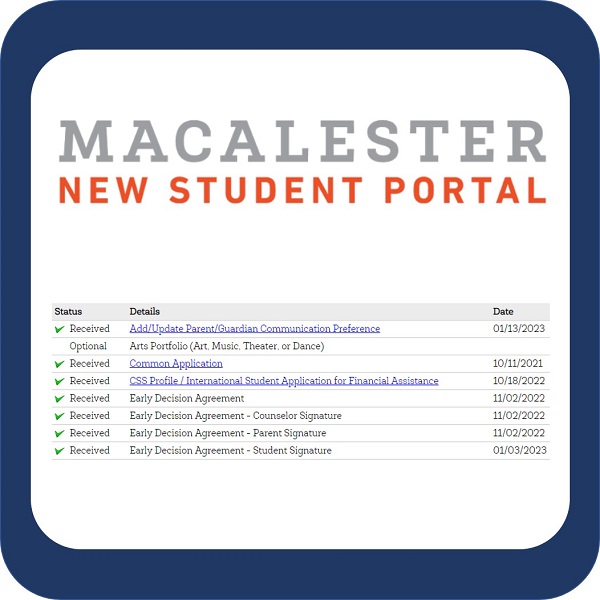 CHECK YOUR NEW STUDENT PORTAL
Similar to when you applied, your New Student Portal is your checklist for all the required forms and information needed before college. You'll receive an email prompt to set up your New Student Portal in your new Macalester email account.
New Student Portal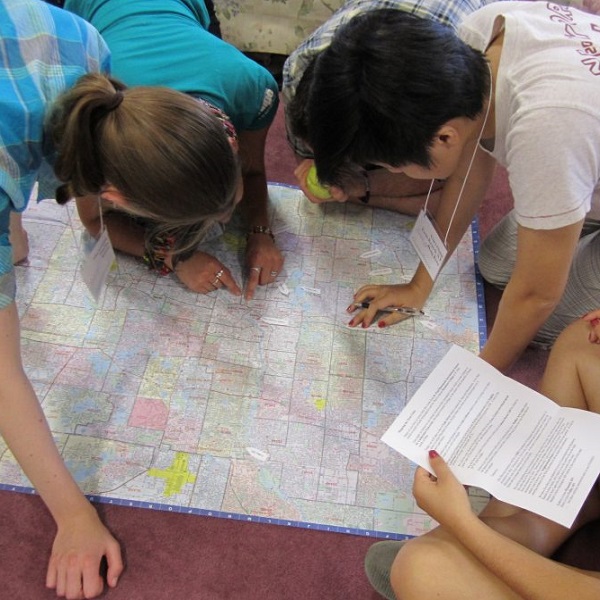 APPLICATIONS FOR AMETRICA, LIVES OF COMMITMENT, AND MENTORUP
Three optional programs designed to engage around identity, develop leadership skills, and build connections will be open for application. These are not required, but have been successful in helping students find their sense of belonging and give back to communities around them. The level of commitment varies so be sure to review the details of each program.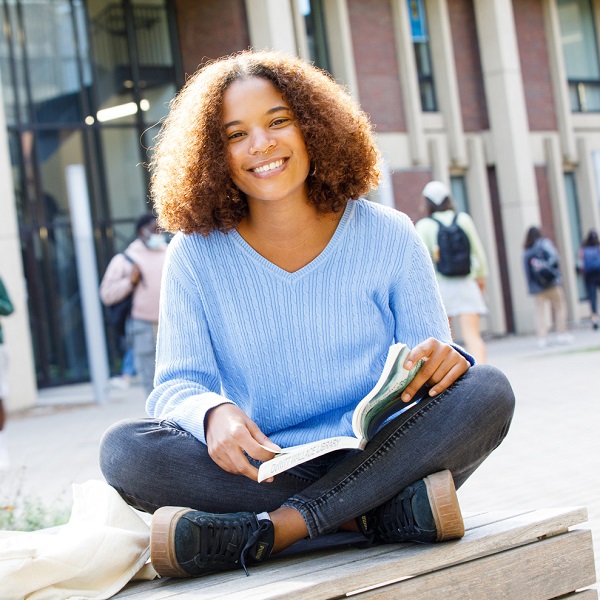 FALL COURSE SELECTION
Available in mid-May, you can view classes in preparation for submitting your Fall 2023 Course Selection Form, which is found in your New Student Portal and due June 21. For advice about the Course Selection Form, you are welcome to join the optional June 1 panel (see below) which will offer tips about selecting courses and completing this form. Once the form is submitted you do not have to take any further registration steps until Orientation. You will receive your First-Year Course confirmation and advisor information in mid-July. You will meet with your advisor at Orientation and if needed, you will be able to make changes to your course schedule at that time.
View Registration Steps
JUNE
JULY
AUGUST
YOUR FALL 2023 COURSE SCHEDULE
During August your remaining course schedule will be put together by the Registrar based on your course preferences submitted in June, and your already assigned First-Year Course. There is nothing you need to do in this time, but you may see tentative course registration activity in 1600grand. That is part of the ongoing schedule construction process and may change throughout the month as all student schedules are arranged. You will receive your schedule when you attend Orientation and you will have the opportunity to make changes when you meet with your advisor. The only course that cannot be changed is your First-Year Course.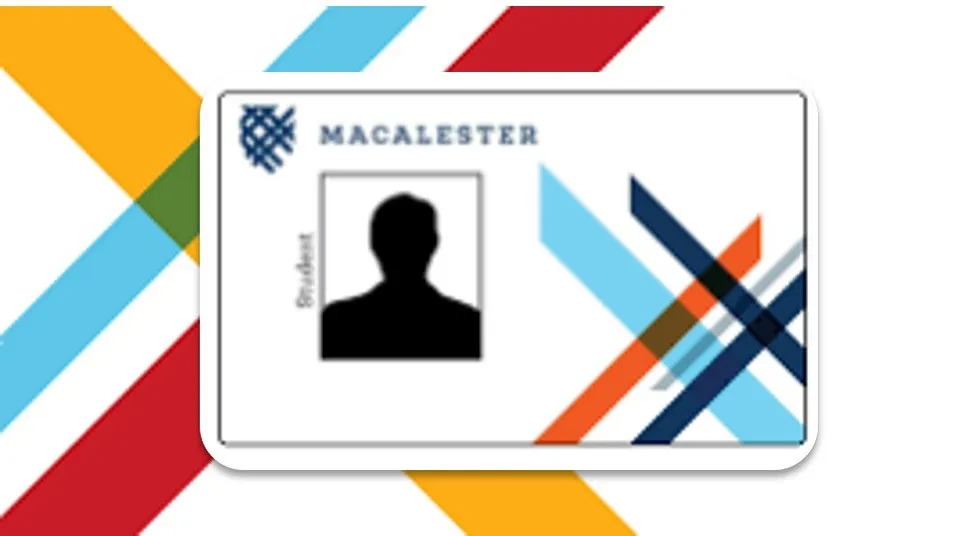 SEND MACPASS PHOTO
MacPass is your campus ID card used for accessing buildings, tracking your meal plan, loading/spending Mac Money, and using library services. Sending in your photo by the due date means your MacPass will be ready and waiting for you on move-in day.
See Photo Requirements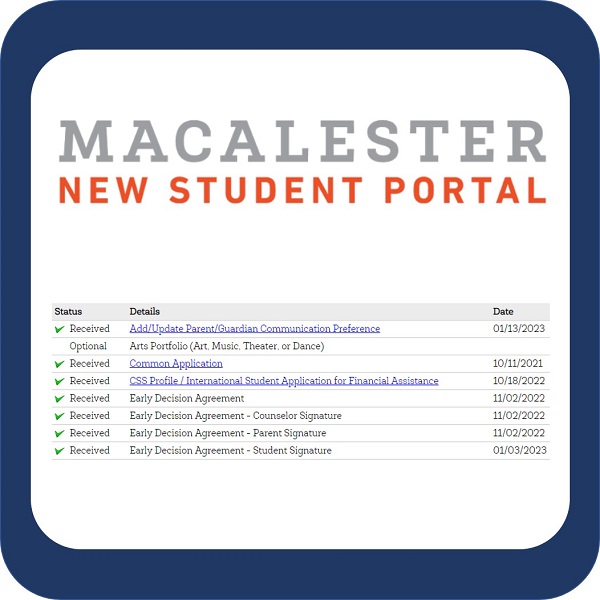 FORMS DUE AUGUST 16
Similar to the June 21 deadline, August brings a set of forms due on August 16 before coming to Macalester.
New Student Portal
Save These Dates
Check out the college events calendar for other events.
---
Get Social
Meet other admitted Mac2027 students and current Mac students in the class Facebook group.
Share your Instagram and Twitter posts using #Mac2027. Use #heymac to get on Mac Social.
---
Check Out Our Virtual Tour or Connect with the Mac Community
---
Send Your Final High School Transcript
With regard to the "contingency clause" in your offer of admission, Macalester's offer of admission is contingent upon your successful completion of all secondary school coursework at a level similar to your previous work, upon which our offer is based, and your continuing to meet the standards expected for admission to Macalester, as determined in its sole discretion. Admitted students must update Macalester regarding any material changes in the information submitted during the application process, including academic standing and/or disciplinary or criminal history. You will need to submit a final copy of your secondary school transcript for approval prior to matriculation. If extenuating circumstances have caused any limitations on your ability to complete your coursework or produce a final transcript email [email protected] and we will assist you.
---
Review Transfer Credit process if applicable
For students who are considering transferring college or university credit, it's important to understand the process.
Macalester College will accept a maximum of thirty-two (32) semester credits earned prior to matriculation. College/university credits, summer session college credits, credits earned through a post-secondary education program, International Baccalaureate credits, and Advanced Placement Program credits are included in this 32-credit limitation.
Once enrolled, you must request that an official transcript be sent directly to the Registrar's Office by the college or university through which you took courses. Student-issued transcripts will not be accepted for transfer of credit.
Once the official college/university transcript is received by the Registrar's Office, the evaluation process will begin and credit will be transferred accordingly. Transcripts can be mailed to the address below, or sent via secure electronic transmission to Macalester College.
Electronic Transmission:
[email protected]
Mailing Address:
Registrar's Office
Macalester College
1600 Grand Avenue
Saint Paul, MN 55105-1899
If you have questions about transfer credits before enrollment, contact your admissions counselor directly or send questions to [email protected].
---
Our Mac community looks forward to your arrival on campus!
What is 1600Grand?

PHOTO NEEDS FOR MACPASS
---