Residence Hall Director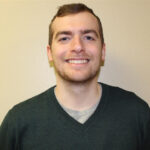 Residence Hall Director
he/him/his
Doty Hall Information:
Doty Hall is located on Summit Avenue between Wallace and Turck Halls. Doty Hall was built in 1964.
All rooms, with the exception of the first floor, are single gender.
Second through fifth floors are designated single gender floors. Female Spaces: Doty 5 & Doty 4 and Male Spaces: Doty 3 & Doty 2
First floor is reserved for students who do not need single gender spaces but have been assigned to a first year course (FYC) in Doty Hall.
Resident Information: Doty houses only first-year students.
Bathrooms: Please see the Bathroom Inventory for more information.
Laundry Facilities: The laundry room is located on the lower level.
Kitchen: Each floor lounge has a stove, sink, and microwave.
Internet Access:
Wireless internet is widely available throughout campus and residence hall rooms. Each room also has Ethernet ports for times when students may prefer to use a wired internet connection.
Lounges: Each floor has two study rooms and a lounge with cable TV. A formal lounge with fire place and cable TV is located on the main floor.
General Room Information: First floor has double rooms. Second through Fifth floors have double rooms and 3 single rooms on each floor.
Room Dimensions: Double: 14'3" x 14'7" ; Singles: 14'3″ x 10'4″ ;
Room Furnishings: Extra-long unlofted twin beds (36″ x 80″), desk, and desk chair. Every room in Doty has a sink.
Floor Plans
Floor plans for Doty Hall can also be viewed in .pdf form here.