Residence Hall Director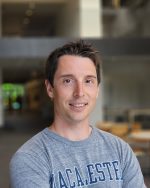 Residence Hall Director
he/him/his
Bigelow Hall Information
Located on the corner of Grand Avenue and Macalester Street. Bigelow was built in 1947 and was most recently updated in 2014. It is connected to Wallace, 30 Mac and Turck Halls via a short sky-way.
Resident Information: Bigelow houses over 110 students.  Bigelow will house returning students on campus. Bigelow is our only Upper Division Hall that is single gender living. For more information on gender inclusive or single gender halls, please visit our Gender Inclusive Housing Options.
General Room Information: 50 double rooms, 7 single rooms.  Basement  floor is designated male only students, first floor designated female only.  Second and third floors are designated co-ed gender rooms and bathrooms are designated either male or female.
Bathrooms: Please see the Bathroom Inventory for more information.
Internet Access:
Wireless internet is widely available throughout campus and residence hall rooms. Each room also has Ethernet ports for times when students may prefer to use a wired internet connection.
Kitchen/Lounge: New kitchens for Fall 2018 with a stove, microwave, sink, counter tops and open shelf space are located in the basement and in the lounges on second and third floors. The lounges on first, second and third floors have comfortable gathering space and cable TV.
Room Dimensions: Single: 13' x 10'; Double: 16'4" x 11';
Room Furnishings: Sinks in rooms on first, second and third floors. Some of the rooms in the basement have sinks. Traditional style furniture with extra long single beds that can be bunked, desks, and a lounge chair in each room. Mattresses are twin extra long, 36″ x 80."
Laundry Facilities: Bigelow shares laundry facilities with two other residence halls, 30 Macalester Street and Wallace Hall. There are approximately 6 washers and 6 dryers in the basement below 30 Macalester Street, located between Bigelow and Wallace Halls.
Floor Plans
Floor plans for Bigelow Hall can also be viewed in .pdf form here.