George Draper Dayton Hall (GDD)
Residence Hall Director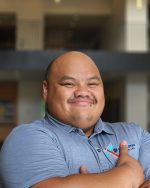 Residence Hall Director
he/him/his
Hall Information
George Draper Dayton Hall (GDD), opened Fall 1997, is located on Cambridge Street, between the Macalester Alumni House and the Cultural House. It is one of the few residence halls with central air conditioning.
Bathrooms: Each suite has its own bathroom.
Laundry Facilities: Laundry room on each floor.
Kitchen: Each floor has a kitchen with a microwave, stove, and sink.
Internet Access: Wireless internet is widely available throughout campus and residence hall rooms. Each room also has Ethernet ports for times when students may prefer to use a wired internet connection.
Lounges: First floor large, study room and lounge. Classes sometimes meet in the seminar rooms on third floor. The meeting rooms are also used as study rooms for residents.
General Room Information: GDD is designed for group-style living in three, four, five, and six-person suites. Each suite includes a common living space, single and double rooms, and a private bathroom.
Room Dimensions:
4 person suite
Living room: approximately 21' x 9'
Bedroom # 1: approximately 13' x 12'
Bedroom # 2: approximately 10' x 10'
5-6 person suite
Living room: approximately 16'6" x 8'6"
Bedroom #1: approximately 16' x 16'
Bedroom # 2 & 3: approximately 10' x 10'6"
Room Furnishings: Bedrooms have twin extra-long lofted beds, desks, desk chairs and dressers. A sofa, chairs and end tables are provided in the common area. A cable TV connection is available in every suite.
Floor Plans
Floor plans for GDD Hall can also be viewed in .pdf form here.