Residence Hall Director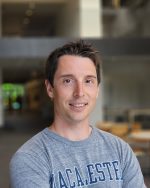 Residence Hall Director
he/him/his
30 Mac Hall Information
30 Macalester Street is sandwiched between Bigelow and Wallace Halls. 30 Mac was converted to a residential living area in the summer of 1997 with the help of a student design team.
Internet Access:
Wireless internet is widely available throughout campus and residence hall rooms. Each room also has Ethernet ports for times when students may prefer to use a wired internet connection.
Bathrooms: Please see the Bathroom Inventory for more information.
Kitchen: Sink, cook top, oven, and microwave.
Lounges: Large seating area with TV and cable located near the kitchen.
General Room Information:10 single rooms, 10 double rooms, 1 triple room. Rooms have sinks.
Room Dimensions: Single: 9'6" x 13'; Double: 12'6" x 17'6'",
Room Furnishings: twin extra long bed: 36" x 80 " may be bunked with equipment provided in the room. Standard desk, chair and lounge chair.
Laundry Facilities: 30 Mac has two washers and dryers. The hall may also share laundry facilities with Bigelow and Wallace Halls. There are approximately 6 washers and dryers located in the basement below 30 Macalester Street.
Floor Plans
Floor plans for 30 Mac can also be viewed in .pdf form here.