Residence Hall Director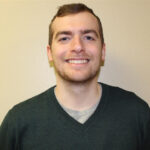 Residence Hall Director
he/him/his
Turck Hall Information
Turck Hall is located on Grand Ave. between Dupre and Wallace/Bigelow/30 Macalester. Turck Hall was constructed in 1957; in 2004 an addition was added and entire hall was updated.
Resident Information: Turck houses only first-year students.
Bathrooms: Please see the Bathroom Inventory for more information.
Laundry Facilities: The laundry room is located on the lower level of Turck.
Kitchen/Lounge: Lounges on each floor have cable TV and a kitchenette with a stove, sink, and microwave.
Formal Lounge: The Sounds of Blackness Lounge opened in 2015. Located on first floor, the bright, and spacious room has a large meeting table and space to gather, relax and enjoy the large screen cable TV. Sounds of Blackness is a Grammy-Award-winning vocal and instrumental group that began on Macalester's campus during the '70s. Sounds of Blackness practiced and rehearsed in the lounge space, which is now beautifully dedicated to them. Photos from the naming ceremony
Internet Access:
Wireless internet is widely available throughout campus and residence hall rooms. Each room also has Ethernet ports for times when students may prefer to use a wired internet connection.
General Room Information: Double rooms on all floors. Rooms all have small sinks.
Room Dimensions: Double: 16' x 12'
Room Furnishings: Extra-long (36″ x 80″) twin beds, desks, desk chairs. Closets have built-in dressers and hanging space.
Floor Plans
Floor plans for Turck Hall can also be viewed in .pdf form here.