Residence Hall Director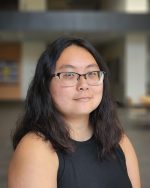 Residence Hall Director
she/her/hers
Hall Information
Dupre Hall is located on the northeast corner of campus. It is at the corner of Summit and Snelling Avenues. Dupre was built in 1962 and renovated in the summer of 1994. There are four floors that are co-ed. Dupre is Macalester's largest residence hall.
Resident Information: Dupre will house a mix of new first-year and returning students (on the 5th floor.)
Bathrooms:  Please see the Bathroom Inventory for more information.
Laundry Facilities: Each floor of Dupre has two washers and two dryers.
Kitchen: There are microwaves and sinks in every lounge kitchenette. There is a full kitchen, with stove, microwave and sink on the lower level of Dupre.
Internet Access: Wireless internet is widely available throughout campus and residence hall rooms. Each room also has Ethernet ports for times when students may prefer to use a wired internet connection.
Lounges: Dupre Hall has a main/formal lounge on the 1st floor with a large fireplace and is an ideal spot for meetings. There are spacious informal lounges on each floor with a TV with cable and a DVD player.
General Room Information: Dupre is comprised of approximately 60% double rooms and 40% single rooms. There are also one triple and one quad on each floor.
Room Dimensions: Single: 14'4" x 7' ; Double: 14'8" x 14'4" ; Triple: 15'3″ x 15'5″ ; Quad: 14'4″ x 28'8″ (plus window alcove).; Twin extra long: 36" x 80 "
Room Furnishings: Dupre rooms have newer style extra-long twin beds that are lofted, with large desks, a desk chair, and dressers underneath.
Floor Plans
Floor plans for Dupre Hall can also be viewed in .pdf form here.