News & Event Updates
Mammo a-go-go

We're partnering with Park Nicollet's Jane Brattain Breast Center again to bring the best in screening services to you in a tranquil, spa-on-wheels environment. The convenient mobile mammography unit, Mammo a-go-go, will be coming to campus on Wednesday, September 30 from 1-5 p.m. It's available for all employees and plus ones. Almost all insurance plans are accepted.  Appointments only take 15 minutes.  Call 952-993-3700 to schedule your appointment.  Walk-ins can also be accommodated.  Frequently Asked Questions.
Wellness 5K Run/Walk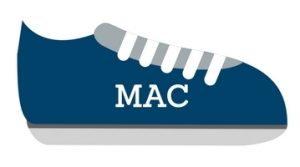 The 18th Annual Wellness 5K Run/Walk is virtual this year. This event is for the entire Macalester community and can be completed from wherever you are in the world. You must walk or run your 5K between October 1 and October 11. Register by October 11 to join us.
Our iconic Wellness 5K t-shirts will only be available to those in the Twin Cities area who will be able to pick up their shirt from their campus mailbox. Staff and faculty can register for $10 to receive a t-shirt.
For those who are out of state and want to participate, you can register for FREE and you will be mailed a sticker with the same design. Everyone will receive a bib number as a commemorative item.
On October 12, you will receive another form via email to confirm your completion of the run/walk, submit your photo and address to receive your bib number and shirt or sticker.
Staff and faculty: If you wish to count this as one of your well-being activities to help you earn the wellness incentive, please also record your completion in your HealthPartners well-being account before the October 31 deadline.
This event is co-sponsored by the Hamre Center, Athletics, and WHAM. If you have any questions, email broek@macalester.edu.
Register for the virtual Wellness 5K Run/Walk
Fall Session 1 Classes
Registration has closed.  The 6-week series runs from the week of September 14 to October 23. Fall Session 2 will be from November 2 to December 11. For class descriptions and to register, visit our WHAM Classes page.
Weekly Farmer's Market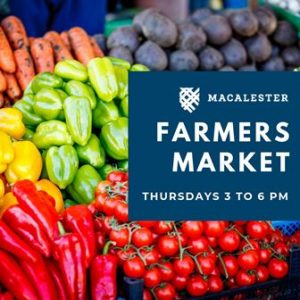 Macalester is pleased to welcome back Untiedt's Vegetable Farm out of Waverly, Minnesota to bring you fresh, local, and nutritious produce delivered right to campus.  Untiedt's will be on-site every Thursday from 3:00-6:00pm from June through mid-October.  They'll be located on Macalester Street near Visitor Parking Lot 1.  Cash or credit cards are accepted.
Please note: To ensure the health and safety of our community, Untiedts will have portable hand washing stations at each market. Their employees will be wearing gloves and masks, and they will follow the 6-ft social distancing measures recommended by the state. They will also use disinfectant spray on their card readers, and will be washing all of the table cloths after each market.
If you won't be near campus this summer, we invite you to visit one of their vegetables stands near you or their CSA drop sites.
Related Sites