Lunch & Learns
Our lunch and learns offer staff and faculty a learning environment which promotes healthy lifestyle choices by increasing awareness, and supporting lifestyle changes.  Lunch and Learns also offer an opportunity to gather, create connections and build relationships, which helps support your social-emotional well-being. We know that healthier lifestyles among faculty and staff will in turn create happier, more productive individuals who benefit themselves, Macalester, and the greater community.
---
Upcoming Lunch & Learns
Wednesday, September 27, 2023
The Only Constant is Change: Releasing the grasp of normalcy as we move forward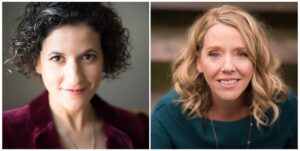 In this one hour workshop, Holistic Wellness educators, Susan Shehata and Colleen Buckman, address the myth of normalcy and how to become more adaptive in an ever changing world.
We will explore:
How and why we pursue a feeling of normalcy in our lives

What hinders our ability to adapt to the world around us

How to establish simple techniques that help you cope in times of change
Register to join us on Wednesday, September 27 from 12:00-12:50 pm on Zoom. 
---
Past Lunch & Learns
Wednesday, April 19, 2023
Sound Bath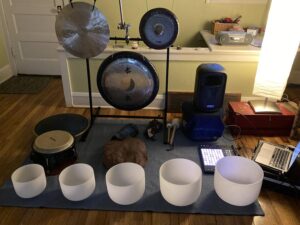 April can be a stressful month on campus. It can feel like the figurative treadmill of our life is increasing the speed and incline at the same time.  We invite you to push the pause button and join us for a sound bath with Marc Anderson.  A sound bath is an immersive experience in which the listener is "bathed" in waves of soft tones and gentle rhythms.  Marc combines the sounds of crystal singing bowls, gongs, hand drums and subtle drones to create a rich and deeply therapeutic experience.  Marc has extensive experience as both a musician and meditation teacher, which allows him to blend skillful musicianship in a manner precisely calibrated for optimal healing and profound relaxation.
This is offered as a hybrid event, but the sound quality will likely be better in person.  Most people like to lay down for sound baths but sitting up works too. Mats and cushions are provided.  Bring a blanket if you'd like something to cover up with. 
Join us for lunch and connection at 11:30 in the lower level of the chapel on Wednesday, April 19. The sound bath will be held in the chapel from 12:00-12:50 pm.
---
Wednesday, March 29, 2023
The "How" in "Eat More Vegetables"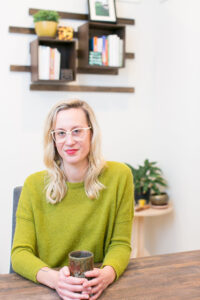 You've been told to increase your daily intake of vegetables – all Americans have. Yet, this is a common challenge for many people to make into a habit. So difficult, in fact, that only 1 in 10 adults meet this goal. Instead of telling you WHY vegetables are important, functional nutritionist Jesse Haas will share tips she's gathered while providing nutritional counseling over the last decade for making vegetables a regular guest at the table. She'll focus on convenient, accessible and delicious strategies to put this important health goal into action. Attendees will take home recipes. 
This is an in-person event in the Leonard Center's Hall of Fame room on Wednesday, March 29 from 12:00-12:50 pm.  Lunch will be available at 11:45 a.m. for those who have registered.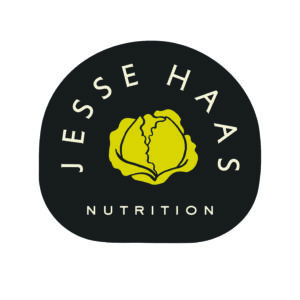 Jesse Haas is a Licensed Nutritionist, Certified Nutrition Specialist, certified Health Coach and all around food nerd. She's been working in integrative health care since 2005, both as a health care provider and educator. In both roles, she aims to demystify health, nutrition, cooking and the day-to-day ways we care for ourselves, so that her patients and students are empowered and inspired to make sustainable dietary and lifestyle changes that improve their quality of life. One student described Jesse as being "…so good at explaining things in pithy, wonderful ways," which is a reputation she strives to uphold.
---
Thursday, March 23, 2023
Navigating Conflict
Stephanie McGovern, Leadership Development Consultant,
[email protected]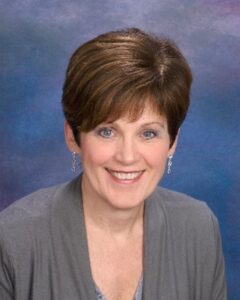 Conflict is a normal part of everyone's lives. Moreover, the way people handle conflict, anger, and criticism affects their work relationships and productivity. Many of our habitual patterns of handling conflict were developed early in life and are too limiting for the variety of situations we face today. In other words, our "software" could use some updating with more proactive ways to approach conflict that lead to more productive outcomes.
In this lunch and learn, we'll start to:
get comfortable with the discomfort of conflict.

work with instead of against our biological wiring in the midst of conflict.

learn ways to diagnose the root cause of conflict.

understand the stages of conflict and how to intervene early.

outline the seven constructive behaviors that help resolve conflict.

list the eight destructive behaviors that block creative solutions to conflict.
This is an in-person event in the Weyerhaeuser Boardroom on Thursday, March 23 from 12:00-12:50 pm.  Lunch will be available at 11:45 a.m. for those who have registered.
Bio: Stephanie McGovern, MA, applies skills and techniques honed over 30 years developing leaders, coaching, and helping create and maintain high-performing teams at leading manufacturing companies. She also has extensive experience in building employee ownership and commitment to organizational goals and with managing a department during times of rapid change.
Stephanie has worked in various leadership positions at Honeywell, Alliant Techsystems, and Cummins Power Generation where she drove change initiatives to increase organizational performance and long-term organizational health. Stephanie holds a master's degree in Industrial Relations from the University of Minnesota. In addition, she is a certified leadership coach from the Hudson Institute of Santa Barbara, world renowned as a leading training ground in renewal, coaching and leadership.
---
Wednesday, November 16, 2022
Bone Health and Osteoporosis

Bone health and osteoporosis prevention isn't just for women 65 and older, it's for anyone who has bones. Understanding what factors can affect your bone health is important not only for your overall health, but your quality of life! The more you know, the more you'll be able to maintain good bone health as you age to reduce your risk of osteoporosis and fracture.
Join us for a WHAM Lunch and Learn covering bone basics including an overview of osteoporosis from risk factors through prevention and treatment. Learn now to make improvements, and apply them to your daily life. Register to join us on Wednesday, November 16 from noon to 12:50 on Zoom.
---
Wednesday, October 19, 2022
Shinrin-Yoku: Walking Towards Workplace Wellness with Forest Bathing
Kristen Mastel, University of Minnesota, and Nourished Through Nature, LLC
The health and wellness movement of forest therapy has made its way to Minnesota. Over the past 40 years, studies have shown that forest bathing increases immunity, decreases stress, improves sleep, mood, mental focus, and enhances emotional resilience. Nature is not just for the weekends or after-work walks. Instead, learn how everyone can integrate nature mindfulness into their work throughout the day whether in an office setting or working remotely.
The event will take place on Wednesday, October 19 from 12:00-12:50 pm.   Lunch will be available in the Weyerhaeuser Boardroom at 11:45 am for those who have registered by Monday, October 17.  Kristen will give a presentation for the first half, and then we will join her outside for some guided forest bathing.  This event will take place rain or shine so please dress accordingly.
---
Wednesday, September 21, 2022
WHAM 101
Kelly Fang, WHAM Committee Co-Chair, along with special guests.
Well-being emerged as one of the central themes of Macalester's strategic plan.  Whether you're new to Macalester, wanting to prioritize your well-being, or you're a leader looking for ways to create a resilient and thriving team, WHAM strives to create opportunities for staff and faculty to care for their physical and mental well-being, all while building meaningful connections and creating a sense of belonging. 
Join us on Wednesday, September 21 from noon to 12:50 on Zoom, where you'll get to hear from three leaders: Jenn Haas, Chief Information Officer and VP of ITS, Tom Halverson, Dean of the Faculty, Armstrong Endowed Professor in Mathematics, and Kyle Flowers, Executive Director of Residential Life, about why and how they support their employees' well-being. 
We'll be joined by a few of our wonderful WHAM instructors who will introduce themselves and share what you might love about their class.  And, you'll meet our health and wellness coach, Kelly Fang.  
---
April 27, 2022
Banishing Burnout
Christy Kallevig, Extension Educator for the University of Minnesota Center for Community Vitality
Burnout was prevalent even before the pandemic. We must pay attention now more than ever. In this presentation, we'll take a look at the drivers of burnout, factors that can increase our wellbeing, the role organizations play and what you can personally do to spark change.
Our presenter is Christy Kallevig, Extension Educator for the University of Minnesota Center for Community Vitality. Christy joined Extension's Center for Community Vitality in 2016. Christy's primary focus of work is alumni of Extension leadership and civic engagement programs, MARL (Minnesota Agriculture and Rural Leadership), Vital Connections On Air (podcast series), and teaching and supporting leaders to grow emotional intelligence.
---
Wednesday, February 2, 2022
Care for Your Neck & Back
Steve Soderberg, TRIA Neck & Back Strengthening Program

Most of us will experience some kind of neck or back pain in our lifetime. It might be caused by an injury like slipping on ice, or a loss of strength from underuse.  Sometimes, neck and back pain can happen with age or be a symptom of an illness.  No matter the cause, WHAM wants to help you learn how to care for your neck and back, and get back to the things you love.