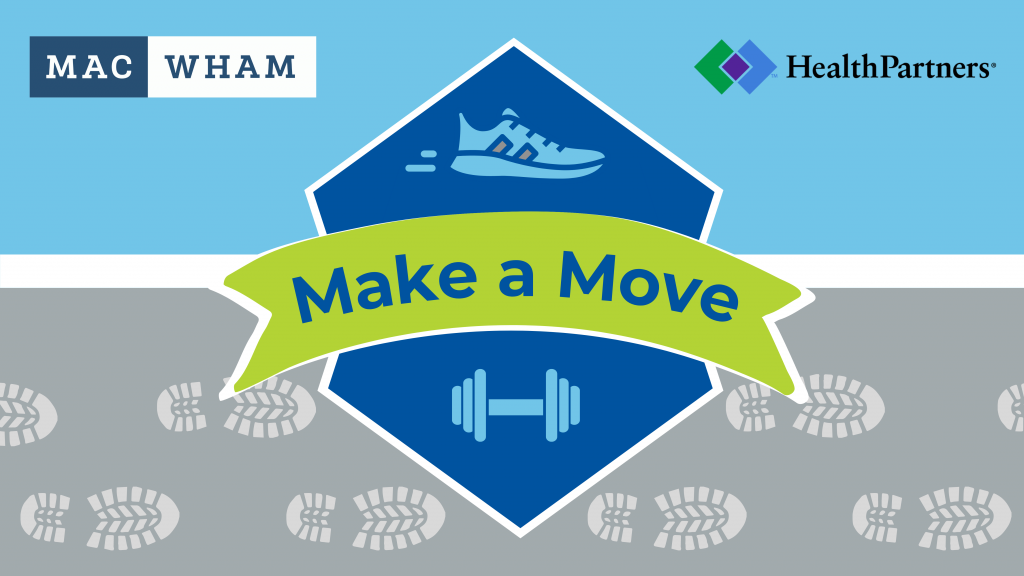 Team from ITS wins the Make a Move Challenge
Mac had over 100 staff and faculty participate in WHAM's Make a Move Team Challenge.  Their goal was to move as much as possible in six weeks.  They could walk, bike, lift weights, or do whatever made them happy and feel good.  They also got a dose of friendly competition as they competed against other divisions at Mac.  
A big congratulations goes out to the team from Information Technology! They surged ahead in the last week to pass the Provost and Academic Affairs team.  Admissions stayed the course and finished in third place. The average total steps per participant was 371,277 (or 8,840 per day).  WHAM would like to thank all the participants for modeling healthy behavior for each other, your colleagues and the Macalester Community.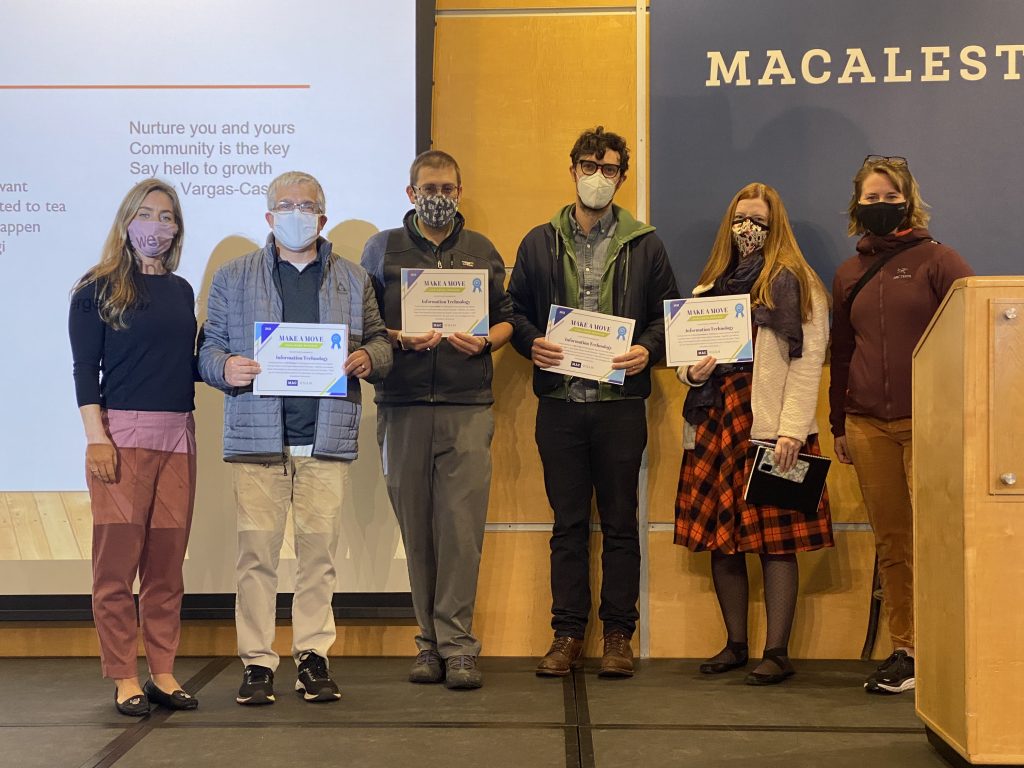 ---

To help support you in your path to Well-being, we offer a number of activities.  From tracking habits to moving more, there are a number of ways to participate in our Well-being programs.  Some of them include:
Digital activities:
Wellbeats

Go for Fruits & Veggies

Healthy Thinking

Choose to Lose

Tackle Stress

Sugar Smart
Digital trackers:
10,000 Steps

Sleep tracker

Stress tracker
Macalester Specific Activities
Here are a list of the eligible activities you can complete to earn your wellness incentive:
Preventive Care Visit (must be completed between September 1, 2020 and August 31, 2021;

No tracking or forms are required on your part; HealthPartners will load the completion of your visit 3-5 months after your appointment
Omada Mind: use the tools in the Omada Mind app consistently for a 3-4 week period, or periodically for a 3 to 6 month period.

One 6-week WHAM activity class: Circuit Training, Boot Camp, Yoga, Mindfulness, etc.

One 4-6 week activity coordinated by Wellness Coach: Facebook Group Coaching, Home Harmony, etc.

Leonard Center/Gym:

Exercise at the Leonard Center at Macalester, at home, or at a gym of your choice at least 12 times per month (or about 3 times per week) for a minimum of two months.
Personal Training: Complete at least 3 sessions with Macalester's Personal Trainer before October 31, 2021

Attend at least 3 WHAM Lunch & Learns (virtually or in-person) between November 2020 and October 31, 2021

Nice Healthcare:

For 2021 you must use Nice once to refill a prescription, complete physical therapy or manage a chronic condition in order to count it as a qualifying activity.
EAP Wellness Seminars: Attend at least 3 live seminars or watch 3 on-demand webcasts between January 1, 2021 and October 31, 2021
Macalester's Wellness 5K Run/Walk in October
Wellness Coaching
3 in-person or video coaching sessions with Macalester's on-site Wellness Coach from HealthPartners