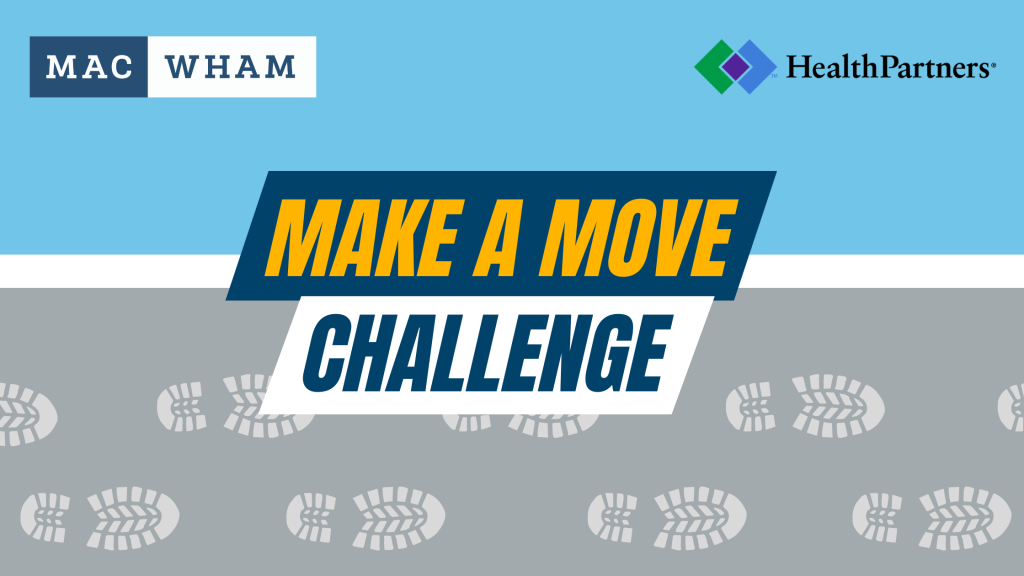 Get ready to challenge yourself—and your colleagues—to move more. Sign up for the Make a Move Team Challenge to add a dose of friendly competition!
Gather Your Teammates
Registration Is Open Now.  Sign Up And Join Your Team By September 11
Challenge Runs September 11 to October 22
Log on at healthpartners.com/wellbeing or click the Living Well icon in the myHP app

If you haven't already done so, complete your Health Assessment

Select the Make a Move Challenge

Join your team. You'll compete against other divisions at Mac!

Track your activity or sync your fitness device
Attention Apple users: You can now sync Apple Health with our 10,000 Steps Program!  Don't see the option to connect? Make sure your myHP app is up to date. If you're participating in the Make a Move Challenge, register for 10,000 Steps and connect Apple Health. Your steps will automatically transfer over to the challenge.
All Activity Counts
The goal is to move as much as possible in six weeks.  Walk, bike, lift weights, do whatever makes you happy and feel good!  The team that tracks the most steps—on average—wins.  Get credit for completing the challenge by tracking at least once a week. The winning team will receive bragging rights and some sweet Macalester swag.
All employees and their spouse/domestic partner who participate in Macalester's benefits plan have access to join.  The Make a Move Challenge counts as a qualifying well-being activity for your wellness incentive.  The deadline to earn your incentive is October 31, 2022.
Free pedometers are available upon request.  First come, first serve.
Contact Kelly Fang at [email protected] with questions.
---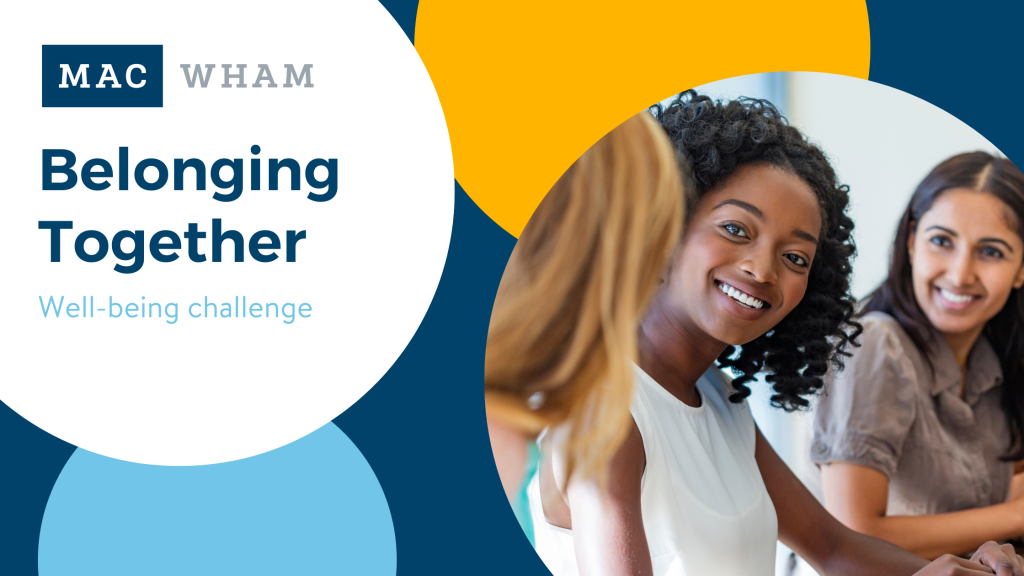 Join your team in this eight-week experience to explore what belonging means, why it matters and how to cultivate it. Each week, you'll receive information and tools to help you and your team learn, reflect and grow. By the end of the challenge you'll have experimented with tangible strategies to feel more connected, comfortable and aligned with your colleagues and Macalester.
For the first time, I'll be implementing this activity using Google Spaces – a central place where teams can share files, stay connected and chat with a group. 
We will cover four topics and spend two weeks on each topic

During the first week of each topic, read the announcement and newsletter

During the second week of each topic, your leader will post a reflection or discussion question in your team's Google Space, add time on the agenda for your existing team meeting, or create a separate short meeting time to share and collaborate.

After you've had a chance to engage with your team, complete the reflection questions in your own copy of the tracker.
Who's eligible and how can I register?
This activity is open to staff and faculty who's leader signed up to be a facilitator.  If your leader is participating, you'll receive an invitation from them. Please use the registration link and team name in your invite to join.  
Registration opens June 29 and ends July 8.  
When does the activity start?
The Belonging Together activity kicks off July 11 and goes through September 2.  
How do I complete the activity?
Read the weekly content, participate in team chats or discussions and complete the reflection questions in your own copy of the tracker.  You will not be asked to share or submit the tracker.
At the end of the activity, fill out the completion and evaluation form.  If you have HealthPartners insurance through Macalester you are eligible to count this as a qualifying activity for the wellness reward.  For more information, visit our Wellness Benefits and Incentives page.
Questions? Contact Kelly Fang at [email protected]
---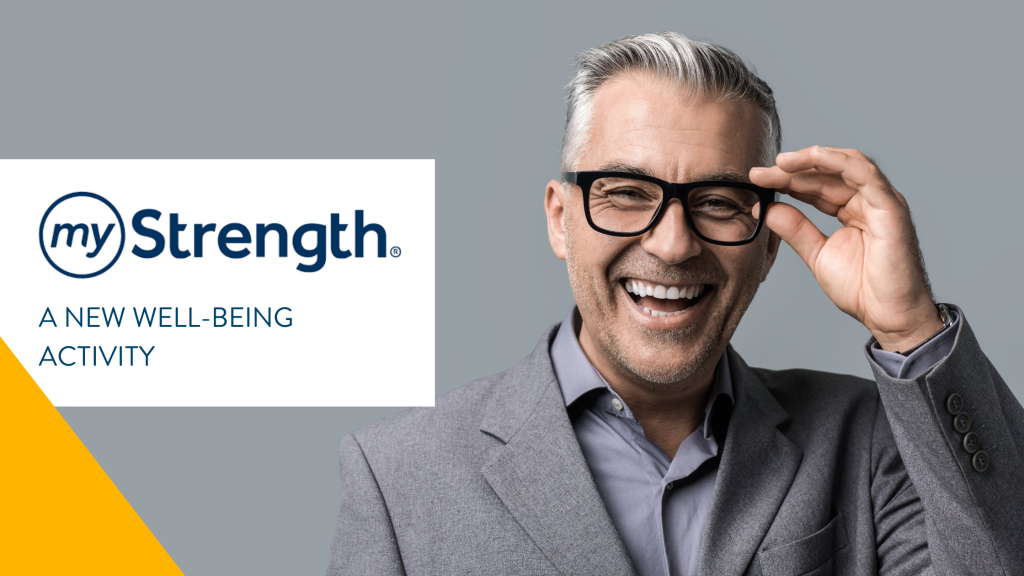 Emotional health support designed for you
WHAM cares about your physical, emotional, and financial well-being and we're here to support you. With the stress, loss and uncertainty associated with the last few years, emotional health concerns are on the rise. If you're looking for ways to feel more in control, the new myStrength activity can help. 
myStrength is an online program to help you improve mental health and emotional well-being. You have access to hundreds of activities, articles and videos suggested for you based on your goals and preferences. This new digital program offers support for many types of emotional and physical challenges including:
Reducing stress

Improving sleep

Managing anxiety and depression

Mindfulness and meditation

Balancing intense emotions

Pregnancy and early parenting

Managing chronic pain
Get started today and discover your resilience
To access myStrength you must first take your annual health assessment. 
Completing the myStrength activity can also help you earn your wellness reward card. You'll earn your $150 or $300 reward card by completing your health assessment and at least two well-being activities by October 31, 2022.  If you have a spouse or domestic partner on your plan, they'll need to complete the requirements as well. 
Questions?
Contact Kelly Fang at [email protected] or 651-696-6963. For help signing on, call HealthPartners at 800-311-1052 or email.
We have partnered with HealthPartners to offer this health and well-being program to employees on Macalester's benefits plan.
---

To help support you in your path to Well-being, we offer a number of activities.  From tracking habits to moving more, there are a number of ways to participate in our Well-being programs.  Some of them include:
Digital activities:
Wellbeats

Go for Fruits & Veggies

Healthy Thinking

Choose to Lose

Tackle Stress

Sugar Smart
Digital trackers:
10,000 Steps

Sleep tracker

Stress tracker
Macalester Specific Activities
Here are a list of the eligible activities you can complete to earn your wellness incentive:
Preventive Care Visit (must be completed between September 1, 2021 and August 31, 2022;

No tracking or forms are required on your part; HealthPartners will load the completion of your visit 3-5 months after your appointment

One 6-week WHAM activity class: Circuit Training, Boot Camp, Yoga, Mindfulness, etc.

One 4-6 week activity coordinated by Wellness Coach

Leonard Center/Gym:

Exercise at the Leonard Center at Macalester, at home, or at a gym of your choice at least 12 times per month (or about 3 times per week) for a minimum of two months.
Personal Training: Complete at least 3 sessions with Macalester's Personal Trainer before October 31, 2022

Attend at least 3 WHAM Lunch & Learns (virtually or in-person) between November 2021 and October 31, 2022

Nice Healthcare:

For 2022 you must use Nice once to refill a prescription, complete physical therapy or manage a chronic condition in order to count it as a qualifying activity.
EAP Wellness Seminars: Attend at least 3 live seminars or watch 3 on-demand webcasts between January 1, 2022 and October 31, 2022
Macalester's Wellness 5K Run/Walk in October 2022
Wellness Coaching
3 in-person or video coaching sessions with Macalester's on-site Wellness Coach from HealthPartners