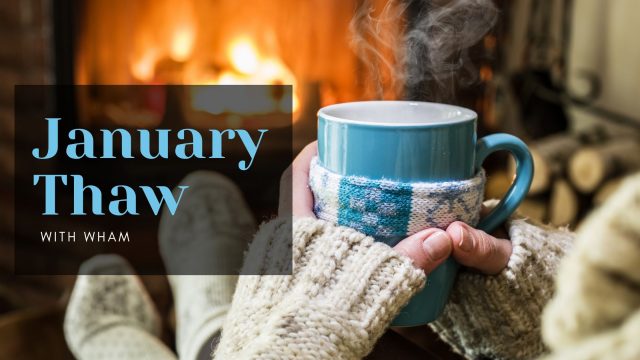 Join us for January Thaw!
January 10 to January 14, 2022
To see descriptions of all the events, visit the January Thaw Session Descriptions page from Employment Services.
To register for one of the events below, visit the January Thaw Registration Form.
Monday, January 10
How to Motivate Yourself Kindly, with Self-Compassion
10:00 to 11:00 with Jane Rauenhorst, Mindfulness Instructor
Often, when we want to make changes in our lives, we try to motivate ourselves with a very familiar inner voice that can be critical, harsh or judgmental. This commonly used approach doesn't always work that well and can leave us feeling miserable about ourselves. In this session, WHAM invites you to learn new ways to motivate yourself from a place of kindness, of caring about and for yourself. This shift in perspective is fun to explore and offers new, more viable options for supporting the changes we would like to make in our life.
Winter Wellness Bowl Meal Prep
12:00 to 1:00 with Kirsten Madaus, Creator & Chef for FarmFreshFeasts.com
WHAM invites you to learn how to create the building blocks for a variety of healthy meals using your Instant Pot and/or air fryer! The instructor will demonstrate a vegetarian black bean, sweet potato and kale bowl, a Korean chicken bowl, and a flexitarian taco tamale bowl. We'll also discuss ways to embellish daily meals with different sauces and toppings.
Introduction to Enneagram
2:00 to 3:00 with Chelsea Forbrook, Enneagram Educator and Spiritual Director
WHAM would like to introduce you to the Enneagram, a psychological- spiritual personality typing tool which serves as a map for transformation and growth. Unlike other personality typing systems, the wisdom of the Enneagram does not put you in a box with a label and leave you there. Instead, it shows you the particular box you've been trapped in (aka. your personality) so that you can get out and discover the freedom of your True Self. The Enneagram is dynamic, and points to each type's unique skills and virtues as well as each type's shadow side and habits that continuously get them into trouble. It is a fast-track to self awareness, self compassion, and transformation. I have found no other tool that can so elegantly help people see their patterns and get "un-stuck." Not only is it a tool for greater mental, spiritual, and emotional health, it also leads to greater compassion for others and shines a light on the root of difficulties in our relationships.
---
Tuesday, January 11
Whole Foods Plant-Based…What??
9:00 to 10:00 with Beth Hillemann, Research and Instruction Librarian
In summer 2021, I joined WHAM's Rooted in Health challenge, more or less on a whim. Five months later, I've completely changed how I eat and how I think about food. I'm not going back. If you're curious about what a whole foods plant-based diet is, or how it might go if you tried it, come and let's talk about it. I've done a lot of research since July, and will share resources and tips. I'd love to hear your stories, too. Maybe we can start a plant-based community at Mac!
Adrenal Health
10:00 to 11:00 with Dr. Sara Jean Barrett, Naturopathic Doctor & Co-Founder of Wellness Minneapolis
Stress impacts all aspects of our health. This class will explore the physical and hormonal response to stress. Learn what key nutrients are needed for healthy adrenal function with Sara Jean Barrett, naturopathic doctor and co-founder of Wellness Minneapolis. ND. Join WHAM for a deep dive into adrenal physiology and discover what you can do to naturally improve your stress response system, build resilience and increase your energy.
Organizing/Downsizing: Where to Begin?
11:00 to 12:00 with Jennifer Cofer, Professional Organizer and founder of BlueBirdNestOrganizing.com
Keep, sell, donate, toss? WHAM understands that organizing or downsizing, whether for a move or making do where you are, can be overwhelming. Explore the steps to make your experience easier. Create a plan, determine what to keep, what to sell, where to donate, and more. Uncover the satisfaction of organized living!
Self-Soothing 101: Taking Care of Yourself When Times are Hard
12:00 to 1:00 with Dylan Walker, Digital Content Assistant and WHAM Committee Member
When you hear "self-soothing," you may imagine babies crying themselves to sleep, or other ways small children calm themselves down. But the ability to comfort yourself during stressful or hard times is important regardless of your age—it is a key part of building resiliency and sustaining yourself through tough times. In this workshop, we will talk about creating a soothing space for yourself at work, "in the moment" ways to self-soothe when you need it, long-term soothing strategies that can increase your overall well-being, and more. Participants will receive a handout afterward of ideas and tips to self-soothe generated during the presentation.
Winter Outdoor Recreation in the Metro
1:00 to 2:00 with Heidi Hanson, Outdoor Educator, In-Person Event: Campus Location TBD
Winter is here, but that doesn't mean you have to hibernate! Leave that to the bears. The metro is full of fun, family-friendly outdoor activities if you know where to look. WHAM is here to help you get the inside scoop on the best places to hike, skate, ski, and just be outside this winter, as well as where you can find free equipment rentals!