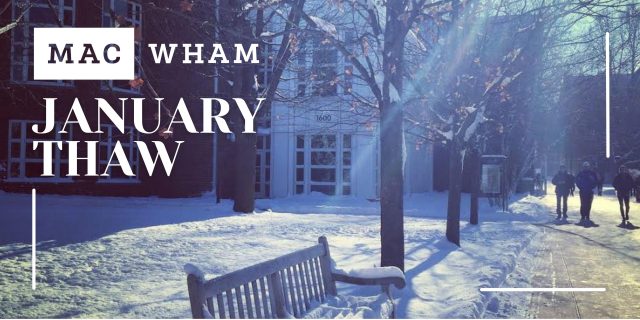 Join us for January Thaw!
January 9 to January 13, 2023
The start of a brand-new year often inspires many of us to refocus on what's most important. For many of us, we choose to refocus on our health and well-being.  But January Thaw offers more than personal development, it provides an opportunity for you to take part in events that foster human connection, create a sense of belonging, and a shared experience.  All things that contribute to our community well-being and help us create the culture we want to feel.
Below are a list of offerings that WHAM designed with you in mind. View all session descriptions or register using the January Thaw Registration Form.
Monday, January 9
The Compassionate Ecosystem: How To Remedy Compassion Fatigue
Lea Howard, MPH, Certified Mindfulness Instructor
10:00 to 11:00 in the Harmon Room at the Library
WHAM invites you to a session that explores the importance of the various directions we are able to extend compassion, while also remaining open to receive it. We will touch on relevant research relating to the compassionate ecosystem, along with practical skills and application to sustain this ecosystem and our own well-being. There will be practice opportunities through a grounding meditation and a guided Loving-Kindness meditation. We will end the session with Q&A to further support the group's learning.
Bio: Lea has worked in healthcare as a senior mental health coach and health educator since 2002, focusing on the art of compassionate behavior change. She earned her BA in Health Fitness from Gustavus and her Masters of Public Health from the University of Minnesota.  She is a Certified Mindfulness Meditation Teacher taught by guiding teachers Jack Kornfield and Tara Brach. She has a private coaching and consulting practice where she teaches mindfulness to groups of adults and kids and supports individuals in making healthy behavior changes through building awareness and compassion.
---
Tuesday, January 10
Zzz: Running On Empty
Sarah Moe,
Founder and CEO of Sleep Health Specialists
10:00 to 11:00 on Zoom
Join WHAM for a session regarding all things sleep. We will discuss COVID's impact on our sleep and mental health, signs and symptoms of sleep disorders, "Do's and Don'ts" to get more restful sleep, and much much more. This fun and interesting class will leave you with the tools you need to get you rested, so you and your family can get through 2023 as healthy, happy and productive as possible.
Bio: Sarah Moe started her career in Sleep Medicine in 2006 and is the Founder and CEO of Sleep Health Specialists, which provides sleep education to businesses and corporations. She was also an Adjunct Professor in the Polysomnography (Sleep) Program at Minneapolis College, and sat on the Board of Directors for the Minnesota Sleep Society and the Educational Products Committee for the American Association of Sleep Technologists.
For her role in Sleep Education in our workforce, Sarah has been named to the Minnesota Business Magazine's "35 Under 35" 2016, "Most Likely toSucceed- Healthcare Division" finalist in 2017, "Women Who Lead" 2018, the Minneapolis St. Paul Business Journal's "Women In Business" 2019, and the TeamWomen's "WaveMaker Award- Uncharted Territory" finalist, 2019, and the Twin Cities Business Magazine's "Female Entrepreneurs" 2022. You can also catch her on her WCCO news segment "Health Watch", where she discusses various Sleep related topics.
Attuned Eating: What It Is and Why It's Important
Hilmar Wagner, MPH, RDN, LN, CD with the Emily Program
1:00 to 2:00 p.m. in the Harmon Room at the Library
We are all born intuitive eaters, responding to internal and external stimuli regarding what and how much to eat. However, at a fairly young age we lose this ability due to exposure to a wide range of highly palatable foods, structured eating times and increasing beliefs regarding the relative value of different foods. This year WHAM is working to offer staff and faculty opportunities to learn new approaches and practical strategies for nourishing our minds and bodies. We invite you to learn more about attuned eating: an attempt to return to an awareness of our body's internal hunger/fullness cues and inherent food preferences, while acknowledging the multitude of other factors that play into our decisions. Practicing attuned eating helps us to maintain a healthy relationship with food and find satisfaction, joy, and nourishment in our food and eating decisions.
Bio: Hilmar Wagner is a Registered Dietitian/Nutritionist (RDN), licensed in Minnesota and Washington State. Hilmar joined the Emily Program in 2006, and currently serves as the Dietetic Internship Coordinator and Clinical Outreach Specialist. In these roles he oversees dietetic intern experiences for both Emily Program and Veritas Collective. As Clinical Education Specialist Hilmar has presented on a wide range of eating disorder and related nutrition topics at local, regional, and national conferences. Hilmar received his bachelor's degree in Nutrition/Dietetics and Master's in Public Health Nutrition from the University of Minnesota. He has worked in the field of eating disorders for the past 15 years. Hilmar has extensive experience working with clients of all eating disorder diagnoses in both individual and group settings. He has a particular interest in mindfulness and body-centered approaches to eating disorder recovery.
---
Wednesday, January 11
Movement + Mobility 
Angela Nguyen, NASM certified Personal Trainer, Nutrition Coach, and Weight Loss Specialist
11:00 to 12:00 in Studio 1 at the Leonard Center
Get guided mobility exercises designed by trainer Angela Nguyen that are tailored to your body and lifestyle to relieve pain, prevent injury, improve range of motion and improve performance.
WHAM brings you this program that offers simple, easy-to-follow movement and mobility sequences. Many of which you can do right from the comfort of your home. And in as little as 10 minutes a day, you can eliminate chronic pain, expand your range of motion, and increase your athletic output.
The class will incorporate the proper use and effectiveness of foam rollers and mobility balls.  Participants are encouraged to bring their own foam rollers if they have them, since the LC has a limited number.  Each participant will receive their own mobility ball to take home.  This class is limited to 10 participants.
Bio: Angela started as a marathon runner and then competed in multiple bodybuilding competitions. She is certified through NASM as a Personal Trainer, Nutrition Coach, and Weight loss Specialist.  Angela continues her education in hands-on training with effective coaching, understanding of proper technique, improved mobility, and movement patterns combined with a nutrition and weight loss specialist.  Angela understands that no two bodies are alike and with your goals in mind, training is designed from the feet up. For you to learn as you train, get you moving better, to build strength and muscle so you can feel great year-round. www.americanstrengthmn.com/angelanguyen