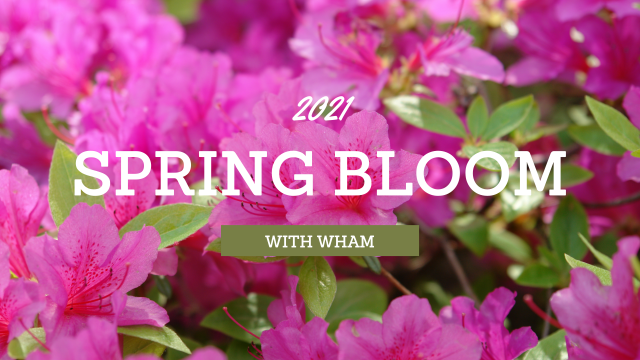 Renew your energy and thrive this summer.
Attend the Spring Bloom sessions offered by WHAM!
To see the full list of events, visit the Spring Bloom page from Employment Services.
To register for one of the events below, use the Spring Bloom Registration Form.
---
Monday, May 24
11:00 am | Tasty & Satisfying Plant-Based Lunches
Presenter: Kelly Fang, Health Coach & Head Chef for two growing athletes 
Have you been curious about eating a more plant-based diet, but not sure how to make it filling and flavorful?  After all, there's a lot of good reasons to eat a plant-based diet: It's good for you, for the planet, and for your budget. I experimented with a lot of plant-based recipes during the pandemic.  I invite you to join me in my kitchen (virtually) where I'll demonstrate three basic recipes, that with a little mixing and matching, will give you endless possibilities.
2:00 pm | Preparing for Your Return to Work with Your Well-being in Mind
Presenter: Kelly Fang, Health Coach and Well-being Program Manager
Nervous about your return to work on campus?  Yeah, you're not alone.  Our abrupt transition to working from home was a bit rough.  It likely took a lot of adjustments until you finally felt like you had a routine that worked for you. As we prepare to return, let's be thoughtful about putting our well-being at the center of our new routine & mindset.  Together we'll brainstorm and share ideas on which habits we may need to adjust (like our sleep schedules), which ones we want to hold onto (like our daily walk), and which ones we want to be compassionate about (like our fears, worries or anxiety).
---
Tuesday, May 25
10:00 am | A Poem for a Year; Writing as a Tool for Reflection
Presenter: Diver Van Avery
This last year has led us all through profound places. Whether you identify as a creative writer or not, in this hour-long session we will use discussion, free-writes, and poetic prompts to lead you through the creation of a poem that honors what you have experienced and how you have been impacted. We will read poems from poets like Lucille Clifton and Naomi Shihab Nye whose work straddles the political and the personal, helping your poem do the same. This poem can be a gift you keep for yourself or an offering to your family or someone you love who has walked with you through this transformative time.
Diver Van Avery (she/they) is a queer writer, educator, parent, and public artist based out of Minneapolis. Van Avery has partnered with Mississippi River Connection, Northern Lights, the Community Planning and Economic Department of Minneapolis, Shakopee Women's Prison, public libraries, the Public Works department, and City of Lakes Community Land Trust. Van Avery received an MFA in creative writing from Hamline University and is pursuing a master's in counseling. Read a recent article in Minnesota Women's Press about Van Avery's Family Poetry Project in collaboration with Spark & Stitch Institute.
1:00 pm | Is 1 the Loneliest Number?
Presenter: Kelly Fang, Health Coach and Well-being Program Manager
During the pandemic, many of us have felt exceptionally lonely at times. In fact, nearly 1 in 2 Americans report sometimes or always feeling alone.  While loneliness is prevalent—and entirely normal—it's also modifiable. Join me to learn why loneliness is an opportunity to better understand yourself, what actually contributes to your loneliness throughout the lifespan, and what you can do to address it more effectively.  I'll help you explore what role you want people to play in your life and I'll discuss ways to create higher-quality interactions.
4:00 pm | Embrace Neurodiversity: Your Role in Equity and Inclusion
Presented by: Rob Stokes '19 and Melissa Fletcher, Director of Disability Services
Judy Singer came up with the term neurodiversity in the late 1990s. Singer, a sociologist on the autism spectrum, rejected the idea that people with autism were disabled. Singer believed their brains simply worked differently from other people's. The term was quickly embraced by activists in the autism community and beyond. Advocates have used it to fight stigma and promote inclusion in schools and in the workplace.
Join us to hear from Rob Stokes, a 2019 graduate and founder of the Macalester Autism Community (MAC) at Mac.  Rob has a unique perspective of how students and individuals who identify as being on the Autism Spectrum (ASD) continue to experience barriers in both academic environments and in the post-graduate workforce. He'll be joined by Melissa Fletcher, the Director of Disability Services. She learns something new almost every day from the students she works with and she can speak to the accommodations Macalester provides.