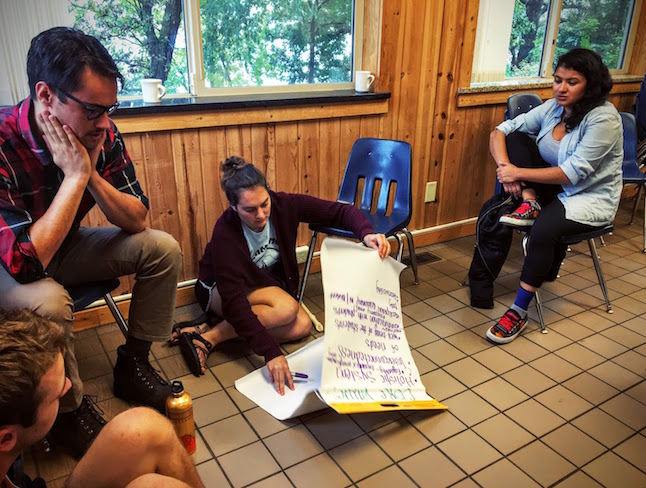 ---
The Election Procedures Commission is charged with ensuring that all Macalester College Student Government elections and student based referenda are performed in accordance with the MCSG Election Code and Constitution. They plan the election schedule and organize events including candidate debates and forums and also evaluate the validity of any election complaint. The Election Procedures Commission meets two to three times a semester.
Student Reps: Merrit Stüven (Chair), Stacy Gerondelis, Jennifer Katz, Ariana Pooley
---
Income Inequality commission
The Income Inequality Committee serves as the middle communication point between MCSG, the SSRC, and administration in addressing issues surrounding income disparity, wage gaps, lack of financial resources, and how Macalester can work with prospective low-income students around the Twin Cities.
Send us your comments at Income Inequality Communication Form.
Student Reps: Amanda Ortiz (Chair), Paula Alihonou, Amritha Subramaniam, Ashley Trube, Alexander Young-Williams
---
Lectures Coordination Board is comprised of an advisor and student representatives. The board is tasked with bringing two big name speakers to campus per academic year. Currently, LCB puts out a survey to gauge student interest in both speakers and topics to help determine the direction they will go with selecting speakers. LCB members are involved in all aspects of bringing the speakers to campus including but not limited to: putting out surveys, determining speakers, publicity, day of show logistics, etc. The board meets weekly to bi-weekly dependent on the date of the scheduled lectures.
Student Reps: Dagmara Franczak, Jacques Libresco-Puckett, Daniel Ochoa, Jina Park, Aarohi Narain (Fall) / Gregory Zacharia (Spring)
---
MEDIA BOARD

The Media Board meets monthly to discuss campus media issues and selects the editors and managers of The Mac Weekly , Spotlight, WMCN. The Media Board also groups with budgeting issues, transition between semesters and academic years, training/workshops. The Media Board is composed of two staff members, representatives from student media organizations, and two students appointed by MCSG as campus committee representatives.
Student Reps: Yafiet Bezabih
---
The Student Travel Committee (STC) reviews all funding requests for College travel. The committee considers both individual and student organization travel funding requests based on individual merits and connection to the mission of the College and/or their organization. The Student Travel Committee is chaired by the Director of Campus Activities and Operations and its membership includes: Two students appointed by the MCSG Director of Academic Programs, Associate Dean of Students, Director of Budget and Institutional Services, MCSG Financial Affairs Chair. The STC meets in person approximately twice a semester and reviews and votes on travel requests via email on a weekly basis.