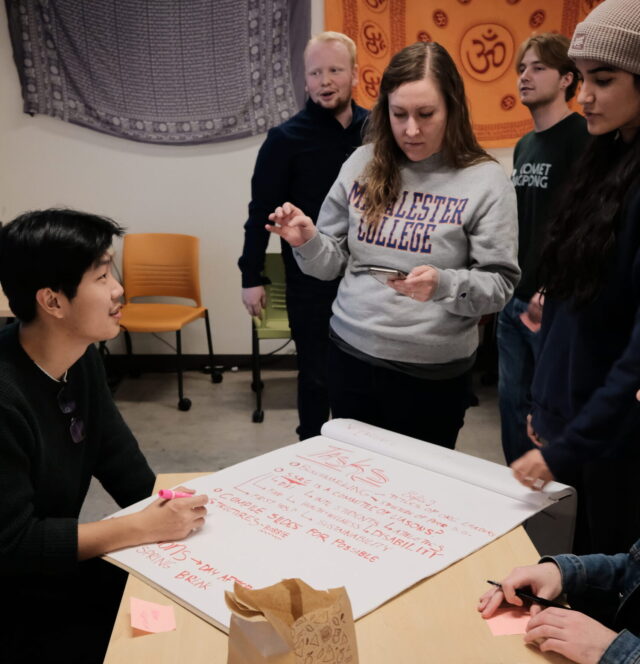 ---
The Conduct Hearing Board provides a formal method of adjudicating disputes and grievances or behavior that is in violation of college policies. A pool of students, faculty, and staff are appointed to hear the cases brought before the Conduct Hearing Board and to determine findings and when appropriate, recommend sanctions. The board meets on an irregular schedule depending on when relevant cases come up and also requires training at the beginning of the academic year.
Current Chairs: 
Student Reps: Anna Greenstein
---
Social Responsibility Committee
Macalester's Social Responsibility Committee provides advice to the College's administration regarding practices and policies on issues with significant implications for responsible institutional behavior. It is only formed when the President of Macalester requests it. One of the committee's most recognizable achievements was the evaluation of the Bottled Water Free Policy in 2011. The committee most recently met in the Spring of 2021 to discuss divestment from Enbridge.
Current Chair: Roopali Phadke
Student Reps: Kashvi Ajitsara '22, Rebecca Gentry '23, Bobbie Pennington '24
---
Union Park District Council is an independent nonprofit that engages the power of the community to advance neighborhood vitality and develop neighborhood leadership. UPDC represents the interests of the community on a broad range of public policy and city governance issues and serves the area of Saint Paul between the Mississippi River and Lexington Avenue, and University and Summit Avenues, including the Merriam Park, Snelling-Hamline, and Lexington-Hamline neighborhoods. A Macalester student living in the district serves on the board which.
Contact: Michael Johnson ([email protected])
Student Rep: Julia Blintz